Welcome to a free & valuable resource to assist law school applicants, students, & graduates.
The defining feature of this site is the TLS forums which historically has been focused primarily on law school applicants with discussion forums such as the law school admissions forum, the LSAT prep forum, the personal statement forum, and the choosing a law school forum. However, over the years the forums for law school students and graduates have become quite popular as well especially the bar prep forum, the legal employment forum, and the forum for law school students. A couple of other noteworthy forums are the law school graduates only forum (verification of graduate status required) and the TLS lounge (registration required).
Join The Premier Discussion Forum For Law School Applicants, Students and Practicing Attorneys
The legal industry is constantly changing. That's why we're here. When you join Top Law Schools, you'll get access to
30+ TLS forums
for
law school applicants
,
students
,
graduates
and
practicing attorneys
. We are an exclusive community for the legal profession who are all sharing information and helping each other succeed. Enter your email now to get started:
Daily Legal Career Advice
Protect Your Reputation at All Costs
Apr 16, 2021
Protect your reputation at all costs, and do not let false rumors or information about you to stand uncorrected. You do not want people to spread negative information about you in the workplace; not only can such rumors impact your current job, but also your future employment ...
Article of the week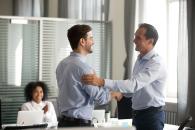 How Law Firms Can Hire the Best Attorney: A Guide to Hiring Stars
By Harrison Barnes, Managing Director
Far too many legal-hiring organizations fail to hire stars because their hiring process actually prevents superstar candidates from ever getting in the door. By reviewing the following list of suggestions for organizing and streamlining your approach to hiring, you should be able to maximize your chances of hiring the star candidates who may have eluded your recruiting efforts in the past.