Interview with Tim Finchem, Commissioner of the PGA Tour
Published October 2010
Timothy W. Finchem received his Bachelor of Arts degree from the University of Richmond in 1969 and his J.D. from the University of Virginia Law School in 1973. After practicing law in Virginia Beach for three years, Finchem served in the Carter White House as Deputy Advisor to the President in the Office of Economic Affairs in 1978 and 1979. Before becoming Commissioner of the PGA Tour in 1994, he served as Vice President of Business Affairs, Deputy Commissioner, and Chief Operating Officer of the Tour.
Top Law Schools: Thank you for taking the time to speak with us today, Mr. Finchem.
Tim Finchem: I'm happy to do it.
TLS: Do you recall when you first developed an interest in the law?
TF: I was in high school and I went on a field trip to watch a trial. I was a junior in high school, maybe 18 years old, and I thought that the lawyers were pitiful in terms of their presentation. I figured I could do better. Also, I generally had a political interest since I was 13 when Kennedy ran. [That race] got me interested in politics. And of course, if you're a young person, the idea of being lawyer sort of fits with politics and public policy. It's changed a little bit over the years, but it used to be that the vast majority of state legislators [were lawyers].
TLS: So when you went off to law school, were you doing so with the intention of eventually being involved in public policy and government?
TF: To some extent, yeah, I did, but I definitely wanted to be a lawyer. I wanted to litigate, and I wanted to be in the courtroom. My focus in law school was admiralty law because I wanted to litigate sea claims. I was in Norfolk, Virginia and anything related to ships was of interest to me. And so I started focusing more on admiralty. I practiced for about five years. But, in the back of my mind, I was always thinking that it would be helpful as a precursor maybe to some public policy involvement.
TLS: What were those five years of practice like?
TF: I worked for a plaintiff's personal injury-type law firm; they did some criminal law, and they did some business law and they did some real estate, but their key focus was representing the maritime trades. They represented seafarers, international union members out of Norfolk, they represented the ILA [International Longshoreman's Association]. So as a result, they got a lot of claims from individual members. It was maritime law with a focus on the plaintiff's side of personal injury.
I did a mixed bag for three or four years with them and then I set up a general practice of my own with two other guys and the name of that firm was Croshaw, Finchem, and Williams. Croshaw is still practicing in Virginia Beach; Williams has been on the bench for about 25 years. I was doing campaigns then – I was involved in politics but after about five years of practice I left Virginia to work in Washington.
TLS: Now, how did you get involved with the Carter Campaign?
TF: Well, I was running a Senate race in VA in 1976. A fellow named Zumwalt, former Chief of Naval Operations, was challenging the long-time conservative incumbent Harry Byrd, the famous "Byrd Machine" of Virginia. And I ran [Zumwalt's] campaign unsuccessfully the same year that Carter ran, and I think Carter lost the state by about 4,000 votes, so it was pretty close. We ran a decent race but during that campaign, Tim Smith – who I had known somewhat in law school – ran the Carter campaign in Richmond.
We interfaced a lot and I met, through Tim, some of the Carter people. And when Tim went to the White House in '77 after the inauguration, I'd go up there a lot and hang out and met a bunch more people. One thing led to another, and in late '78 they asked me to come up.
TLS: You were the Deputy Advisor of the Office of Economic Affiairs – what did your work entail in that role?
TF: It's a fancy title, given the functions of the job, because basically I did intra- and inter-governmental coordination on economic initiatives in the White House, primarily at the federal level . . .[and also] in getting the state governmental apparatuses involved in federal government initiatives. At that point in time, one of the biggest problems with the Carter Administration and the economy was the rate of inflation. High interest rates and high inflation stemmed largely from the oil embargoes that preceded the Carter Administration. And actually, that's why he lost – the economy was just so bad because of that. We were fighting uphill on that stuff.
But I reported to Alfred Kahn, who is known as the great deregulator – he deregulated the airline industry, and he deregulated a couple other industries in his tenure. He's a great guy, he's a professor at Cornell now and was a good guy to be in that job for the president. But it was a great experience. And I left [one thing] out – when I went to the campaign in the general election I was national staff director, and that was also a great experience. Those times for me were very important in terms of experience and building a skill set and things of that nature.
TLS: Did you find that your legal training had an impact on your ability to take these jobs on?
TF: Somewhat. I mean, legal training helps develop your analytical skills as much as anything. Learning to look at both sides of an issue, learning to ask the right questions, learning to be able to stand back and look at a situation or a set of facts and be able to make an evaluation. Those skills are important in just about anything you do in life, but certainly in an organizational atmosphere. Whether it's a business or a campaign or government, those skills are very important if you want to be effective.
TLS: Now going back to the law school days – growing up in Virginia and going to undergrad at Richmond, going to UVA seems like a natural progression. Was that your top choice? Did you look elsewhere for school?
TF: No, I just wanted to go to Virginia. I spent four years at Richmond and then a year of graduate school in political science, and during those years I had been able to spend some time up in Charlottesville, and I didn't want to go anywhere else. However, I did give some thought to working on a PhD and teaching Poli Sci…I applied and was accepted to a graduate program at USC for political science. I gave it some thought, but at the end of the day going to Virginia Law was what I really wanted to do.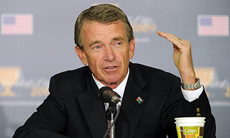 TLS: Can you recall some of your favorite classes or professors at UVA Law?
TF: Dan Meador, who taught Civil Procedure, was a good professor. Probably my favorite professor was A.E. Dick Howard for Con Law, who is still there. He was a Dean for a while, some years ago; he basically rewrote the Virginia Constitution in 1971 and that's when I was in my first year of law school. It then had to be approved by the voters of Virginia so I worked with him on it – in those days, states were just gradually getting around to re-writing their constitutions, and some of them still are. The politics of doing this are fraught. So it was a massive re-do of the constitution of Virginia that had to be submitted to voters. I worked with him one summer on the campaign to approve the new constitution – called the Constitutional Referendum Campaign – and it was successful. Then he and I co-authored a short piece/booklet on sort of a "how-to" regarding the politics of getting revised constitutions approved. In the aftermath of that, it was used in a number of states as kind of a roadmap as how to go about it.
TLS: I read that you also had the opportunity to argue in front of Thurgood Marshall when you were on the Moot Court team. What was that like?
TF: That experience—the Lile Moot Court competition—was the intra- law school competition. It was the competition of stature at Virginia. The inter-law school competitions that you could get involved in were secondary to the Lile competition at the time. It was a two-year competition; you wrote briefs and argued six times, and every time you were up against someone, you had to win in order to proceed. So it was a single elimination competition that spanned two years and when you got to the finals, a Supreme Court justice came down was a part of the panel alongside a couple of circuit court judges. Thurgood Marshall was on our panel for the finals, and we lost.
TLS: Oh no!
TF: Yeah, but the whole thing was great. I always look back at my debate experience in high school and college and then my moot court experience at Virginia as absolutely fundamental to what I do today because of the communication skills I acquired. I don't care what you do, whether it's business or government or public service or volunteerism, any kind of situation you're in where you've got to interface with people, communication skills are [essential].
I always look at communication skills first when I'm looking at a potential employee. [I'm looking for] those who handle themselves well and can communicate. Because if you do that and you have a brain, you can [learn the rest of the necessary skills]. So that experience was terrific because not only was it good for communication skills, but writing the briefs, arguing the cases – it just took your argumentative skills to another level. And then to have a Supreme Court justice asking you questions in the finals was pretty cool.
TLS: That's amazing. So after the Carter Administration, you remained involved in politics on some level but mostly moved into private sphere work prior to getting involved with the PGA, right?
TF: Right, I had my own firm, the National Marketing and Strategies Group.
TLS: You never returned to the practice of law, right?
TF: I did some consulting work for a couple of firms and I had my own firm and we did strategic corporate consulting, and we did a little bit of government relations, but not much – it was mostly outside-of-the-beltway stuff.
TLS: Given the current economic climate, things are really difficult in the legal field right now and there are a whole lot of lawyers, a whole lot of law schools, and a lack of jobs. What advice or thoughts would you want to share with anyone considering entering the legal field at this point?
TF: Generally, I always tell people that I think you should make decisions which increase your options if you can. And from the standpoint of graduate school or law school, if I had to do it over again, I would have gotten an MBA along with a law degree. A law degree gives you certain training in certain areas, but if you make the move over to the business environment, it would be particularly helpful in my view to have more of an in-depth business understanding. And, I think that if you do business law, then understanding the corporate structure, how it works, what makes it go, and where the motivation comes from for people to do certain things, in addition to corporate finance and some of the other basics, is pretty important.
And in doing so, you increase your options, because then you're in a position to go in a business direction with the benefit of a law degree or go down the legal road with the benefit of a business education. So, that would be a partial answer to your question. In addition, just within the context of law school, I would say to look at course work in the same vain – trying to increase your options for what directions you might go. I would strongly encourage that a student takes advantage of the summers to do on-the-job training in certain environments, whether in a corporation or legal office or a law firm or in a court or whatever's available…or getting a clerkship; I didn't do that, but not only is it good for the resume, it's good for the experience.
TLS: What work did you do during your two summers?
TF: I didn't do any of those things. I ran the constitutional referendum campaign one summer and I ran a congressional race in the other summer. Somewhere along the way I tended bar.
TLS: How rigorous were your three years at UVA?
TF: The first year was an eye-opener, but after that, it really depends on how hard you want to work. In terms of going to law school, getting the law degree, getting the basics, I didn't think it was particularly difficult after the first year. I mean, I'm not suggesting it wasn't challenging – it is – but I think maybe it's a little overstated sometimes. You'll see. It just depends on what you want to try to accomplish. But you know, what you want to do is get everything you can out of it. You can't do it again, so you want to get all that you can out of it.
TLS: So I take it you worked pretty hard, then?
TF: I did, I worked hard. I was always trying to do other stuff. I was elected vice chairman of the state party of VA when I was in my second year of law school; looking back, I'm not exactly sure how that happened. But I did a lot of politics on the side; I ran a congressional race, I did the constitutional referendum, and I was very involved in the state Democratic party. And then there was my coursework, and I also had a couple of jobs on the side. So maybe it was a hell of a lot harder than I remember, but I've been in some stuff since [that's been much harder]. Looking back, it just seems…it was just so much fun. Being a student is fun; I didn't want to ever stop being a student.
TLS: That's good to have on record, because there seem to be way more horror stories circulating than stories about how law school was so much fun. Did you find the UVA environment to be competitive?
TF: Yeah, but in a healthy way, I think. The professors were interesting and fun.
TLS: What about a least favorite course?
TF: I liked my first year courses. But the Uniform Commercial Transactions was a pain in the ass course. The UCC Code is like a thousand pages, so you put this thousand-page book on your desk and look up the answers if you can. That was kind of a bummer – the UCC was so boring. But I really liked so much of the stuff, like Torts. The history of law is so interesting to me, and I could have spent more time in Con Law. Con Law is interesting; it can be tedious in some areas if you're not interested in the subject matter of the case law, but the formulation of case law is interesting. I always think it's amusing when you hear Democrats and Republicans arguing about "We don't want an activist judge – we don't want someone that makes policy" and all this crap. But when you decide cases – that's what you do. I mean, it's all a matter of degree, like everything else. "That's not what the constitution says." Well, the constitution started being interpreted 200 years ago.
TLS: Well, thank you so much for taking the time to do this. I really appreciate it.
TF: Hey, it's fun. No problem.
TLS: But I have one more question, the most important one – how did it feel to be portrayed on Saturday Night Live? [link]
TF: [Laughs] Hahaha, well, I didn't think it was very funny. I didn't get annoyed by it, but I also can't say I heard anyone laughing during the show. But here's the funny thing – all the e-mails I got the next day were somewhere along the lines of, "You've finally arrived."