Interview with Matthew Diller, Former Dean and Professor of Law at Benjamin N. Cardozo School of Law
Published November 2009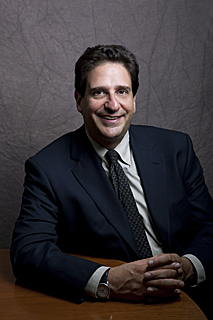 Top-Law-Schools.com wants to thank Matthew Diller, Dean and Professor of Law at Benjamin N. Cardozo School of Law for kindly providing this detailed and exclusive interview.
TLS: First of all, congratulations on your new appointment as dean at Cardozo. What's the best part of your new job?
The best part has been getting to know the people who make Cardozo School of Law what it is. As a faculty member at another school, I saw Cardozo grow and develop and I knew it was a tremendously exciting place. Now that I have arrived, I see just how impressive Cardozo really is. The law school has a superb faculty that is deeply engaged in teaching and scholarship. It has a talented student body and a committed base of alumni, both of whom are passionate advocates for Cardozo. Getting to know and work with members of all three of these groups has been tremendously rewarding. Cardozo is bursting with the energy and vitality of a new school, yet it has set down deep roots that have enabled it to flourish.
TLS: How would you describe the ideal candidate for Cardozo School of Law? Specifically, could you discuss the different qualities you'd look for in different types of applicants: fresh-from-college; "non-traditional" applicants with lots of work experience; graduate students?
Fundamentally, we are looking for students who can thrive not only during their three years at Cardozo, but later when they go onto their careers. We repeatedly hear from employers that Cardozo students are enthusiastic, hard working, and ready to get to business on day one. Our admissions process reflects this. Regardless of their age or experiences, we strive to recruit students who will succeed here, and whose future successes will reflect brilliantly on Cardozo.
First and foremost, we are looking for students who have distinguished themselves academically. We usually have more than 100 undergraduate schools represented in our entering class – but for us, where someone goes to college is less important than what they did while they were they were there. We place great emphasis on the academic rigor, not in terms of major, but what courses they chose to take and whether, for instance, they took advantage of honors curricula. Beyond that, we place great emphasis on demonstrated leadership, whether it is on campus or in one's community. So, basically, we encourage students to take tough classes, seek out meaningful experiences, get involved, and pursue opportunities to become leaders.
Some advice from our Admissions Office – we pay careful attention to letters of recommendation for every applicant, but especially for candidates who are still in school or have recently graduated. We require two letters of recommendation. When possible, both letters should be from professors who can speak to the applicant's academic abilities and achievements, as well as aptitude for further studies on the graduate level. As for sophomores or juniors considering law school, they should start thinking now about who will write these references, especially if they are at a large institution. They should seek out seminars and small classroom settings in which they can establish meaningful relationships with a professor. This will benefit their education greatly, and will make applying to law school that much easier.
For students who have been out of college for some time, we look for many of the same qualities – academic successes, demonstrated leadership, solid writing – but place somewhat more emphasis on recent professional or academic experiences.
Regardless of where an applicant is on this spectrum, they should spend time thinking about how best to portray themselves to the Admissions Committee. It's obviously a competitive process, and they should endeavor to distinguish themselves in whatever ways they can.
TLS: Each year, New York is a popular destination of the graduates of all of the nation's top-ranked law schools, not to mention New York's own traditional "top 4" -- Columbia, NYU, Cornell, and Fordham. How do Cardozo graduates compete in the saturated New York market? What do the job prospects look like for the middle of Cardozo's class?
Cardozo students in the middle of the class are very well situated to compete for NY-based post-grad positions against similarly placed students who come from law schools across the country. Throughout their law school careers, Cardozo students have significant interaction with NY-based attorneys in a broad range of practice areas, through significant networking opportunities as well as through various internship programs we offer in the private and public sectors.
We have an extraordinarily active alumni network that works with students to hone their skills and help them make valuable contacts. Many alumni participate in Cardozo's mentorship, mock interview, career coach, and practice profile lunch programs. Many are also involved in Cardozo's fall and spring recruitment programs.
Perhaps most importantly, Cardozo has established very strong relationships across the full spectrum of the legal job market: private firms of all sizes, corporations, governmental agencies and public interest organizations. Many of these employers seek out Cardozo graduates because they are known to have the perfect balance of strong academics and hands-on practical experience. Cardozo graduates have built a reputation as hard workers who have the ability and skills necessary to hit the ground running.
TLS: You spent the last 16 years at Fordham Law, 5 as associate dean. You also held an academic residency at NYU Law earlier in your career. Why would a candidate choose Cardozo over Fordham or NYU?
There is an energy and enthusiasm at Cardozo that is tangible as you walk through our halls. We offer a rigorous world-class legal education in the heart of New York City, the legal capital of the world. Our faculty is engaged, dynamic, among the most widely published and cited of any law school faculty, and at the same time is committed to teaching and to their students. Simply put, Cardozo students are part of a great institution.
Cardozo was founded on the premise that law is a serious intellectual pursuit and that lawyers who practice at the highest levels of the profession need to be able to think broadly and deeply about the significance of the legal system and their role in it. This commitment is reflected in Cardozo's strength in legal theory and interdisciplinary fields such as law and culture, law and the humanities and law and philosophy.
At the same time, the school offers a number of superlative programs that focus on the practice of law -- both in terms of fields of law that are growing like intellectual property and international law and of central importance to practice, as well as the craft of lawyering.
Cardozo's emphasis on intellectual property runs deep. In addition to strong course offerings, and a leading journal in the field, there is a steady stream of IP-related speakers and events that are tremendously well attended. The same is true for Cardozo's alternative dispute resolution and mediation program.
Our clinics are all in-house and client-based, something you don't see at most law schools. The internationally renowned Innocence Project was founded at Cardozo and provides direct hands-on experience to many Cardozo students each year. Our genocide and human rights clinic does work on the cutting edge of this critically important field. Our clinics in immigration justice, elder law, criminal law, and securities arbitration are outstanding.
During the mid-winter break, Cardozo also offers an intensive trial advocacy program (ITAP) that brings together lawyers and judges from around the country to provide students with an intensive two-week immersion in the art of trial practice. Our international programs offered during this same time period expose participating students to the legal communities and problems of such countries as China, Japan, and even Rwanda.
TLS: Cardozo doesn't offer an early decision or early admission option to applicants. Why is this? Has there been discussion of either of these options for applicants in the near future?
We prefer to give applicants the time and opportunity to research their choices and to see how Cardozo stacks up against the competition. Cardozo does not offer a formal early decision program, but we still encourage students to apply as early in the process as possible. Applicants enjoy a slight edge by being among the first groups of applications our committee reads. I believe a campus visit is a critical piece in an applicant's decision-making process. A visit allows an applicant to sit in on some classes, meet our students, and get a sense of the atmosphere and community here.
TLS: You offer housing to a "small number of students." How difficult is finding housing in New York for students who are unfamiliar with the area?
We have a residence hall about a block away from the law school that houses more than 100 students and we prioritize assignments for those in the entering class who come from outside of the New York area. The building is on one of the nicest streets in Manhattan's Greenwich Village. In recent years, we have found that we can eventually accommodate virtually every JD student in the entering class who wanted to live in the residence hall. Most of our second- and third- year students live off-campus, in a variety of neighborhoods – Brooklyn, uptown Manhattan, Hoboken, Queens. Our Admissions Office maintains a housing list and puts new students in touch with each other and with second and third year students looking for roommates, and that also works well.
TLS: Cardozo is unusual in that it offers three possible start dates for new students. Do the staggered start dates pose a problem for hiring? Class unity?
The majority of our students join us in the traditional way, during the fall, as full-time students. We do have two alternatives – a part-time program that starts in May, and an accelerated program that begins in January. With both of these AEP or alternative entry options, our students take classes with other first-year students and have the same opportunities to participate in our on-campus interview program and clinics, and to join journals.
Cardozo's May part-time program is distinctive in a few ways. First, students take their classes during the day – ours is not a night school program. Second, students take the core first-year curriculum over three semesters – summer, fall, and spring – and then automatically join the full-time class beginning in their second year. This schedule allows them a bit more time and opportunity to succeed in the first year. They graduate at the same time as the full-time students who begin in the fall. Third, and most importantly, May-entry students have the same quality of education and experience that our full-time students do. They are taught by the same professors and are in the same classrooms as our full-time students.
The January program is accelerated. Students can graduate in two and a half years by completing their first year of studies during the spring and summer semesters, and after a short break, they begin their second year in the fall. It is a small program – typically about 25 students – that primarily attracts those who for whatever reason do not want to wait until August to begin law school. During their first semester, these students are taught in their own small section – a phenomenal opportunity for students to commence their law school studies in a small classroom setting like this. Then, in their third semester, the January class is blended into the overall student body.
TLS: Is admission easy or more difficult for each start date?
It is not inherently easier or harder. For any of the start dates, we are fortunate to have far more applicants than we could possibly accommodate in class, so it is always a highly competitive process. In recent years, we have found that the majority of our May part-time students are those who were originally placed on the fall wait list.
TLS: U.S. News and World Report currently ranks Cardozo 49th out of law schools nationally. How reflective of real quality are these rankings? Who would you consider Cardozo's peer institutions?
Cardozo's true peers in terms of the quality of our educational program are schools such as Boston College, Fordham, George Washington, and Emory. But this comparison does not capture the intellectual ambition, energy and accomplishment that I see at Cardozo, as well as the warmth of the community all of which set it apart from schools that may appear similar on paper. As for US News rankings, applicants should be careful how much stock they put in the information, which relies heavily on reputational surveys that are completed each year by law school deans, most of whom know only a bit about a few law schools and yet they are asked to rank each of the nation's almost 200 law schools on a scale of 1 to 5.
TLS: New York is an extremely expensive city to live in for 3 years with no income – with tuition and (conservative) cost of living estimates, a year at Cardozo costs about $70,000. How do the 18 percent of last year's Cardozo graduates who took jobs in public interest and government work afford a Cardozo degree?
Fortunately, Cardozo is able to maintain a generous financial aid program. We offer a variety of need-based programs, including grants, for students who need the assistance. In addition, we have a number of financial assistance programs for students who are interested in working in the public sector.
Last year, Cardozo received a generous donation of $5 million from Laurie Tisch to endow our Loan Repayment Assistance Program, which provides forgivable loans to Cardozo graduates working in the public sector.
We have also developed one of the most generous summer funding programs among law schools across the country. In the summer of 2009, more than 200 first- and second- year students received summer funding to allow them to work in the public sector at legal services providers, public interest organizations, government agencies, district attorneys' offices, the US Attorney's Office, and federal and state judicial chambers.
TLS: Let's talk a bit about the law school's relationship with Yeshiva University – do law students cross-register in other Yeshiva divisions? How often do law students interact with other Yeshiva students?
Our campus is located in Greenwich Village on 12th Street, while the main Yeshiva University campus is approximately six miles north at 185th Street. Because of the significant distance, there are few Cardozo students who cross-register. On occasion, students want to take graduate level courses in non-law areas such as foreign languages or history, and to that end, we permit them to take up to two graduate courses across the street at The New School.
TLS: Per the Cardozo Law website, nearly 20 percent of the Class of 2008 ended up in "business."What sorts of "business" jobs are Cardozo grads pursuing?
The 2008 graduates in "business" obtained employment in financial services, publishing, media, and entertainment.
TLS: What effect has the recent economic downturn had on job prospects for graduates? Have firms changed their visitation and hiring patterns at Cardozo Law?
The most noticeable change has been in large firm recruitment. Many firms are looking to hire far fewer summer associates for 2010 than previously. Therefore, they are visiting fewer schools for on campus interviews. Fortunately, Cardozo has established significant relationships with many large firms as well as with employers in the private and public sectors – small and medium- sized firms, corporations, governmental agencies, and public interest organizations – and they continue to seek hires from Cardozo.
TLS: The first class of JD's graduated from Cardozo in 1979. Do you find it difficult for Cardozo to compete with schools who've had classes for over a century? How does it affect alumni giving and your overall endowment, job placement, etc.?
Although Cardozo has younger alumni relatively speaking, it has a large and very active alumni base that offers help to our students and to fellow alumni in navigating the job market and in networking. Quality has proven to be far more important than quantity when it comes to alumni assistance. Moreover, Cardozo students are known for their commitment and willingness to work hard, without the sense of entitlement that many employers report with respect to students from peer schools.
TLS: Many law schools have begun focusing more on pro bono work done by law students; some even require it for graduation. What kind of work are Cardozo students doing for the disadvantaged members of the New York community?
We have a very large Center for Public Service Law that administers a number of special programs to assist students in pro bono activities that help the community and give them extraordinary practical experience. The Courtroom Advocates Project recruits, trains, supervises and mentors law students to provide legal assistance to battered women seeking protective orders. The Uncontested Divorce Project works in partnership with Sanctuary for Families, to assist battered women with uncontested divorces. In our Unemployment Action Center (UAC), students receive training to help laid-off workers navigate the regulatory maze of unemployment benefits. Our Cardozo Youth Advocates program partners with a local high school and gets young people thinking and talking about the law.
Since 2007, Cardozo has sent a contingent of students to the Gulf Coast during spring breaks in order to assist local legal services organizations with the devastating effects of post Hurricanes Rita and Katrina. In partnership with Volunteers of Legal Services, Cardozo students attend monthly sessions at Riker's Island and Bayview Correctional Facility to help women with issues concerning the care and custody of their children while they are incarcerated. This is just a few of the programs that we offer. In addition students organize Blood Drives, food drives, and a holiday toy drive.
TLS: How do Cardozo Law students spend their summers?
They have a variety of opportunities in private and public sectors, domestically and abroad. Students are strongly encouraged to pursue opportunities that will help to achieve their long-term career goals.
Many second-year students obtain summer associate positions with large firms through traditional fall recruitment hiring. Others work in small- or medium-sized firms that offer the opportunity to practice in areas not typically covered by large firms like family law, immigration, labor, and civil rights. Others pursue smaller, boutique firms in highly specialized areas such as patent law, for which Cardozo is widely recognized.
Cardozo also offers an International Human Rights and a Public Service Fellowship that award grants to first- and second-year students who demonstrate a commitment to international human rights and have secured an internship abroad. Students have worked in Kenya, India, Israel, Peru, and elsewhere.
The International Corporate and Intellectual Property Fellowship Program provides a stipend to first and second year law students who intern for law firms or corporations abroad, with a focus in world economies that are presenting new opportunities for American lawyers. Students have worked in Brazil, China, and Korea, among other countries.
TLS: How successful are Cardozo Law students at securing clerkships at both the Federal and State level? How does Cardozo support students who are interested in clerking?
Cardozo's Judicial Clerkship Committee consists of faculty who work closely with the Center for Public Service Law to provide guidance in the clerkship hiring process. Students receive assistance with recommendation letters, funding for application costs and out-of-state interviews, and have access to teleconference interviewing. Our students are obtaining clerkships courts around the country, including the Supreme Court of the United States, U.S. Circuit Courts of Appeals and District Courts as well as different federal specialty courts, and various state courts at the trial and appellate levels.
TLS: Do you have any general advice for Top-law-schools.com members on succeeding in law school both at Cardozo and in general?
Make sure you get the most out of the institution that you can. Take advantage of the rich diversity of programs and activities – clinics, pro bono activities, journals, moot court, student clubs and other groups, academic conferences and speakers, and so forth. These opportunities enable students to shape their law school experience to match their interests and passions. Extracurricular activities also provide opportunities for experiences, knowledge, and leadership skills that employers value. Claim law school as your own!
TLS: Finally, tell us: Why Cardozo?
Cardozo offers a superb legal education in a community that enables students to thrive and flourish. Employers recognize that Cardozo graduates have intellectual skills and abilities of the highest order and are also practical problem solvers who roll up their sleeves to get the job done for clients. Spending three years in a supportive and intellectual atmosphere in the best neighborhood in New York, and then graduating into an alumni network that is dynamic, well placed and eager to give back to its alma mater can't be beat.