Interview with David Partlett, Former Dean of Emory University School of Law
Published January 2010

Dean Partlett, thank you for taking the time to answer a few questions about Emory and its renowned law program.
Opening
TLS: You became Dean quite recently (in 2006). What are some of the accomplishments and improvements that you're most proud of during your tenure? What are some of your long-term goals for the future?
We have recruited outstanding students and faculty. This sets the platform for a great school of the future. We also have instituted the Center for International and Comparative Law and have developed a number of international programs in the last four years. We have done much to make an Emory Law education more affordable for more students by increasing financial aid awarded to incoming students.
TLS: Has the recent economic downturn impacted these goals at all?
The economic downturn has affected the pace at which we would like to improve the law school. We would like to increase the size of the faculty and make more financial aid available to students. We will have to go more gradually than we had anticipated. However the intrinsic quality of the law school will be maintained during this period. We think that we can continue our momentum even through these straightened economic times.
TLS: In 2007, Vault.com ranked Emory as the most underrated law school in America. Do you think Emory is underrated? If so, why?
Emory's intrinsic strengths have not always been well recognized. For example, the law school is located in one of the most dynamic cities in the United States, a city in which many law jobs have been created over the last couple of decades and where the level of legal practice is very sophisticated. Many Emory graduates have entered that practice as well as going to New York, Washington, D.C., and other major practice destinations. Our faculty members are not only superbly credentialed and published but they also are deeply dedicated to our students. The quality of teaching and the dedication of faculty to our students do not register in national rankings. If these factors were considered, one would find Emory very much at the top in these critical qualities.
Admissions
TLS: What are some of the qualities that an ideal Emory Law student should have?
Naturally, we look for students who have the capacity to thrive in the rigors of the top quality legal education offered here. More than this however, we want to ensure that students we admit have the temperament and character to become outstanding graduates of the law school. We emphasize the ethics and responsibilities of legal practice.
TLS: What are the most important factors that a prospective law student should consider when choosing a school to attend?
Prospective law students should ask themselves whether they have the capacity to work hard in a demanding environment that sets high academic goals. They should be prepared to work within a community and strive to be outstanding members of that community.
TLS: Many students are worried that this cycle is going to be much more competitive than previous cycles due to the struggling economy. Has Emory experienced a significant increase in applications? Do you think that this cycle will be more competitive?
Last year applications increased by nearly 8 percent. This year, we are still seeing significant increases in the number of applicants. This reflects the belief that in the absence of jobs after college, law school provides a safe harbor for three years. I think many students hope that in three years the economy would have improved sufficiently for law jobs to be more available.
TLS: Emory's ranking (as dictated by U.S. News) has improved significantly over the past few years. In what areas has Emory improved, and how will the school ensure that its upward mobility continues?
You are right. Our ranking has improved significantly. Of the top 25 schools, our upward movement is matched only by one other law school. Within those years, we have improved our faculty and increased the quality of our student body. We have kept our tuition increases at a moderate level and have improved the level of financial aid that we're able to provide our students.
TLS: On a similar note, it seems that the U.S. News rankings have a significant effect on students' perceptions of different law schools. What is your opinion of these rankings? Do you think they do more harm than good?
Many deans consider that the U.S. News rankings have a baleful effect in legal education. Clearly the rankings should not be regarded as the end-all, be-all. However in a world where good information is hard to find, in other words, where the quality of schools is something of a black box, the rankings serve a useful sorting purpose. They give prospective students a reasonable sense of where law schools fall in the pecking order. What is more, the rankings have improved the resources going to law students. University administrations have not been able to treat law schools as cash cows. On the whole, this is good for law students. What is not good is the wasteful arms race that some schools engage in by trying to inflate opinion through glossy advertising.
Financial Aid
TLS: Many students are concerned with the increasing tuition at many law schools. How do you perceive Emory's tuition changing over the next few years? Will financial aid rise to accommodate higher tuition?
Students should be concerned about increasing tuition. As I said, we have kept our tuition increases moderate over the last four years. I know some schools, such as public schools, intend to increase tuition quite rapidly in the next few years to make up for lost public revenue. At Emory, we do not intend to increase our tuition beyond a modest rate. We will always attempt to increase financial aid when we increase our tuition. We have increased financial aid markedly in the last four years.
Academics at Emory
TLS: Emory Law emphasizes the motto "More Than Practice." What does this phrase mean for students at Emory?
The motto conveys a sense that at Emory Law we certainly prepare our students for the practice of law, but we go beyond that. We have a commitment to public interest, to professionalism and ethics and to a deep understanding of the nature of law in our society. Emory's centers and clinical offerings are varied, ranging from environmental law to feminism. We are broad in our conception of the nature of legal education and believe that by exposing our students to a variety of experiences, we can better prepare them to make a positive impact on the profession as well as within their communities.
TLS: How do you think a wide offering helps the student body at Emory?
Our centers and clinical offerings give the students a wide menu from which to choose. In the future, the practice of law will be more than minding the past; it requires practitioners who have a deeper understanding of the way the law operates in society. For example, the reach of business and law is now global. Human rights are not simply regional—they are international. We need to be attuned to that.
TLS: The "dean's teaching fellows" program seems interesting. What exactly does this program encompass, and how do you think it helps students?
Emory Law's teaching fellows program is an example of the community that we have built in the last four years. The Dean's Teaching Fellows are four, high-achieving third-year law students selected to serve as academic counselors for their fellow students. Their role is not to act as tutors in doctrinal law but as resources for developing the general academic skills needed for success in law school. They hold weekly office hours. A different Teaching Fellow is available for periods of three hours Monday through Thursday and on-call Friday. Dean's Teaching Fellows counsel all students, not just our first-year students. The program is designed to give meaningful peer-to-peer advice from students who have succeeded to those who are early in the process of legal education. Selection is sought after, and the feedback we have received indicates that students who are counseled have a better understanding of the material in class and feel more comfortable settling into the law school environment.
TLS: Is the law school currently trying to recruit faculty in any particular specialization(s)?
We are constantly trying to find the faculty members who are outstanding in their fields. We recruit both laterally and at the entry level. In recent years, we have had great success in recruiting top scholars from around the nation in patent law, children's rights, regulation and civil procedure, for example. Emory Law has an outstanding reputation in law and economics and in law and religion that it maintains with outstanding scholars in these areas.
TLS: How do Law Review and other journal selections work at Emory?
Emory University School of Law is home to three scholarly law journals: the Emory Bankruptcy Developments Journal, the Emory International Law Review and Emory Law Journal. Emory's law journals select candidates through a joint writing competition. Students compete by writing a single casenote in response to a packet of materials provided by the three journals and completing a Bluebook citation quiz. Competitors submit copies of their casenote and citation quiz to each journal they wish to join along with a preference sheet ranking their interest. Each journal then uses its selection and grading process to select candidates. In general, the editorial or executive board of each journal reviews the materials submitting anonymously and selects a pool of candidates (each journal accepts a different number of candidates) to participate on the journal. More information, including information on the 1L selection process is available at http://www.law.emory.edu/academics/law-journals.html.
Employment
TLS: One of Emory's keenest competitors in the Atlanta area is UGA. How does Emory fare against UGA in job placement locally?
Based on UGA's statistics for the Class of 2008, 76.7 percent of its graduates remained in Georgia, while only 39 percent of our class did. I think this disparity is a result of the difference between the profiles of students attending the two institutions. Georgia reports on its website that 71 percent of the entering Class of 2009 are Georgia residents. Because the majority of its students are from Georgia, most elect to remain in the state following graduation. In contrast, only 20 percent of the Class of 2011 and 19 percent of the entire Emory Law student body come from Georgia. Based on the broader geographic diversity among our students, there is more interest in practicing outside of Georgia, and, I suspect, greater opportunities to do so.
TLS: On a broader scale, what makes Emory different from peer schools like Vanderbilt, particularly in the South?
Perhaps the chief difference between Emory Law and our peer law schools in the South is our unique location in Atlanta. Our students benefit directly from our location in many ways. Atlanta is home to a vibrant and diverse legal market. Many of our alumni choose to stay in Atlanta and this provides numerous opportunities for our students to network among their fellow graduates. In addition to a thriving legal market, Atlanta is home to Fortune 500 companies, such as Coca-Cola and United Parcel Service; state, district and federal courts; and government and nonprofit organizations, such as the U.S. Centers for Disease Control and Prevention and CARE International. Through our field placement program, students gain practical experience working in a variety of organizations learning from some of the best lawyers in the country. Students also have extensive opportunities to pursue part-time employment during the school year.
TLS: How are Emory's students faring in OCI? Can you give us any concrete numbers? What particular steps is the law school taking to mitigate the effects of the recession for its students?
As with our peer institutions, there is very little good news related to OCI this year. Employer participation was down about 50 percent across our on and off-campus recruitment programs this fall. This is the case because the primary participants in fall OCI programs are large law firms, which have been most impacted by the economy.
To help our students through these challenging economic times, we have worked on increasing connectivity with employers and alumni. We have been visiting small- and mid-size law firms in Atlanta seeking part-time and post-graduate opportunities for our students and graduates. We are finalizing the Volunteer Career Advisor Program to help students identify alumni across the country who are willing to provide advice and information regarding various employment settings and practice areas. We also have revamped our Alumni Mentor Program to make it a more rewarding experience for both students and alumni.
We have updated our existing career programs and added programming such as an Interviewing and Relationship-Building Seminar and Practice Rounds (designed to help students connect with small firm practitioners around designated practice areas). We had national expert Donna Gerson on campus this fall to make a presentation and advise students on the small- and mid-size law firm employment search.
We also are increasing our focus on the basics of the employment search process through our one-on-one advising appointments during which we provide strategy advice and resume and cover letter feedback and our mock interview program. Mastering the basics is even more critical to our students in a competitive economic environment.
A former law firm hiring and professional development partner has been meeting with interested 2009 graduates who are seeking employment.
TLS: Please briefly discuss Emory's public interest program. Does Emory have a forgiving LRAP? What percentage of Emory's students decide to pursue public interest each year?
Emory Law benefits by having a dedicated public interest adviser in our Office of Career Services.
In addition, we have an active student organization, the Emory Public Interest Committee (EPIC), which raises money to offer law students interested in public interest work the opportunity to apply for grants to conduct summer work. Over the past several years, our students have worked in a variety of summer positions in the United States and abroad in countries like India, Liberia and Rwanda. In addition to EPIC, the Homeless Advocacy Project and Lawyers Guild are two other public interest-oriented student organizations.
Other public interest-related programs include the Public Interest Mentor Program, the Public Interest Dinner Series and Speaker Series and the Pro Bono Program. We also offer a number of clinics and public interest field placements.
Emory Law graduates may take advantage of our Loan Repayment Assistance Program if they are interested in public interest careers. LRAP helps defray repayment of student loans so graduates may take public interest positions that they might not otherwise be able to afford.
From the class of 2008, 2.39 percent of graduates said they were employed with public interest organizations while other public sector employment included judicial clerkships (8.61 percent), government (5.26 percent) and military (.48 percent).
Our hope is to continue to build our endowed scholarship funds so more students are free to explore all the career options open to them without concern for education debt.
You can learn more about public interest at Emory by visiting:
http://www.law.emory.edu/student-life/public-interest.html
You can learn more about our LRAP program, by visiting:
http://www.law.emory.edu/student-life/public-interest/loan-repayment-assistance-program.html
Student Life at Emory
TLS: How do you think being located in Atlanta shapes the social life for students at Emory?
Atlanta provides an interesting home for our students. The metropolitan area boasts nearly 20 public and private higher education institutions providing a number of opportunities for our students to meet with their counterparts from other schools for social activities. In addition, Emory is home to a number of other graduate and professional schools. Many of our students form friendships with graduate students in medicine, business, public health and theology and participate in various activities with students from other schools both on campus and across Atlanta.
In addition to connections with other students from Emory and at other schools, Atlanta offers outstanding athletic teams, shopping, museums, theaters and venues for the arts, as well as a wealth of other social and cultural opportunities. Our students benefit both socially and professionally by having an international city in their backyard.
TLS: What clubs and organizations are most popular at Emory? Do students tend to be very involved in campus activities?
Emory Law is fortunate to have an active Student Bar Association that works diligently to ensure the sense of community is carried throughout all of the activities and organizations on campus. In addition to SBA, we have active chapters of the Health Law Society, International Law Society, OUTLaw, Legal Association for Women Students and the Black Law Students Association. Our Emory Public Interest Committee is a group of students interested in public service that conducts service projects and raises money to fund public interest grants for students to use during the summer. There are nearly 40 student organizations at Emory offering all students an opportunity to make connections and find a place within our community.
TLS: What is the chief critique that current students have about the law school and what is being done to address this concern?
I wouldn't define it as a critique, rather more of a concern. I think our students, much like their counterparts in law schools across the country, are genuinely concerned about the constraints of the current job market. As law firms continue to feel pressure, our students rightfully wonder whether there will be jobs after graduation for them. No one has the answer to how all of this will play out. We are working closely with our firm partners, as well as with our two alumni advisory boards to expand our reach and explore marketing opportunities and professional development programs that will give our students an advantage in this marketplace. We have launched programs such as our volunteer career adviser program and have reinvigorated our Alumni Mentor Program. Both of these offer opportunities for our alumni and students to connect for networking and career guidance. Our Office of Career Services also has expanded its program offerings to provide students with information on additional career options. We are committed to ensuring our students have every possible advantage we can provide them as they begin their job search process.
TLS: What would you say students enjoy most about being at Emory University School of Law?
My hope would be that our students would say they enjoy the sense of community at Emory Law and that they feel a strong sense of support, both academically and professionally. We have worked hard over the last four years to build a stronger community of students. Our focus is on delivering what we call the "optimal student experience." Our goal is to ensure our students have the resources they need not only to make the adjustment to law school in their first year, but that we provide the tools necessary for them to be prepared for practice once they graduate; in whatever area of law they choose. As part of delivering the optimal student experience, we are working to help our students discern their path through expanded offerings in student and career services. We want them to experience the many opportunities that they can explore with their law degree, whether that be practicing in a large law firm or working with an NGO doing policy work. Through academic support and career services, we also are working to ensure our students are prepared for success in whichever career path they select. Our hope is to do all of this within the context of a vibrant and supportive community where our students feel supported at each step along the way. We also are working to carry through on this promise after graduation with expanded programs for our alumni through work by our alumni association.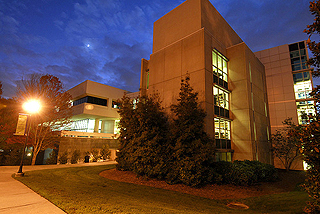 Parting Words
TLS: Do you have any final thoughts for the readers of Top-Law-Schools.com? Any advice for students applying this cycle?
Students interested in pursuing a law degree today have many options. At times, these options can seem a bit overwhelming. Especially in these times of economic uncertainty, students who are seriously interested in careers in the law should choose carefully where they plan to spend the next three years. They should use all the tools at their disposal to determine not only the quality of the programs but also the prospects for employment. They need to ask hard questions of the admission office. How will the three years of law school fit into one's life's plan? What resources are available to support them during their journey?
These three years are very important; they should be spent in a law school where one is surrounded by the very best and in a community that will nurture and support them as they explore what it means to practice law and what they plan to do with their degree after graduation. They should speak with faculty and choose a school where faculty members are not only at the top of their game in terms of teaching and scholarship, but where faculty members also are willing to give their time to the students to work with them, advise them and help them grow to be successful lawyers.
Students should seek out a law school where they are included in the intellectual life and have input into how that school can grow and improve. They should seek an environment where their fellow students will provide support and where they will take the work seriously but not forget to have fun and enjoy the experience together. Attending law school is not about going through the motions and graduating in three years to take a posh job in a large law firm. It is a period of exploration and discovery where a student should spend time learning not only about the law but about the ways law shapes them as individuals and way it shapes society. At Emory Law, we believe an outstanding legal education is more than practice; that it should prepare students to make a difference in their communities and in the world.