Interview with Jannell Roberts, Former Associate Dean of Admissions at Loyola Law School of Los Angeles
Published October 2009
Top-law-schools.com appreciates Jannell Roberts, Associate Dean of Admissions at Loyola Law School of Los Angeles, for kindly taking the time to answer the following questions.
The Admissions Process
TLS: What does the admissions process consist of, and how is an application rated?
In addition to the application, we require the LSDAS report, personal statement, and a letter of recommendation. Each application is read by one to three members of the Admissions Committee. Each reviewer may recommend admit, hold, waitlist or deny and files with different recommendations are sent to an additional reviewer or discussed by the Committee.
TLS: Realistically speaking, how large a part of the admissions process are factors other than a candidate's GPA and LSAT scores? Of these non-numerical factors, are there any that particularly pique your interest (military service, corporate work experience, Teach for America, etc.)? Can you give examples of what you see as excellent, good, and mediocre non-numerical attributes or accomplishments?
The qualitative aspects of a candidate's file (i.e., personal statement, letters or recommendation, resume) are extremely critical in our evaluation. The GPA and LSAT score merely sets the context, these other factors help the committee 'flesh' out the candidate and get a sense of who this student is as a person. Substantive community service (like Teach for America), military service and/or professional experience can be important indicators of a candidate's interests, maturity, goals and direction. Other good non-numerical attributes are substantive community service and/or campus involvement.
TLS: Do you have any advice for students preparing to apply to law school? What about for admitted students to prepare for their first year at Loyola-LA?
If you are considering law school, do as much research as possible in to the programs you are considering. Meet with representatives at the LSAC Forums or your undergraduate campus' law fair. Plan to take the LSAT as early as possible and study for it with diligence.
For Loyola entering students, we recommend that they 'get their house in order.' It's important to start law school with as little outside distractions as possible. If you are relocating, try to move at least three weeks before classes start to allow you time to settle in your new abode and community. And finally, relax! Law school requires a tremendous amount of time and commitment so enjoy your last summer (travel, read fun books, visit with friends/family) before the whirlwind of your first year begins.
TLS: What do you consider to be the most important factors an admitted applicant should examine when choosing which law school to attend?
Admitted students should consider campus life and the school environment, faculty accessibility, financial aid, and professional opportunities when making their choice for law school. It is essential that the student selects a school that is his/her 'best fit,' one that will provide the best environment for that student to succeed and excel.
TLS: How does Loyola-LA view multiple LSAT scores?
The Admissions Committee will use the average LSAT for students with multiple scores. If an applicant scores more than three points above or below the previous score, he/she is encouraged to submit an addendum to explain the score difference.
TLS: In what circumstances should an applicant include an addendum to explain his or her low GPA or LSAT score? What should this addendum include?
Addenda can be extremely helpful to explain any weakness in the candidate's file, like a low UGPA or LSAT. The addendum should be wisely crafted to explain the circumstance surrounding the weak indicator and why it is not reflective of the applicant's law school potential. The addendum should not be a litany of excuses.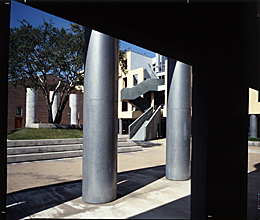 TLS: The number of applications to law schools in general increased last application cycle and many expect that growth in applications to be even more pronounced this upcoming cycle. Is Loyola-LA expecting and making preparations for an unusually high number of students applying in the 2009-2010 cycle?
We anticipate the application volume will remain at the same level or only increase slightly for the 2009-2010 cycle. The application volume has increased the last two years, and we are preparing for applications to remain flat for this upcoming cycle.
TLS: Many are excited over the appointment of Dean Gold. What kind of changes in the law school, if any, could one expect to see from the new dean?
Dean Gold has been a member of the Loyola community as a dedicated faculty member and innovative associate dean. Under his tenure, I expect Loyola to continue to promote its mission to educate our students with excellence, prepare them with the practical skills needed in our new world and economy, and do this while upholding the highest level of ethical standards that is the hallmark of our mission.
Financial Aid
TLS: What percentage of students receives scholarships of any kind and what methodology determines to whom scholarships are awarded?
The percentage for entering students receiving scholarship is 37%. Overall, 33% of JD students are receiving some form of scholarship. As far as our methodology, we use a system we call "merit plus". The main factors (but not exclusive) include LSAT scores and undergraduate grades. There is a "plus" component of other extraordinary accomplishments, interesting background and experience that can have an important bearing on an applicant receiving an award.
TLS: Will the current state of the economy affect the distribution of merit scholarships?
We expect to continue to deploy an aggressive scholarship budget for this year's class. Although like most schools, Loyola has been impacted by the challenges of this year's economy, we do not plan to decrease the level of scholarship dollars provided to next year's entering class. We are hopeful, even that it may increase slightly.
Applying Early
TLS: Do applicants, especially those with numbers that fall below Loyola's medians, increase their chances of admission by applying early? Is there anything that an applicant whose numbers are below your medians can do that would increase their chances of acceptance?
Applicants who apply early do have the advantage of being read at the beginning of the cycle because of our rolling admission policy. For applicants with statistical predictors below our mean, make sure your other application materials (personal statement, letters of recommendation, resume) are well-written, carefully-crafted and compelling. These qualitative factors can make the difference for those applicants not in the most competitive part of the pool statistically.
Personal Statements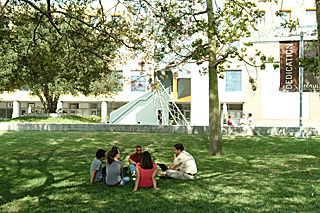 TLS: Do you have any general advice regarding personal statements for applicants who want to maximize their chances?
The personal statement is the most important qualitative component of the file. The applicant should make a case for him/herself and how his/her background, experience and abilities has prepared them for law school. The personal statement should show some reflection and be forward looking. It should be well written, compelling and concise.
TLS: Could an applicant significantly improve his or her chances of admission by drafting a personal statement specifically for Loyola, as opposed to a general personal statement that briefly mentions Loyola, if at all?
An applicant who indicates his/her reasons for considering Loyola (specialties, programs or faculty of interest) will certainly have this noted as a plus for their file. If an applicant elects not to outline his specific reasons for Loyola, s/he should certainly detail her/his interest in law school. Applicants who do neither may have the Committee question the seriousness and thoughtfulness about why he/she is applying to law school.
TLS: Do you come across personal statements that actually hurt the applicant's chances? If so, what are some traits of these statements? Are there any clichés or pitfalls an applicant should avoid? How often do you find statements that really stick out from the crowd and what do these statements consist of?
A personal statement that shows carelessness, grammatical errors and lack of attention to detail reflects negatively on the applicant's candidacy. One common error is sending a personal statement with the wrong law school name in the document. Applicants should avoid using their personal statement to reiterate their resume. The statements that are effective tell us the applicant's story and their interest in law school and what they hope to contribute to the Loyola community.
Letters of Recommendation
TLS: Applicants often have difficulty choosing and approaching potential recommenders. Can you offer some general advice regarding letters of recommendation?
Select a recommender who knows you well and can attest to your academic ability and those qualities necessary for law school success. Approach potential recommenders early and allow them to 'opt out' if they cannot provide a letter of substance. Also offer to give your recommenders a copy of your personal statement and resume. At Loyola, we will accept professional letters but make sure these recommenders know the purpose of their letter.
TLS: Does the admissions committee come across letters of recommendation that actually hurt an applicant's chances of admission? If so, what sort of letter should be avoided?
Letters that are superficial and unsubstantial are the least effective letters. And letters written by individuals that do not have a substantive academic or professional relationship with the applicant waste the opportunity for the applicant to strengthen his/her candidacy. Letters from family members should be avoided at all costs (even if those family members are attorneys.) My least favorite letters are letters from individuals who know the applicant's parent, or other friends of family who cannot offer any insight into the applicant beyond what type of little league player they were.
TLS: How often do you find letters that really stick out from the crowd and what do these letters consist of?
The best letters of recommendation are detailed, specific and offer comparative information (how that applicant measures up to his/her peers.) Letters that stand out offer examples of how the applicant's abilities will translate well in the law school environment.
Undergraduate & Graduate Education
TLS: How much will an upward grade trend positively influence the likelihood of admission?
An upward grade trend is a definite plus in the evaluation process. Students may begin their college career slowly, perhaps because of an ill-fitting major or lack of focus, but ending their college career well (and having success in the later years) is extremely important to the Committee and is a positive indicator of the type of law student this candidate can be.
TLS: Do you consider the relative prestige or rank of an applicant's undergraduate institution? What about the relative difficulty of an applicant's undergraduate major?
The members of the Admissions Committee are aware of the academic strength of many institutions but more important is that the applicant has taken courses that has challenged him/her and demonstrated their ability to learn difficult material. We consider the difficulty of an applicant's undergraduate major and the other things occurring in the applicant's life that may have impacted his college career (i.e., work, family responsibilities, etc.)
TLS: How do you view graduate degrees and do you take graduate GPA into consideration?
Although graduate degree GPAs are inflated, we do consider graduate degrees a plus. Graduate degree work, however, cannot replace an applicant's undergraduate work. It can be an indicator of the applicant's increased focus and maturity (if this appears lacking in their undergraduate history.)
The Waitlist
TLS: What is the typical size of the Loyola waitlist, and how deep do you usually go into the waitlist to admit students? Once on the waitlist are there any steps one can take to increase their chances of getting off the waitlist?
Loyola usually has a waitlist of more than 100 people. We focus our consideration on those waitlisted candidates who have sent in additional information to supplement their file (i.e., recent grades, statement of interest, and additional letter of recommendation.) A candidate who has supplemented their file with information not available at the time of the initial review is given careful reconsideration.
Transfer Students
TLS: How many transfer applications does Loyola Law School typically receive, and what percentage are offered admission? What are the main factors taken into consideration in reviewing a transfer application?
We receive more than 200 transfer applications. Our transfer class enrollment can vary, depending on the space availability in our upper division classes. (In recent years, we have enrolled about 40 transfer students.) The most important factors for these applicants are first year law school grades and class rank. Transfer applicants in the top third of their class or better are considered the most competitive.
TLS: Loyola had strong anti-transferring policies a few years ago that completely changed this year, will the school be planning to implement any new transferring policies?
We are not aware of any new transfer policies.
The USNWR Rankings
TLS: Whether it's for good or for bad, a lot of applicants take a close look into the US News and World Report Law School Rankings and possibly even factor those rankings into their decision making process. Does this pressure the admissions office into being maybe more numbers driven than they would like to be?
The rankings have impacted all of us more than we care to admit. Our biggest challenge has been the recent reporting change to use statistics for both full-time and part-time students. Part-time (or nontraditional) students tend to be the candidates most likely to have the maturity, experience, focus and drive we are looking for but these characteristics are not reflected in their test scores. In the past, we have been able to enroll these students and be confident of their success. The new reporting change means, I think not just for Loyola but most schools with Evening programs, that we will have less opportunity to recruit these very talented prospects because of their lower statistical predictors.
TLS: Would the admissions office do their job any differently now if these particular rankings never existed?
There are always those candidates in the pool who have demonstrated excellent potential but who have lower LSATs and UGPAs. I think most law schools would expand the opportunity for these students to attend if they knew these individuals would not have a negative impact on their enrollment figures and ranking.
Loyola-LA Law School Distinctions
TLS: What do you feel students enjoy most about Loyola-LA Law School?
Students enjoy being part of a community dedicated to their legal education and the support they receive from deans, faculty, administrators even the LMU campus. Our community is collegial, committed and diverse. Students benefit from the tremendous resources available to them as part of the LLS' network and this network is invaluable to them as a student and alum.
TLS: What is the chief critique that current students would have about the law school and what is being done to address this concern?
We often hear from students that our campus is missing only one thing…a gym! Although we do not have these facilities on campus, our Student Bar Association works with neighborhood gyms to provide discounts to our students. And our law students may participate in the facilities available at the undergraduate campus (in Westchester.)
TLS: A lot of students who gain an acceptance from Loyola will likewise receive admissions acceptances from some other California schools such as Santa Clara and the University of San Francisco. What distinguishes Loyola from these schools?
Loyola was one of the first schools in California to require its students to complete 40 hours of pro bono work. Social justice just isn't a phrase on our website, we care about training our students to be positive members of the bar and to hopefully, go on to have a positive impact on our community, whether in public interest or business or politics.
Loyola is also distinguished by our track record to produce outstanding attorneys who have the ability to 'hit the ground running.' Our externship program, clinics and centers provide excellent practical training. Our students learn legal theory in the classroom and then have an opportunity to see that theory at work in real settings.
Careers
TLS: What type of debt and employment situation is the typical Loyola law student going to be in after graduating near the median of his or her class?
The average debt for our graduates is just under $110,000. For students in the middle of the class, they can expect more opportunity at small firms. (Loyola's salary average for small firms is $80,000, mid-size firms $97,000 and large firms $100,000.).
TLS: There's some concern about California being a saturated legal market and the poor economy of the state being very detrimental to people graduating from local California law schools. Additionally, there might be fears of Loyola grads being crowded out from graduates of schools such as Stanford, Berkeley, UCLA, USC, UC Davis, UC Hastings, Pepperdine, and now even UC Irvine. How would you assuage these concerns?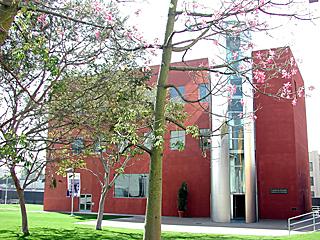 We have always existed in a very crowded southern California market with other excellent law schools. But we affirm the quality of the legal education students receive, our top-notch faculty and a campus environment that allows our students to thrive. We anticipate that the face of the legal market is changing and we will continue to provide services to our students to place them in the best possible position when they begin their job search. Prospective students should think carefully about the realities of the legal market in the upcoming years. But I am confident that our graduates will continue to distinguish themselves as excellent practitioners and passionate advocates.
General Advice
TLS: Do you have any additional, general advice that you would like to offer applicants who are reading this interview before putting together applications for Loyola Law School of Los Angeles?

We hope our applicants are thoughtful about why they plan to attend law school and why they are considering Loyola. Approach the application process seriously, be thorough and concise. Prospective students are making a case for themselves – every part of their application is an opportunity to convince the Admissions Committee of their law school potential. Our application process seeks to enroll the most qualified class possible and this means not just those with the best scores but those students who will come and have a terrific impact on our community.