Interview with Nikki Laubenstein, Director of Admissions at Syracuse University College of Law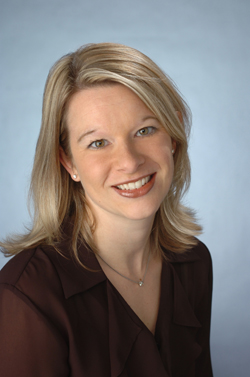 Published December 2011

TLS: Do any programs or opportunities at Syracuse Law stand out from the others as particularly exceptional?
Nikki Laubenstein: The College of Law has many centers, institutes, clinics and certificate programs. A few that stand out as particularly exceptional and unique are those that combine law coursework with other nationally recognized programs at Syracuse University, essentially culminating in two advanced degrees for the tuition of one.
The Institute for National Security and Counterterrorism is an extraordinary interdisciplinary program of the College of Law and the Maxwell School for Citizenship and Public Affairs. The Institute for the Study of the Judiciary, Politics, and the Media combines the expertise of the College of Law, the Maxwell School, and the S.I. Newhouse School for Public Communications. Syracuse Law is also known for our unique program and joint degree in Disability Studies, which combines curriculum from the College of Law and the School of Education.
TLS: What new developments are on the horizon at Syracuse Law to ensure a bright future for the institution and its students?
NL: We are fortunate to have an Office of Student Life within the College of Law, dedicated to working solely with law students. This office provides personal and academic counseling, bar support, and wellness programming for the nearly 650 law students. Many of the newest developments on our horizon involve programming efforts of the Student Life Office. A sample of these new initiatives include:
Bar support that includes substantive review of bar courses and workshops focusing on the bar application process and the skills necessary for bar passage. A new component of the programming exposes 2Ls to an actual bar exam.
Plans for our academic support program include expanding the tutoring program and broadening the scope of the Academic Skills Development Sessions to contain more exam writing practice.
Programming for diversity, pro bono opportunities, and wellness initiatives are supported. In addition, new ideas are continually being developed based on student's needs.
We hope these additions, along with all that is currently provided to our students, helps ensure their bright future and wellness as individuals and future lawyers!
The Admissions Process
TLS: Can you explain how applications are evaluated at Syracuse Law? If possible, please take us through the various stages of evaluation that begin after you have received a student's application.
NL: Syracuse Law uses a presumptive model for the initial review of applications. This means we use an index calculation that combines an applicant's LSAT score and undergraduate GPA to determine if the applicant falls within the typically admitted (or denied) range for Syracuse. The Admissions Office professional staff thoroughly reviewsall applications and considers much more than just applicant's numerical credentials. Significant time is spent reviewing an applicant's supporting materials, including a personal statement (which is review for both content and writing ability), letters of recommendation to assess a student's academic ability and character, and a student's resume to look for involvement and leadership qualities.
Applications that do not clearly fall within the presumptive ranges are given to the Faculty Admissions Committee for further review. A final decision is made on these applications once both the Admissions professional staff and the faculty committee have reviewed these applications.
Admission decision notification begins in early January each year and continue weekly on a rolling basis as applications become complete.
TLS: Besides having a good LSAT and GPA, what are some things an applicant can do to strengthen his or her chances of being admitted to Syracuse Law?
NL: We place a lot of weight on each applicant's personal statement and letters of recommendation. Students can distinguish themselves with their writing ability. Our Admissions Committee is looking for well-written statements that give us a good understanding of who the applicant is, and what unique qualities they have, that will enrich our incoming class.
Students can benefit from thinking carefully about whom they select to write their letters of recommendation. Syracuse Law puts a lot of emphasis on letters of recommendation that are from professors who clearly know the student well. The most helpful letters of recommendation comment on the student's academic abilities and how that professor thinks the student will function in the demanding environment of law school. Strong letters will also discuss the student's character and how "fit" the recommender thinks the student is for the study and practice of law.
TLS: Can an upward grade trend overcome the disadvantage of a below median cumulative GPA?
NL: An upward trend in grades is something that our Admissions Committee looks for on applicants' transcripts. At Syracuse Law we spend a lot of time evaluating each student's undergraduate record. We look for factors such as the strength of the undergraduate institution, rigorousness of major, the level of coursework taken throughout the student's undergraduate education and, if the cumulative GPA is below our median, was an upward trend in grades achieved . An upward trend can indicate that the student worked through common challenges, such as adjusting to college life away from home, changing his/her major, balancing extracurricular involvement, and/or the need to hold a job. Developing good time management skills is important for students enrolled in law school!
TLS: Does the admissions department weigh GPAs differently depending on the major (for example, is an Engineering major with a 3.2 evaluated the same as an Anthropology major with a 3.2)?
NL: The Admissions Committee takes a very holistic approach to evaluating each applicant's GPA. A student's cumulative GPA may be judged differently if his/her major is typically considered more difficult, such as a major in a hard science. However, our Admissions Committee will also look at individual courses on the student's transcript and will look favorably if the transcript shows strong grades in courses that demand extensive research and writing. Students whose majors have coursework heavy in analytical reasoning, research, and writing will be better prepared for law school.
TLS: When dealing with multiple LSAT scores, do you take the highest score or the average?
NL: Syracuse Law uses the highest LSAT score in our evaluation of an applicant's file; however, we review all attempts at the LSAT. For students with a large discrepancy in LSAT scores, we recommend including an addendum explaining the difference in scores.
TLS: What are some common mistakes you see in applications that prospective applicants should avoid?
NL: We know that applicants are typically applying to several law schools in addition to ours, but it is never good to include the name of another law school in the personal statement. Taking the time to tailor each personal statement to answer that school's essay question is something that every applicant should take the time to do. Law schools want to know that students have done their research and can explain why they have applied specifically to your law school and how they would be a good fit.
Additionally, students should treat the law school personnel with respect, in all of their communications, whether in-person, by phone, or email. Applicants should realize that they are being evaluated from the minute they become a prospective student!
TLS: How much weight is given to graduate studies when considering an applicant's previous academic history?
NL: The Admissions Committee looks favorably upon students with graduate coursework or advanced degrees. Studying at an advanced level in a specialized field can often help in preparing students for law school, as graduate work generally encourages students to think and research at a higher level than they may have done as undergraduates. Graduate GPAs are not used in any index calculations and are considered more of a subjective factor within the overall application review. Applicants who have completed graduate coursework or who have worked for any significant period of time after college often enhance class discussions and are desirable candidates to law schools.
TLS: Are addendums encouraged (if, for example, students have a desire to explain a below median LSAT and/or GPA, or to express a special interest in Syracuse)?
NL: If a student feels that s/he needs to clarify any piece of their application, the Admissions Committee would prefer to have the applicant do this in an addendum, rather than incorporate the explanation into the personal statement. Syracuse Law especially encourages addendums for significant discrepancies in LSAT attempts or a noticeable dip in a specific semester's GPA.
Financial Aid
TLS: Would you explain how financial aid awards are determined?
NL: The Office of Admissions reviews all applications for merit-based scholarships which could range from half to full tuition. Merit scholarships are based primarily on an applicant's LSAT score and undergraduate record, but academic letters of recommendation, a personal statement and resume are also part of the evaluation.
The Office of Financial Aid reviews students for need-based financial aid. Students who wish to be considered for need-based grant awards must complete their FAFSA and an institutional Syracuse University College of Law financial aid application.
TLS: What percentage of the class receives financial aid?
NL: For the class that entered in the fall 2011, 87% of Syracuse Law students received some form of financial aid or loans. 70% of Syracuse Law students received grants or scholarships from the College of Law.
TLS: Does the school have any special programs to aid students in loan repayment?
NL: The College of Law operates its own Financial Aid Office, which is separate from the University's Financial Aid Office. This allows for personal, individualized service to our students, prospective students, and alumni. Although Syracuse University College of Law does not have an institutional LRAP (Loan Repayment Assistance Program), our Office of Financial Aid is expertly staffed with professionals who can advise borrowers on all of the repayment options available (including the Income Based Repayment plan and Public Service Loan Forgiveness). Student loan borrowers are encouraged to make appointments with any of our financial aid administrators to review their borrowing history, to calculate monthly loan repayment obligations, and to review their repayment options. We offer a lot of information on our web site about this topic.
Quality of Life
TLS: Can you describe the culture among students and faculty at Syracuse Law?
NL: The culture is one of supporting academic excellence, and personal and professional growth. The College of Law offers many opportunities for students to work together and to work closely with law faculty; this promotes a cooperative and professional environment. We have over 30 student organizations, an active student bar association, and 5 student-run publications. This allows students to work collaboratively and with faculty advisors. The College of Law has a faculty mentor program that begins for 1Ls during orientation and provides follow up several times throughout the year.
TLS: The sketches of the new student housing complex look very nice. Is it on schedule to open in Fall 2012? Can you tell us more about it?
NL: Yes, the new law student housing facility is scheduled for students to move in for the start of the fall 2012 school year. We are excited about this for many reasons! Campus West Apartments will be steps away from the current College of Law buildings, and even closer to our new law school building, Dineen Hall, which will open in fall 2014. This state-of-the-art facility will provide housing exclusively for law students at Syracuse University who share similar needs. Other plans for Campus West include retail space that will provide convenient stores and shopping for the graduate population. The long term plans for Campus West will expand the part of campus where the law school is located.
TLS: What makes Syracuse a great place to study law?
NL: Students often tell me they know they've made the right choice in pursuing their law degree at Syracuse for a number of reasons. A reason I hear a lot is that Syracuse Law students feel a connection! From the time they are prospective students to the time they are admitted, enrolled and become alumni, a Syracuse Law student is treated like an individual who is part of a great law school and a great university. You can't walk around campus without seeing bright orange tee shirts that say, "Real Fans Wear Orange", or "Real Lawyers Wear Orange". Syracuse Orange pride is everywhere! Syracuse Law alumni are incredibly generous with their time and financial support. This promotes the Syracuse University College of Law name and pride for each future class of Syracuse Law students. This connection and pride in the university is just one thing that makes Syracuse a great place to study law.
Another aspect that students take advantage of is the many interdisciplinary and extracurricular opportunities available on the Syracuse University campus. The College of Law takes full advantage of being part of a major research university with such programs as our various joint degrees and centers and institutes.
Syracuse Law
TLS: How is career services responding to the rough economic waters of the last few years?
NL: Our Office of Professional and Career Development has always worked with student's individual needs. Additionally, our Offices of Advancement and Professional and Career Development work very closely and much coordination is done with our alumni network to help Syracuse Law students find employment both for summer internships and after they graduate. Because a typical graduating class may take over 20 different bar exams and be looking for employment all over the country, this individual approach to working with students is something that has always been a focus. Although the economy over the last few years has been difficult, the Professional Development staff at Syracuse Law has done an extraordinary job of assisting students with their job search because of the personal, individualized structure to working with students that they follow.
TLS: Why should an admitted applicant choose to attend Syracuse over other law schools?
NL: The name recognition and reputation of a degree from Syracuse is something that many students highlight as one of the reasons they chose the College of Law over other law schools. Having the opportunity to earn a JD and a master's degree concurrently (for one tuition cost) is another opportunity that students find hard to pass up. Lastly, many tell me about the sense of community they feel as a Syracuse Law student while in law school and as an alumnus. To find out why our Law Ambassadors chose Syracuse Law, see the link below!