Canada: Peter A. Allard School of Law at the University of British Columbia (UBC)
Published September 2009, last updated August 2016




The Peter A. Allard School of Law is one of Canada's leading law schools, with a global influence.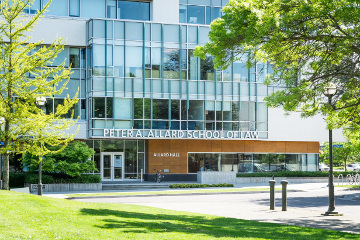 Innovative researchers, inspiring teachers and outstanding graduates have established the Allard School of Law's reputation as one of the world's great centres for legal eduction and research. Established in 1945, the law school has educated leaders in the community and the legal profession. Our distinguished graduates have excelled in all areas of law and government and made a significant impact on some of the world's most pressing issues. The Allard School of Law is one of the top law schools in Canada.

About Us

The law school was named the Peter A. Allard School of Law in 2015, in recognition of a transformative gift from Mr. Peter A. Allard, Q.C. His gift secures the future for new students just entering the school and generations of students to come.

Allard Hall

Located in Vancouver, British Columbia, the law school's Allard Hall creates an inspiring learning, research and meeting place for students, faculty, staff and the wider legal community. When it opened in 2011, Allard Hall was the first purpose-built, all-new law building for a Canadian law school in 30 years. The facility is a beautiful, light-filled building with spacious, contemporary classrooms, dedicated group study rooms and abundant informal learning spaces. Allard Hall offers stunning views of the Pacific Ocean and nearby Coastal mountains.

Allard Hall is situated on UBC's magnificent Point Grey campus, located on the traditional, ancestral, un-ceded territory of the Musqueam people.

Academic programs

The Allard School of Law fosters a rich academic program and collaborative environment that supports a community of outstanding students and a space for shared intellectual enquiry.

The law school's Juris Doctorate (JD) program attracts some of the most highly qualified students in Canada. Our innovative JD curriculum emphasizes foundational knowledge, scholarly innovation, ethics, and the development of professional skills. Students also have ample opportunity to engage in experiential learning, such as a wide range of moots, externships and clinical programs. Our curriculum is continually evolving to reflect the changing legal landscape; all students must now include transnational law in their first year studies at Allard School of Law.

We also welcome graduate students - both LL.M and Ph.D. students - from around the world to engage in challenging and innovative graduate study.

Courses at the Allard School of Law are taught by full-time faculty members who are internationally recognized scholars, as well as exceptional adjunct faculty who are leaders in their profession.

The Career Services Office assists students and alumni by providing career coaching and support, training and resources, and assistance securing articling positions, clerkships, summer and permanent employment, as well as a connection with the broader legal community.

Undergraduate programs:

JD
Combined JD and Master of Business Administration (MBA)

Concentrations/specializations:
Business Law
Aboriginal Law
Law and Social Justice
Environment and Natural Resources

Graduate Programs

PhD
Master of Laws
Master of Laws (Common Law)
Master of Laws (Taxation)

Distance Learning

Admissions

JD Program

As one of Canada's leading law schools, the Allard School of Law attracts some of the brightest minds across the country and around the globe. Each year the Allard School of Law admits approximately 180 students to first-year law, for a total population in the Juris Doctor (J.D.) program of around 550 students. The J.D. is a three-year program with a compulsory first-year curriculum and broad course selection available in second and third years. For details visit: JD admissions

Graduate Programs

The Allard School of Law offers four graduate degrees, each of which is tailored to provide students from diverse cultural, academic, and professional backgrounds to engage in challenging and innovative graduate study.

World-leading Research

The Allard School of Law is home to a dynamic, accomplished and diverse group of faculty who make innovative and highly influential contributions to academic knowledge, the practice of law, the development of policy, and the progress of civil society at both national and international levels. Their research and publications are regularly cited by scholars, courts and judiciaries, both within Canada and abroad.

The law school's areas of excellence and clusters of faculty expertise include:
Human Rights law
Business Law
Environmental and Natural Resources Law
Asian Legal Studies
Indigenous Legal Studies
Feminist Legal Studies
The Allard School of Law regularly ranks among the top 25 international law schools as measured by downloads from the Social Science Research Network (SSRN) service, which provides an indication of the impact of the faculty research.

Human Rights and the Allard Prize for International Integrity

Consistent with the law school's scholarship in the areas of human rights, ethics and social justice, the Allard Prize for International Integrity recognizes those who have demonstrated exceptional courage and leadership in combating corruption, especially through promoting transparency, accountability and the Rule of Law. The CAD 100,000 prize, awarded biennially, is conceived and funded by notable alumnus Peter A. Allard, Q.C., and is administered by the Allard School of Law.

International Reach

The intellectual community at the Allard School of Law is regularly enriched by visiting students and faculty from top international law schools, such as Harvard Law School, Oxford University, Melbourne Law School and Hebrew University of Jerusalem.

The Allard School of Law extends its international reach through a number of faculty and student international partnerships in North America, Europe, Asia and Australia. Students have the opportunity to study at another law school for part of their degree. Allard School of Law has student exchange partnerships with over 20 international law schools, including East China University of Political Science and Law, The National University of Singapore and the University of Copenhagen.

The law school maintains joint legal education programs that allow students to gain dual professional qualifications in Canada and the host country. In 2015, the Allard School of Law and the Tsinghua University School of Law in Beijing signed a ground-breaking agreement that enables students from Tsinghua to obtain both an LL.B from Tsinghua and a JD degree from UBC. Other joint programs include the University of Hong Kong and the University of Hawai'i.

Influential Alumni, Outstanding Leaders

The Allard School of Law has true global influence, with over 8,900 alumni who practice in 40 countries.

The law school has educated generations of outstanding leaders who have made their mark in a broad range of spheres, from the legal profession and the judiciary to business, government and academia. Our alumni not only excel in their professions, they are contributing to their communities, working in diverse ways to improve the world around them and create a more just and equitable society.

Notable alumni include Chief Justices of the Supreme Court of Canada, ambassadors and diplomats, Attorney Generals of Canada, government leaders, and many others.

The University of British Columbia - An Inspiring Place

UBC is a global centre for teaching and learning. Since 1915, UBC's West Coast spirit has embraced innovation and challenged the status quo. At UBC, bold thinking is given a place to develop into ideas that can change the world. UBC is consistently ranked among the 40 best universities globally, and places among the top 20 public universities in the world.

Vancouver, Canada

The City of Vancouver, British Columbia, on Canada's West Coast, is a truly international city and a major cultural and economic powerhouse. Consistently rated one of the best places in the world to live, Vancouver is known for its natural beauty and friendly people. It is also one of the most culturally diverse cities in the world, with 52% of the population speaking a first language other than English.