An Introduction to Law School Admissions Strategy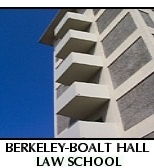 Published October 2006, last updated January 2011
If you are set on attending law school, there is perhaps no better use of your time and money than preparing effective applications to many law schools. While I understand the financial costs and time commitment involved with every law school application, it is decidedly worth it when put into perspective. For example, you have probably spent at least 6,000 hours studying and attending classes during your four or five years in college. In addition, you should spend at least 200 hours preparing for the LSAT. Yet each additional application will only take you several hours to complete and require a nominal fee ranging from $50-$90.
Because the law school admissions process is so subjective, and in many ways a "crap shoot," sending off extra applications may result in seemingly amazing results. The following examples illustrate this point.
The University of California, Berkeley Law School (Boalt Hall) is generally considered one of the five hardest law schools to gain entrance into. Yet, one of my classmates was admitted into Boalt Hall, but rejected from every other law school to which he applied. The reason was that Boalt Hall loved his law school personal statement, discussing how he was a former gang member but had since reformed and was now interested in helping other gang members learn about the legal system.
One of my friends was rejected from the University of Texas Law School but admitted into Harvard Law School. The reason is that the University of Texas Law School is very Texas-centric and heavily favors in-state applicants.


Another friend was rejected from Stanford Law School but admitted into Harvard Law School. The likely reason was his being a California resident disinterested Stanford but interested Harvard, with both top law schools seeking a nationwide group of classmates.
The admissions process is not an objective science, but instead a subjective decision based upon each school's and admissions counselor's preferences. Do not assume that your chances of admission necessarily decline as the law school becomes more prestigious. While one must be realistic when applying to "reach" schools, the extra time and money involved are well spent.
Studies indicate that the average law school applicant applies to four or five law schools. A good investment in yourself and your future is to apply to ten or more law schools, perhaps as follows:
"Safety" Schools
Two or three applications to "safety" law schools. These are schools where you believe that the likelihood of your admission is quite high, ideally above two-thirds. Since you will be more qualified than the average applicant to these law schools, consider applying to schools that offer many law school scholarships.
"On Par" Schools
Four applications to law schools where you anticipate that you have at least a fifty-percent chance of being admitted. These would be law schools where your LSAT score and GPA are near that school's admission standards.
"Reach" Schools
At least three applications to "reach" law schools. Remember that the answer is always "no" if you never ask. Perhaps one of these schools will "bite" if you prepare an interesting law school personal statement that will separate you from the horde of others with slightly below average numbers. A $50-$90 application could change the course of your life; it is worth the investment!
Tailoring The Law School Personal Statement (if you have the time and inclination)
The law school personal statement to "safety" schools should not be a copy of the one you send to your "reach" schools. The law school personal statement to "safety" schools should be relatively conservative. To these law schools, your LSAT score and GPA will probably result in your being granted admission; thus, the goal of the law school personal statement is not to offend.
When applying to a "reach" school, the law school personal statement should be "risky," seeking to provoke the admissions committee to reconsider your presumed rejection due to having a GPA and LSAT score lower than their average applicant. True in both life and law school admissions, one should take greater risks when the likelihood of success is lower.
The top law school admissions books of TLS users includes a number of books that can help with writing your personal statement.