Canada: University of British Columbia (UBC) Faculty of Law
Published September 2009, last updated April 2010

Note: Applying to the University of British Columbia Faculty of Law can be initiated through their website.
Introduction: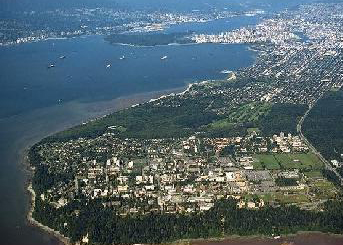 The University of British Columbia Faculty of Law was founded in 1945, and is the second largest Canadian common law school, second only to Osgoode Hall in number of students. Since that time, it has also developed into one of the nation's very best law schools, with Macleans 2008 rankings placing it as the best law school in Western Canada, and the 4th best in the entire country. Students at the Faculty of Law also benefit from the tremendous faculty that teaches there, with its faculty being cited third most among Canadian law schools in journals, according to Macleans ranking methodology. Beyond the statistical measures, UBC is also one of the few Canadian law schools that is currently offering a Juris Doctor (J.D.) degree, as opposed to the more traditional Bachelor of Laws (LL.B) degree.
Location wise, the University of British Columbia has a very scenic campus, being situated in a park-like environment that covers over 1,000 hectares of forested peninsula looking out over the Pacific Ocean and coastal mountains. It is also, conveniently, just outside of downtown Vancouver, making the university easily accessible by public transit. As one of the largest Canadian cities, with a population of nearly two million people, Vancouver is an increasingly important international city. It also happens to be bordered by beaches and mountains, and boasting a year-round temperate climate due to the nearby Pacific Ocean.
Beyond the physical beauty and warm weather, UBC Law is a beacon of contemporary legal knowledge in issues such as Asian legal studies, feminist legal studies, First Nations legal issues, dispute resolution, environmental and natural resources law, among others. It is also the home of the National Centre for Business Law, providing its students with a world-class centre for business law, scholarship and teaching. Furthermore, Faculty of Law graduates have not only assumed leading roles in the Canadian judicial system and legal profession, both in B.C. and nationally, but also in the business world, politics, government, the community and academic world. Consequently, it is no surprise that every year, many of the very finest students in Canada choose the University of British Columbia Faculty of Law as the place where they will pursue their legal education.
For International (and U.S.) students:
Note, the University of British Columbia Faculty of Law teaches Common Law, like most Canadian Law Schools. Universities within the province of Québec generally teach Civil Law, because of the different legal system within that province. The only exceptions to this are the University of Ottawa (which teaches Common, Civil, and both) and McGill University (which teaches both).
Admissions:
Admission to the University of British Columbia Faculty of Law is extremely competitive, with over 1,700 applicants seeking a mere 180 spots. It is not surprising that as a result, the Faculty of Law is perhaps the second most selective law school in Canada, with a median GPA of 82% and a median LSAT of 164. That said, students seeking admission to the University of British Columbia Faculty of Law who already have a degree, will have their 12 lowest credits removed (the equivalent of 4 semester courses or 2 year long courses) from their transcript when calculating their GPA; while students in their third year of study will have their the equivalent of their 6 lowest credits removed.
As a result of this policy, the Faculty of Law weighs both GPA and the LSAT equally. According to the website, as a practical matter, this means that the lowest competitive GPA for regular admission would be a 68%, along with a 99th percentile LSAT score. Conversely, an LSAT score of 155 but a cumulative grade point average (CGPA) of 86% would be just as competitive.
UBC Law permits students in the regular category of admissions to ask for special consideration due to various factors that may have adversely affected their academic record. This so called "Discretionary Category" is limited to a small number of positions, and is where a student may not satisfy one or more of the requirements for admission but may have other relevant achievements and experience. The Admissions Committee maintains the discretion to respond to this type of situation by taking into account factors such as disability or special needs, financial disadvantage, age (generally for applicants over 30 years of age), membership in a historically disadvantaged group or any other factors the applicant wishes the committee to consider. These factors will be considered in context of the applicant's other achievements, work experience, and/or volunteer work. While students in the regular category are not required to submit reference letters (and in fact, they will not be read if they are submitted), students in the Discretionary Category are expected to provide two reference letters. There is no specific form required, but they should be mailed directly to the office by the referee, and the referee should sign the back of the envelope.
The University of British Columbia Faculty of Law also offers a First Nations Program, for students with Aboriginal ancestry. These students may apply as discretionary applicants in the First Nations category. Aboriginal applicants should contact Associate Director of the First Nations Legal Studies Program, Andrea Hilland, at hilland@law.ubc.ca or (604) 822-2177 as early as possible to discuss their application. Please note that aboriginal students at UBC Law have additional documentation requirements above and beyond the regular application, including a biographical essay, two reference letters and proof of aboriginal ancestry.
Financial Costs:
Attending the University of British Columbia Faculty of Law is, like most law programs, an expensive endeavor. The precise tuition does vary depending on the course load, but domestic tuition for a full course load in 2008-2009 was assessed at $9,741.89; while the international students tuition for that same period was $22,556.45. This is comparable to most other Canadian law schools. In addition to the cost of tuition, students attending the University of British Columbia Faculty of Law can expect to pay student fees in the neighborhood of $850 per year.
Beyond tuition of course, students will need to purchase books, supplies, accommodations, food, transportation and etc. The Faculty of Law estimates these expenses to be approximately $12,500 according to the LSAC data, but this may be an optimistic assessment. In 2006, Vancouver was ranked as the 56th most expensive city to live in among 144 major cities in the world, and the 2nd most expensive in Canada, after Toronto.
Financing Your Education:
The University of British Columbia Faculty of Law offers a wide range of merit-based scholarships and a comprehensive needs-based funding program. According to figures provided by UBC, law students annually receive over $4.5 million in funding, including $300,000 in scholarships and $700,000 in non-repayable bursaries and work-study wages. Despite this commitment however, students do bear the primary responsibility for planning finances and securing funding. With this in mind, UBC advises students that your credit rating may play a role in your ability to access financial assistance.
Despite this, the UBC website does offer links to Outside Awards that are not affiliated with UBC but are open to students on an annual basis. For the 2009-2010 academic year, these include the Canadian Bar Association Viscount Bennett Fellowship, the American College of Trial Lawyers essay contest, and the Think Privacy! competition. Additionally, students with aboriginal ancestry may benefit from specific awards beyond those offered by UBC, while students with disabilities may also be offered an additional range of awards.
Finally, the UBC website features an extensive area with assistance on how to plan for your financial costs. The timeline covers the period from January of the year before you enroll into October of the year you begin your studies. It includes steps such as figuring out your program costs, applying for student loans, engaging in a work-study program, applying for bursaries and to continue watching for scholarships. This useful guide can be found here: http://www.law.ubc.ca/prospective/financing/costs/planning.html
For International (or U.S.) students:
The majority of merit-based awards are available to international students. It is important to note however, that most forms of need-based assistance will not be available.
Academics:
Students attending the University of British Columbia will spend much of their time in the Curtis Building, which opened in 1975. This building contains many of the amenities that students will require throughout the duration of their studies, featuring the law library, faculty and student offices, classrooms, a full formal courtroom and a small cafeteria. The law library is comprised of over 300,000 library volumes, is open seven days a week (84 hours), features 3 full-time librarians, a full range of electronic journals and databases, 567 seats and 20 computer workstations. Furthermore, students have access to the Centre for Asian Legal Studies which offers courses in Japanese, Korean and Chinese law for graduate and undergraduate students. Finally, the large Student Union building is nearby. This building contains a full array of recreational and food service facilities.
Beyond the physical facilities, students are given an orientation program which introduces them to the faculty, other students, lawyers and the judiciary, and to the start of their study of law as an academic discipline. To this end, the first year program features a required set of courses and activities, while the second and third years of study are chosen from a much wider range of options.
First Year Curriculum:
First year students at UBC Law can expect to benefit from the recent curricular reform which was underwent by the school. The hallmark of the new program is an expansion of the range of subjects taught in first year, less reliance on 100% final examinations, a diversification of evaluation methods and finally, smaller classes. In fact, first year classes at UBC law are now taught in groups of approximately 45 students, allowing students more direct contact with instructors and more opportunities for feedback. This change has allowed for an enhanced legal research and writing (LRW) program, allowing students to complete up to twelve writing assignments in their first year alone.
In terms of courses, students during their first year can expect to take eight compulsory courses. These courses feature the common staples of Canadian Constitutional Law, Contracts, Criminal Law & Procedure, Property Law and Torts, which are all year long courses. However, the new curriculum has also been expanded to include The Regulatory State, Transnational Law and Law in Context. The last of these is taught in an innovative "bridge-week" format designed to expose students to the concepts of the legal profession and professionalism, while also introducing theoretical and critical perspectives of the law.
Upper Year Curriculum:
The upper year program at UBC Law is fairly flexible, with only a few requirements. First, students must take at least one course in each of Public Regulation, Private Regulation, Procedure, Law and Society Studies, and Legal Research and Writing. Each of these disciplines offers a list of potential courses that qualify, for example, the Public Regulation requirement could be met by taking either: LAW 200 Aboriginal Peoples and Canadian Law, LAW 210 Administrative Law, or LAW 220 Taxation I. Many of the courses included in the lists are courses that most students will take anyway throughout their studies, such as Trusts, Family Law, Criminal Procedure, Evidence, Competitive Moots and Advocacy, or Trial Advocacy.
Beyond this requirement, students are expected to complete at least one independent research project and submit a substantial paper embodying the results of this research. This requirement could also be met by taking a four-credit seminar or completing a project of Directed Research. Finally, students are expected to take a minimum of 92 credits over their three years, including 35 in the first year of study. Students may take between 28 and 34 credits each year, allowing a theoretical maximum of 103 credits or a theoretical minimum of 91. This is to say that, in either second or third year, the student must take at least 29 credits.
Dual Degree Programs:
The Faculty of Law offers two principal dual degree programs, with a J.D. / M.A. in Asia Pacific Policy Studies (MAPPS) through the Faculty of Law and the Institute of Asian Research, and a J.D. / MBA program, through the Faculty of Law and The Saunder School of Business at UBC. It's worth noting that the former of these programs can be completed in three years, with the summer of year 2 being dedicated to the MAPPS practicum, while the latter requires a fourth year.
Quality of Life:
Students attending UBC Law will be located at the University of British Columbia's Point Grey campus, located just outside of the city limits of Vancouver, British Columbia. Vancouver is a Pacific Ocean coastal city with a metro population of 2,116,581 as of the 2006 census. It is the largest metropolitan area in Western Canada and the third largest in the country, with 52% of residents having a first language other than English. This diversity also extends to a sizeable aboriginal community, with the largest native community in the province, and a substantial gay community, which led to British Columbia being the second Canadian jurisdiction to make same-sex marriage legal. These factors, combined with the urban planning that began in the 1950s, led to BBC News in 2002 ranking Vancouver as one of the most livable cities in the world. This fact has made it an important destination for a wide variety of international conferences and events. In fact, the 2010 Winter Olympics and 2010 Winter Paralympics will be held in Vancouver and nearby Whistler, which is 125km north of the city itself.
More directly affecting students of course, are the on campus student activities available. Law students can expect to benefit from being able to participate in both the University of British Columbia Law Review and the Canadian Journal of Family Law. The latter of these was the first academic journal in Canada to devote itself to the promotion, development and articulation of issues in the field of family law. Students also have access to the Law Students' Society, as their student organization, and the elected Faculty Council Students Caucus which participates in faculty committees and governance. The dedication to academics at UBC has also led to a high level of performance at provincial, national and even international moot court competitions. Further, the Law Student's Legal Advice Program and the Pro Bono Students' Association provide extensive legal aid services to the public on a volunteer basis. Finally, UBC Law offers a handy guide on its website to a list of organizations and student clubs which students participate in, ranging from Amnesty International to the Women's Caucus. You can find this list here: http://www.law.ubc.ca/current/general/activities.html.
Employment Prospects:
Students attending the University of British Columbia Law can expect to benefit from the Career Services Office (CSO) which is staffed by two full-time professionals (former lawyers) and one administrative support person to provide advice and information to students pursuing a wide array of goals. The CSO runs programs to prepare students for summer, articling and clerking, while also offering resources for students desiring non-traditional career options. The CSO also assists students by providing personalized career counseling, interview preparation, resume reviews, mock interviews and speaker panels. Graduates of UBC Law consistently secure employment across Canada, in the U.S. (albeit primarily in New York), and around the world in law firms and public interest organizations.
For International (and U.S.) students:
Please note, that like other provinces, individuals wishing to practice in British Columbia are expected to complete their Articles before becoming a fully fledged lawyer. It is recommended that you become familiar with the Law Society of British Columbia website on what it requires to become a member of the legal profession within the province. Information, on specific requirements and processes, can be found here: http://www.lawsociety.bc.ca/
Synopsis
The University of British Columbia Faculty of Law is an outstanding law school, currently ranked by Macleans as one of the very best in the country; and as the best in Western Canada. Its excellent reputation offers great career prospects in British Columbia and abroad. If you wish to practice law in Canada, it is an excellent choice. A degree from the University of British Columbia is a great start to a lengthy legal career.
Contact Information - Reception
Faculty of Law
University of British Columbia 1822 East Mall
Vancouver, BC V6T 1Z1
Phone: (604) 822-3151
Email: reception@law.ubc.ca
Website: http://www.law.ubc.ca/faculty/freq_numbers.html
Contact Information - Admissions
1822 East Mall
Vancouver, BC V6T 1Z1
Phone: (604) 822-6303
Fax: (604) 822-8108 Email: admissions@law.ubc.ca
Website: www.law.ubc.ca
Quick Reference:
Domestic 2008-2009 Tuition: $9,741.89
International Students 2008-2009 Tuition: $22,556.45
2008 Macleans Rankings:
Overall Ranking: 4th in Canada Graduate Quality – Elite Firm Hiring: 4th
Graduate Quality – National Reach – T-6th
Graduate Quality – Supreme Court Clerkships – T-10th
Graduate Quality – Faculty Hiring – 9th
Faculty Quality – Faculty Journal Citations – 3th
Median LSAT: 164
Multiple LSAT Policy: Highest
Median GPA: 82%
Notes: Degree or Minimum of Three Years towards a Degree
Application Fee: $80
Application Deadline: February 1st
Applications: 1,727
First Year Places: 180 (2008/2009)
Total Enrollment: 580
Women: 51%
Full-Time Faculty: 42
Part-Time Faculty: 106 (including adjunct)
Motto: Fiat Justitia Ruat Coelum (Let Justice be Done Though the Heavens Fall)