Home » Law Schools » 3rd and 4th Tier Profiles »
Gonzaga Law School
Published July 2009, last updated March 2011
Introduction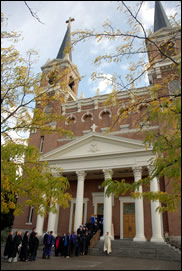 Gonzaga Law School, established in 1912 and located in Spokane, WA, recently dropped out of the top 100 law schools (as dictated by U.S. News and World Report). This by itself should not scare applicants; the rankings beyond a certain point (approximately the top 30) are extremely volatile, and schools can change twenty spots in the span of one year. However, other aspects of Gonzaga also seem to be weak. For instance, according to the school's most recent ABA data, only 85.4% of graduating students (with 96.9% reporting their employment status) found jobs within nine months after graduation. Of that 85.4%, only 51.9% found work at law firms, where most of the highest paying jobs are. Furthermore, the school's annual tuition and fees are quite high at approximately $32,780, so students need to find work soon after graduation if they want to pay back their loans in a timely manner. The school does have many positives going for it in terms of atmosphere and student cohesion, but it is questionable that these factors make up for the difficulties that most graduates will have with finding decent-paying employment. If you are not sure about applying to law school or just beginning the application process, then please take the time to read some of the excellent pre-law articles found here.
Admissions
Tuition and Fees
As mentioned above, students will spend a considerable amount ($32,780) on their annual tuition and fees. With an estimated cost of living of $14,404, students can end up spending $47,184 yearly to attend Gonzaga. The school does offer some financial aid to its students, but not necessarily enough to justify attending:
| | |
| --- | --- |
| Distribution of Aid | Overall |
| Aid in General | 68.3% (372 / 545) |
| Less Than Half Tuition | 87.6% (326 / 372) |
| Half to Full Tuition | 7.8% (29 / 372) |
| Full Tuition | 4.6% (17 / 372) |
| Full Tuition and Stipend | 0.0% (0 / 372) |
| Median Grant Amount | $12,000 |
As one can see from the above, more than two-thirds of students receive some kind of financial aid, and the median grant amount given to students is $12,000. At the same time, very few students receive half tuition scholarships or greater. The school also has a GPA requirement of 2.75 that students must maintain in order to keep their scholarship money from year to year. One former student remarked:
First I would like to address scholarships. The amounts given to prospective students vary and I don't know if every student receives one (a lot do but my guess is not everyone does). To maintain most of the scholarships you need to have a 2.75 GPA at the end of the first year, and the first year curve is between 2.6 and 2.9. For my class the rough midpoint of the class was 2.80, which means after the first year approximately half the class was no longer eligible for the scholarships they received as incoming students. While it is mathematically possible for everyone in the class to retain their scholarship (even with the curve) the odds of this happening are not good.
Many schools at Gonzaga's level hold similar practices to these. If students do receive scholarships, they must make sure to stay above median, as receiving a few bad grades will mean the end of your financial aid. One interesting scholarship program at the school is the Thomas More Program. Former Dean Earl Martin had the following to say about the program:
Thomas More Scholarship students are awarded a full-tuition scholarship so that they may pursue careers in public service without the burden of substantial law school debt. The program, however, is much more than a scholarship. Thomas More Scholars benefit from a community of fellow students and faculty dedicated to serving the public interest through law. One of the primary goals of this community is to help scholars build the skills and experience they need to meet their career goals. For example, Thomas More Scholars strengthen their leadership skills through planning and executing public service activities, such as the Street Law outreach program for local high school students initiated by Thomas More Scholars this year. Scholars also meet regularly with their faculty advisor, Thomas More alumni and other public service lawyers in the community to learn about internship opportunities, career paths in public service law, and the reality of public service lawyering.
Students who enroll in this program have to maintain the same 2.75 GPA required for other scholarships. To read a TLS article about funding your legal education, click here. Also, if you plan on pursuing a career in public interest, click here to learn about the new program called Public Service Loan Forgiveness (or PSLF). Finally, to read about a new payment option for federal student loans called IBR (or Income-Based Repayment), click here.
The Numbers
Most applicants should not have a great deal of trouble getting into Gonzaga. The chart below compares Gonzaga to the other two law schools in Washington (the University of Washington and Seattle University). To learn more about preparing for the LSAT from some of the highest scorers on TLS, click here.
| | | | |
| --- | --- | --- | --- |
| School | 25th Percentile LSAT - 75th Percentile LSAT | 25th Percentile UGPA - 75th Percentile UGPA | Acceptance Rate |
| U Washington (34) | 160 – 166 | 3.47 – 3.80 | 25% |
| Seattle U (86) | 155 - 160 | 3.15 – 3.63 | 38% |
| Gonzaga (Unranked) | 153 - 157 | 3.05 – 3.51 | 43% |
The University of Washington is clearly the front-runner here, with a much higher ranking and more competitive statistics than the other two schools. We can see that someone who is applying to Gonzaga might not have the raw numbers to obtain an acceptance to the University of Washington. However, the numerical differences between Seattle University and Gonzaga are much less pronounced. Although Seattle's student body boasts slightly higher UGPAs and LSAT scores, it is not clear whether the school is a better bargain. Seattle's tuition is considerably higher ($38,502 versus Gonzaga's $32,640), and Seattle's bar passage rate in the state of Washington is slightly lower than Gonzaga's. According to the latest ABA data, Seattle does have a slightly higher employment rate nine months after graduation (91.7% with 100% of graduates reporting versus 85.4% with 96.9% of graduates reporting), but it is up to the individual applicant to decide whether that difference is worth the higher tuition.
The application fee for Gonzaga is $50 unless one obtains a fee waiver. To read more about how to obtain a fee waiver, click here.
Beyond the Numbers
Dean Susan Lee, Director of Admissions at Gonzaga University School of Law, writes about the school's admissions process:
Our admissions process is holistic; we look at the entire candidate. To us, the personal statement is more important than the raw numbers; we want to know something about a prospective student's personal values and why they want to go to law school.

We use a five-part evaluation process that includes the personal statement, undergraduate achievement (GPA), LSAT results, resume, and two letters of recommendation.
That being said, applicants should still be within the LSAT and UGPA ranges given above if they want a decent chance of being accepted. Applicants will also be pleased to know that the school does take into account grade deflation and the varying difficulties of different undergraduate degrees:
We do consider grade deflation and we understand that some undergraduate degrees are more rigorous than others. We take those factors into consideration, then we step back and look at the big picture; i.e., is this person a good fit for us and are we a good fit for them?
The school also looks positively upon high grades in graduate school, "especially when a student did not excel in his or her undergraduate work." Finally, the school is not terribly interested in the prestige of one's undergraduate institution; while Gonzaga does "consider the undergraduate institution," it is "ultimately the student's academic achievement" that matters more. Dean Lee sums up what Gonzaga is looking for in its students:
We look for students who are academically inclined. From among the best-qualified candidates, we try to identify those who will flourish here. Specifically, we want to attract those students who have a history of involvement in extra-curricular activities, including, but not limited to, public service.

In the end, we want to know if this person is authentic, if they are who they say they are. We are a small school and believe each of our students has something important to contribute to the school, the community and his or her classmates.
Gonzaga requires that applicants submit a resume with their application. Your resume is a good way of sharing those factors that make you different in a concise and accessible way. To read some advice about creating a professional law school resume, click here.
Personal Statements
Gonzaga's personal statement prompt is broad; applicants are told that their statements should "provide the Admissions Committee with some insight into your desire to attend law school." Personal statements should be no more than two double-spaced pages. The school gives the following additional advice about writing one's personal statement: "Don't treat your personal statement as a narrative version of your resume or academic background," and "Information relating to public service and cultural and/or ethnic diversity may be included in your personal statement or in an addendum." If you're interested in improving your personal statement or even just looking for ideas to write about, Ken DeLeon, the creator of Top-Law-Schools.com, wrote a fantastic guide to personal statements which can be found here for free. In addition, for more information about writing addenda, click here.
When to Apply
Prospective students applying to Gonzaga should send in their applications sooner rather than later. Dean Lee confirms that applicants benefit from turning in their applications early, and writes, "Yes, and we recommend that students submit their applications by January. Applicants who wait until February are taking their chances." The school's submission deadline is April 15th, but as Dean Lee says, applying earlier than that is for the best. Unfortunately, Gonzaga does not offer applicants an Early Action (EA) or Early Decision (ED) option.
Letters of Recommendation
Gonzaga's letter of recommendation requirements are similar to most other schools'. Applicants must send in at least two letters of recommendation with their application. The school requests that at least one letter be "written by a college professor or instructor who is familiar with your classroom performance, your writing level, and your analytical and critical thinking skills." Furthermore, if one has been out of the classroom for several years, "letters from employers and others which effectively assess your abilities, skills, motivation, and sense of responsibility are also helpful." To get some additional advice on obtaining letters of recommendation, click here.
Transfer Students
Students who wish to transfer to Gonzaga might have a difficult time being accepted, as the school does not have many seats open to transfer students. Dean Lee writes:
We're a small school and can't admit many transfers. In a typical year, we will admit four, but have admitted as many as five. We don't actively recruit transfers because we don't have many seats available.
The school's ABA data confirms that Dean Lee is correct. Only 4 students transferred in (and 13 transferred out) in the school's most recent transfer statistics. Dean Lee describes the transfer process as being "just like applying as a first-year student." To read a fantastic article about transferring, click here.
URMs (or Underrepresented Minorities)
Because of their disadvantaged histories in the United States, certain minorities enjoy a significant boost in the application process. To read more about this boost and to see whether you classify as an URM, click here. In addition, there are many pre-law programs specifically created to help URM applicants get accepted to top schools. To read more about some of these programs, click here.
Final Words about Admissions
Former Dean Martin gives the following description of the ideal candidate for Gonzaga Law:
The ideal candidate for admission to our law school possesses a desire, and the capacity, to successfully engage a rigorous program of academic study. We are looking for students who will both excel in our program individually and contribute to the success of their classmates. Additionally, we want law students who are willing to be challenged by an innovative new curriculum that places emphasis on practical skills training and professionalism. Finally, we are always interested in recruiting individuals who are motivated by the values of public service and social justice that exemplify the Jesuit mission of Gonzaga University.
To read some general advice from TLS about the admissions process, click here and here.
Law School Culture
In contrast to Gonzaga's lackluster employment prospects, most students seem to enjoy the social atmosphere in Spokane. Although the city could be slightly more exciting, it offers a relaxing and reasonably stimulating environment for students. One former student remarks, "Spokane isn't everyone's dream city, and I understand that. However, it has the things most of us require (some good restaurants, bars, movie theaters, etc.)." Another student made the decision to attend after visiting the school's campus; he writes, "I think what finally pushed me over the edge on deciding Gonzaga over some higher ranked schools was a campus visit. The campus really is incredible and the town had a nice, laid-back feel to it." Yet another student elaborates:
First and foremost, Spokane is a beautiful place. It has numerous parks and outdoor activities to participate in. From floating the rivers and boating in the lakes, to mountain hikes and rolling hills, Spokane is a destination for the outdoor-types. It is not a big city by any stretch of the imagination, which comes with its own advantages and drawbacks. It has limitations as far as shopping variety goes, but as a "starving-student", that's not such a huge concern for me. As far as going outside the city for entertainment, Seattle is the closest big city (about 4 hours away) and is easily accessible on the weekends.
There are plenty of different options for those looking to have fun in Spokane. For instance, there are a number of museums and theaters in town; some of the former include the Armed Forces & Aerospace Museum and Carr's One of a Kind in the World Museum. As mentioned above, there are also plenty of restaurants from which to choose; visit the Agave Latin Bistro, Bluz at the Bend, or Perkins Restaurant & Bakery to enjoy some great food. Finally, if you're looking for a more active venture, there are plenty of hiking and biking trails around Spokane, and one can enjoy the beautiful outdoors at parks like Mount Spokane State Park and Riverside State Park. While there are no professional sports teams, Gonzaga always has an exciting basketball team to watch when NCAA Tournament time rolls around.
Transportation
As stated above, Spokane is not a large city. However, one cannot always rely on walking to different locations, as one Gonzaga undergrad explains:
Most things are within reasonable walking distance. Safeway is five minutes from campus, and the downtown mall and cinema are a pleasant 20-minute walk away. However, Spokane also dishes out some downright filthy weather, making walks of any distance seem like profoundly bad ideas.
The same student is not terribly enthusiastic about the public transit system either:
Although there are several bus stops right next to campus, Gonzaga students tend to avoid public transportation like the plague. And for good reason — the buses are sporadic and somewhat sleazy, and often don't run close to desired destinations. Since they are intermittent, and there is no student discount, there's really very little incentive to ride. Taxis, meanwhile, are unusually spendy considering the size of Spokane (the meter drop will set you back about $2.50, and a ride of a couple of miles can approach $10).
Finally, the same student is hesitant about using bicycles because of theft issues in the area. He or she believes that the only real solution is having access to a car. So, if you own a car, you should most likely bring it to school with you! The law school has a designated parking lot, so parking on campus should not be too much of an issue.
Housing
The school does not seem to help much with housing for law students. One current student explains that, "Gonzaga doesn't do much to help students find housing. Most people live within 10-15 minutes of campus, but the housing in the immediate vicinity is usually snatched up by the undergrads." A number of useful websites can be found here, but students will be mostly left on their own to find housing in the area.
Student Body
The school gave the following breakdown for its entering class in the fall of 2009:
| | |
| --- | --- |
| Underrepresented Minorities | 14% |
| Percentage of Matriculants from the State of Washington | 37% |
| Number of Undergraduate Colleges/Universities Represented | 97 |
| Number of States Represented | 29 |
| Average Age | 25 |
In addition, according to slightly older ABA data, the overall student body is 60.5% men and 39.5% women, and only 8.4% is made up of minorities. These percentages are noticeably worse than most other schools, so if students are looking for a diverse student body, they should perhaps look elsewhere. Dean Lee emphasizes that the school is trying to increase its diversity:
We have a specific diversity outreach effort that includes a diversity recruiter who works directly with prospects from underrepresented populations. Our Assistant Dean of Students, John Sklut, is actively engaged in the support and mentorship of our student population, with a focus on the needs of those from underrepresented groups.
In addition, a current student remarks that the school's student body is both friendly and quite diverse:
I find the majority of my peers very friendly. We frequently have social events and get-togethers outside of school. It's a great social environment with a great mix of people. Gonzaga has certainly made a concentrated effort to increase the diversity of the student body.
Thus, although the statistics above imply that the school is not terribly diverse, some students think Gonzaga is doing just fine. Another important aspect of the student body is its Jesuit leanings. The school is proud of its Jesuit history and feels that it helps students become more selfless and giving toward others. Dean Lee explains:
Our mission reflects the Jesuit, Catholic and humanistic traditions. We are committed to the principle of serving others through the practice of law. It's the concept of selfless, servant leadership, the idea that the individual can help make the world a better place. Our student body is very public-service oriented and we look for those qualities in our entering students.
However, it should be noted that this aspect of the school is aimed towards people of all faiths. Former Dean Martin further explains:
Gonzaga law school's Jesuit ethos is best exemplified by the school's commitment to public service, social justice, and the common good. This ethos demands that the Gonzaga experience include the exploration of ideas, questions, and professional identity that go beyond the simple transfer of knowledge to an individual. These practices exemplify the Jesuit mission of educating the "whole person" and enhance the development of leadership qualities that advance the career objectives of students, regardless of their chosen field of law, while also enabling them to make constructive contributions to their communities. It is this attention to the development of every student, regardless of religion or faith tradition, that defines the culture at Gonzaga.
So, those of any faith should feel comfortable with the atmosphere at Gonzaga.
Facilities
The quality of Gonzaga's facilities seems to be top notch. One student explains:
Gonzaga's building is gorgeous. It was recently built (5 or so years ago) and the facilities couldn't be better. I toured many other law school campuses and none compared in the quality of Gonzaga's law school. The library offers one of the absolute best views a library could possibly offer (it overlooks the Spokane river and is so relaxing). The classrooms are very tech friendly and offer excellent interaction and communication between students and professors. We are also right next to the baseball field so when there is a game on, a group of us could go over, grab a hot dog and enjoy the game for a nice break.
In addition, those looking for a gym on campus will be delighted to know that the Kermit Rudolf Fitness Center has state of the art equipment and even an indoor track. The school's website elaborates:
The new fitness gym has a 13,000 ft2 power floor, 12,000 ft2 cardio/Hammer Strength floor, a mat area, and the incorporation of the existing 2 fitness rooms, 3 racquetball courts, 18,000 ft2 fieldhouse, 1/11 mile indoor track, men's and women's locker rooms, and a 25 yd pool.
So, applicants looking for up to date facilities will be happy to know that Gonzaga delivers.
Extracurriculars
Like at most law schools, students at Gonzaga Law can choose from a considerable number (29) of different student organizations. Clubs range from being focused on different countries and ethnicities (Asian Pacific Islander Law Caucus, Canadian Law Caucus, Gonzaga Hispanic Law Caucus) to exploring different areas of the law (Gonzaga Intellectual Property Law Association, International Law Society, Tax Law Society). Overall, students should be able to find something to get involved in while at Gonzaga.
Academics
1Ls at Gonzaga follow a prescribed path similar to that of 1Ls just about anywhere. The fall semester includes Civil Procedure, Torts, Perspectives on the Law, Legal Research and Writing, and a Litigation Skills and Professionalism Lab. In the spring semester, 1Ls take Contracts, Property, Criminal Law, Legal Research and Writing II, and a Transactional Skills and Professionalism Lab. Students may elect to enroll in the Early Start Summer Program, which allows them to enroll in one three-credit summer course over the summer prior to 1L. The skills labs mentioned above are a recent change to Gonzaga's curriculum. They were created to "challenge students to struggle with professionalism issues while learning both litigation and transactional practice skills." The school feels that many law students graduate with a wealth of knowledge about legal research and writing, but little to no experience with dealing with clients and the more practical aspects of the law. Former Dean Martin explains:
During the fall semester of the first year Gonzaga students now take a two credit Skills and Professionalism Lab that uses the rules of Civil Procedure and the substantive law of Torts to teach the students the skills they need to be litigators. During the spring semester, the students will take a two credit Skills and Professionalism Lab that will use the substantive law of Contracts and Property to teach the students the skills they need to be transactional lawyers. Each of these labs will be small sections of no more than thirty students and will be taught by a full-time or adjunct faculty member. The labs will work from a common curriculum that has been developed in direct coordination with the content that is covered in their associated doctrinal courses. In this way, the labs can both affirm and supplement the subject matter coverage that takes place in those courses.
Students are assigned a faculty advisor prior to the start of 1L, and this individual theoretically guides the student through the logistics of law school as well as the career search and other important aspects of their legal education and beyond. Gonzaga prides itself on its legal research and writing program, which is ranked 12th nationwide. While specialty rankings are usually not of much importance to employers, it is safe to say that these skills are important to the career of any lawyer. Apart from the required courses mentioned above, students at Gonzaga can choose from many different courses on nearly every legal subject imaginable. Whether you're interested in intellectual property, real estate transactions, or federal Indian law, you'll be able to find a related class at Gonzaga. To see what particular courses one might take for different areas of law, click here. One student believes that Gonzaga's curriculum and academic focus are largely correct, but could use a little bit of tweaking in one area:
Thus far, I have completely bought into the Gonzaga experience, both socially and most importantly, academically. I believe GU has a lot to offer students and the legal community. I feel that GU offers a great opportunity to provide a great substantive education as well as a practical one too. I hope the school decides to focus significantly more on providing substantive courses (Torts, Property, etc.) while limiting the practical courses (i.e. Dispute Resolution, Litigation Skills, Transaction Lab).
Joint Degrees
The school also has three different dual degrees: JD / MSW, JD / MBA, and JD / MAcc. The latter two degrees are offered in "conjunction with the Gonzaga University Graduate School of Business." The JD / MSW is reported by the school to be "highly selective," with only four students each year participating in the program. To read more about joint degrees and why one might pursue one, click here and here. One student remarked on the usefulness of the JD / MBA program:
Gonzaga offers several joint degree programs and I know several people utilize them. However, I fail to see the advantage of attaining a joint JD/MBA program given the downturn in the business & finance market. Several attorneys and hiring managers have told me that it matters very little whether a potential associate has an MBA as the JD program is a significantly stronger program at most schools that offer joint degrees. They advised me that it would not be in my best interest to spend an additional $30K to attain a degree that would not increase my earning potential by any significant amount, if at all.
This student is largely correct; a JD / MBA (and most other joint degrees) is a specialized degree that should only be obtained in special circumstances. As stated above, the amount of money and time invested in pursuing such a degree could be better spent elsewhere in most situations.
Professors
Applicants should be glad to know that professors at Gonzaga have a wide variety of different viewpoints. One student remarks:
Unlike some of the other schools I've attended, I think there is a fair balance amongst the professors, but I think that is to be expected at a Jesuit university. There is certainly a strong contingency of liberal professors as well as conservative professors, but for the most part it is not a consistent theme in any particular class. Like any school, some professors are more approachable than others, it just takes some time in figuring it out.
So, whether you're liberal or conservative, you should be able to find a professor with similar views and interests.
Public Interest and Clinics
As mentioned above, Gonzaga is very interested in providing legal aid to the public. The school's Jesuit principles are shown through its 30 hour pro bono requirement for graduation. Former Dean Martin explains the type of work that students can pursue for this requirement:
For purposes of the graduation requirement the term "public service" is broadly interpreted and encompasses both traditional pro bono legal work and a broad range of volunteer charitable and community work. Students have traditionally fulfilled this requirement by working with legal service providers, environmental organizations, religious charities, and a wide variety of other organizations. Many student groups at Gonzaga organize public service activities.
A current student confirms that public interest is a focus for quite a few students at Gonzaga; he writes, "There is a significant group of students who are interested in public interest law. This is probably one of the biggest draws of Gonzaga. The popularity of the clinic evidences this." In addition, the Thomas More scholarship mentioned above is for students looking to enter public interest work. In fact, students in the program must work at least three years of full-time public service work within the five years after graduation. The school also has a program called University Legal Assistance, which is the source of all of the clinical programs at Gonzaga. Different clinics offered include a General Practice Clinic, a Consumer Law Clinic, a Federal Tax Clinic, an Environmental Law Clinic, an Indian Law Clinic, an Elder Law Clinic, and a Business Law Clinic. Just as an example, the Federal Tax Clinic allows students to "represent low-income clients in IRS examination and collection matters, including audits, offers in compromise, penalty abatements, innocent spouse claims, appeals, Tax Court cases, etc." In addition, "Students also provide community outreach and education regarding tax obligations and benefits to persons with limited English proficiency, especially during tax season each year." As another example, the General Practice Clinic covers a larger variety of cases, ranging from family law to housing to prisoners' rights. Students learn to "interview and counsel clients, research the legal basis for clients' claims," and "investigate the factual basis for clients' claims." Suffice it to say, students will get plenty of real-world experience in the clinics offered at Gonzaga.
Students at Gonzaga have to complete an experiential learning requirement during their three years of law school. This can be accomplished in two different ways: participating in one of the clinics described above, or enrolling in the school's externship program. As an extern, you will "work in courts and public law offices, such as prosecutors' offices, public defenders' offices, or in public law firms serving people without resources to afford legal assistance." To see where previous students have found work, click here.
Centers
There are four different centers/institutes/programs at Gonzaga: the Commercial Law Center, the Indian Law Program, the Institute for Law Teaching and Learning, and the Thomas More Scholarship Program. The Thomas More Scholarship Program was already discussed in some detail above, but if you are interested in learning more, please click the link above and read former Dean Martin's informative interview found here. One of the ways in which the Commercial Law Center affects students at Gonzaga is through its continuing research on creating a curriculum that emphasizes law from a transactional perspective. The center is working on courses that are "simulations that require students to apply knowledge that crosses the traditional segmentation of commercial and business law to solve realistic problems in a transactional setting." In addition, the center offers a continuing legal education program that gives attorneys the chance to learn more about "recent commercial law developments and their impact on how commercial transactions should be structured and documented." Another important project at Gonzaga Law is the Indian Law Program. The Indian Law Program "tackles the issues of sovereignty and sustainability through a pair of tightly interwoven programs": the Indian Law Program (ILP) and the Institute for Development of Economic Policy for Indigenous People. The former is a curriculum comprised of a "series of courses -- both theoretical and practical -- that will introduce you to the academic practice of law." Courses include offerings like Federal Indian Law, Law of the Plateau Tribes, and Indian Child Welfare Act of 1978. In addition, the IDEPIG's mission is to "help indigenous leaders develop policies and the rule of law that will lead to sustainable economic systems in Indian Country." The institute does this by "assisting indigenous leaders to formulate and disseminate policies and laws to resolve issues of public importance that promote the sovereign interests of indigenous peoples" and by "providing the tools for indigenous people to build a 'bridge of trust' within their communities that can serve as a pathway to self-determination that works for that community." In essence, the institute seeks to teach leaders of indigenous communities to uphold a policy of self governance and to embrace a sustainable economic system. Finally, the Institute for Law Teaching and Learning aims to improve the "quality of education in law school" by serving as a "clearinghouse for ideas." The program is a joint venture between Gonzaga Law and Washburn University School of Law; the institute supports "student-centered curriculum reform" and has a list of ideas to improve legal education. One can also read the institute's publication,The Law Teacher, to get the program's latest brainstorming efforts. One student had the following opinion about the centers at Gonzaga:
I think these programs are critical to establishing Gonzaga law school as a rising academic program. Gonzaga doesn't have the resources as some of the larger, higher-ranked schools, so focusing on a few particular areas to expend the limited resources is, in my opinion, a good utilization of funds.
Journals
Gonzaga Law has two different journals in which students can participate: the Gonzaga Law Review and the Gonzaga Journal of International Law. Former Dean Martin explains the process behind applying:
The selection process for both the Gonzaga Law Review and the Gonzaga Journal of International Law are "write-on" competitions. Any student meeting the minimum GPA requirement is eligible to complete an application and prepare a submission to be scored by the editorial board of the relevant publication.
The minimum GPA requirement for both journals is 2.70; students must maintain a GPA above this for the entirety of their participation on either journal or they will be put on probation and eventually dismissed. It is stated that applicants to the Law Review must receive a "minimum average score of 70 out of 100 [in the write-on competition] as outlined by the editorial board in accordance with the Gonzaga Law Review bylaws." The requirements are slightly murkier for the Journal of International Law; it is simply stated that, "election of new GJIL members shall be limited to a number that the Executive Editorial Board feels is necessary for the optimum operation of the Journal." One should note that the Journal of International Law is an online journal published here. Interestingly, one student remarks that the majority of students don't seem very interested in the journals at Gonzaga. He explains further:
There doesn't seem to be a huge amount of interest amongst the students in getting involved with the two journals. The top "A-type" personalities all vie for the journals, but it seems by and large most people are indifferent to them. More people seem interested in the clubs and other activities involved with Gonzaga.
That being said, if one wants a better chance of finding a job, working on one of the journals is never a bad idea.
Employment
First, according to Gonzaga's most recent ABA data, the school's bar passage rate in Washington (81.73%) is significantly higher than the state average of 74.40%. Furthermore, the school actually has a higher passage rate in Washington than the higher-ranked Seattle University; the latter only had a passage rate of 78.97%. Even the much higher-ranked University of Washington only has a slightly higher passage rate (84.68%).
All of that being said, the school's job prospects leave something to be desired. The school reported the following distribution of jobs for its Class of 2009:
| | |
| --- | --- |
| Type of Job | Percentage of Employed Students |
| Private Practice | 55% |
| Business | 21% |
| Government | 10% |
| Judicial Clerkship | 6% |
| Public Interest | 5% |
| Academic | 2% |
One might note that the above percentages add up to 99%; this is no doubt due to the school rounding to the ones' place. Unfortunately, the school does not report what percentage of graduates were employed, or even what percentage of graduates reported their employment status at all. The best we can do is use the numbers from the Class of 2008 for these two categories: with 96.9% of graduates reporting their employment status, only 85.4% were employed after nine months.
Only 55% of employed graduates managed to find work at law firms. These are the kinds of jobs that can help students get rid of their law school debt quickly, but Gonzaga placed barely over half of its employed graduates at firms (and this was in better economic times). Furthermore, one should note that only those who find work at "large firms" of 101 attorneys or more receive impressive salaries; Gonzaga does not report how many of its graduates found work at this prestigious level, but it is undoubtedly not too many. This is further confirmed by the school's reported median private sector salary of $58,250 in 2007 (with only 43% of graduates reporting). Because this percentage of graduates reporting is so low, it is almost certainly true that the median salary is inflated somewhat. So, even if one manages to be one of the graduates that secures a job in the private sector, one cannot count on a high salary.
Opinions from recent graduates seem to confirm that finding a job can be difficult. One person writing in late April of 2007 comments that, "If any of you honestly asked people what they make after graduation, you'd probably be shocked to know that the average starting salary (this combines ALL students in every state) is 42K from GU." The same person continues:
Most people are SHOCKED to know that the $2,500 (or more) they will owe each month equals about their monthly take home pay. The average debt load here (in my estimation) is about $90K per student (after little scholarships or savings are calculated in). If you have undergrad debt, or other graduate work debt, the numbers can approach 200K in some instances. Considering the class of 2007 will only have about 3-5 people who make it in to big firms in Seattle and the like making maybe 85K+, it's a consideration you don't want to ignore. I've been at parties and see 3Ls break down into tears wondering how they're going to manage after graduation.
Another student from the Class of 2008 expressed similar sentiments about the job prospects at Gonzaga:
Our class is getting close to our 2nd year out of school, and I recently got together with a couple of friends. We got out the old "Facebook" yearbook, and compared what we had heard through the grapevine by looking people up on Facebook. While not a scientific survey by any means, by our tally about 50% of the class had either never found a job as an attorney, or had been laid off... Gonzaga Law school is a nice group of people selling a product that isn't worth the money.... It took me 9 months from graduation to find a job as an attorney... and I was laid off from it 3 months after I was hired. Since then I have been unable to find employment as an attorney.
Yet another student reaffirms that finding a job can be difficult, especially outside of the school's immediate region:
In the past couple of years most of the students I know who graduated and passed the bar did not have "several" job prospects, and many others, particularly those who left for areas of the country outside of the Northwest, have yet to find full-time employment as attorneys. Also, for those who are thinking of not practicing in either Northern Idaho, Washington or Oregon, you will likely receive little to no assistance from the Career Services Office in your search.
This same student claims that the school's alumni network is unhelpful and practically nonexistent:
I did not stay in Washington, however I did move to an area where there are a lot of GU alumni, both in my state and in particular my city. Since graduating and after taking the bar, I have seen a handful of GU alumni, but those are people who are largely in my peer group and I have received no help to this point in my job search from GU alums, but have received assistance from alumni from other schools in the area.
Keep in mind that it is likely that alumni would be more helpful in Washington, as it is Gonzaga's home state. Finally, another current student emphasizes that students need to put a great deal of effort into their job search. He suggests that Gonzaga students start looking as early as possible in order to give themselves the best possible chance of finding a decent job:
The school needs to better help students know what to do once they get that foot in. The jobs are there, but students need to be more proactive and utilize the career services office as well as know that they are their own best job-finder. I was fortunate enough to find a paying job my first semester. I attribute this to having got my applications and resumes out early, making networking connections, and being persistent and showing my sincere interest in working. The story I've heard from several students who have graduated but did not find employment seem to have not realized the importance of starting early in law school at trying to find a job. Many didn't make any serious attempts at finding a job until their last semester of their third year. Fortunately for me, I realized the importance of getting on the ball early. I have two offers for employment once I graduate because I got myself out there and made the initiative to find work.
Of course, these are just a few students' views, and graduates with a positive perspective on Gonzaga exist. One father of a Gonzaga Law graduate writes that his daughter had "several job prospects with a starting salary far above the 42k per year" mentioned above, and another graduate writes:
The name "Gonzaga" is widely recognized, and any student with a decent GPA and/or work history is going to be in great shape coming out of school. The alumni network is extremely active, and relish the chance to help a fellow Zag get a leg up. Washington's Governor and 3 of her Supreme Court Justices are Gonzaga Law School alums, as well as Professor Peterson who was just appointed as a Federal District Court Judge by President Obama.
All of that being said, a graduate counters the above comments by writing, "These people are quite accomplished, however, overall they represent a tiny fraction of alumni and in my personal opinion their personal accomplishments should not be taken to represent the career track of everyone who has attended GU." Overall, applicants should do their own research into Gonzaga before signing up to pay its pricy $32,640 yearly tuition. Ask current students and recent graduates about their job prospects, and then make a decision. One student has an interesting perspective on how the school's basketball team can help open doors for law graduates:
Gonzaga offers a unique "Ace up the sleeve" that neither Seattle U or U Washington offers. Regionally and even nationally, professionals and non-professionals alike know the small school from Spokane because of the prominence of the Gonzaga basketball team. This is a great way to get a foot in the door in a lot of places that might otherwise be closed.
As mentioned above, while Gonzaga does have a Career Services Office, its usefulness is questionable. One graduate from the Class of 2008 is rather scathing about the school's ineptitude with helping students find jobs:
The Career Services Office is flagrantly underpaid and understaffed. The best they can do for you is give you some alumni contacts and send you 10-20 emails per day about unpaid summer internships or jobs requiring 2-3 years experience as an attorney. They do put on several brown bag luncheons with practicing attorneys each semester, but those people aren't here to interview. When they do OCI in the fall, all the firms are from Spokane or CDA, Idaho. Only a few from Seattle, Portland, etc. On top of that, the OCI interviews all require top 20% or above. (Okay, before law school we ALL thought we'd be in that group right?!) But the other 80% of students need jobs too! And with each passing year, people are going on to take the bar in California, Oregon, Utah, Arizona, and Colorado. Keep in mind, I'm not afraid of calling alumni and net-working--I've met with several nice alumni in various states. But more needs to be done by the career services staff to pound the pavement and encourage firms to hire GU grads.
Another law student confirms that the CSO is "limited":
The career services office is useful, but is limited. There are only two or three of them, and 400+ students. The reality is that the students need to take the initiative to find employers and utilize the CSO when needed to get things started, but not to rely on them to find the jobs for them.
In other words, be prepared to start your job search early if you decide to become a Zag.
Conclusion
While Gonzaga undoubtedly has a pleasant social atmosphere, job prospects for most graduates are questionable. The school is attempting to improve its national and regional status, but the economy has certainly hurt its chances of becoming a Washington powerhouse. As a Tier 3 school with a pricey tuition, Gonzaga should only be considered by those who receive a significant amount of financial aid (and are confident that they can keep their GPA above the minimum requirement) and wish to stay in the Washington area. Unless one is near the top of one's class, the Gonzaga degree will most likely have no portability, and students will be lucky to find decent jobs in Washington. There are certainly worse places to spend three years of your life, but one should always consider one's job prospects first and foremost, as finding a good job will be important for many years to come. One student describes the school's current position as both its greatest strength and biggest weakness:
I think the biggest positive of Gonzaga is the great potential it has to gain notoriety and respect for the quality and caliber of legal minds it produces. This is also one of the biggest potential negatives of the school because it stands at this crossroad in which it could again fall into the mix of tier three schools. The search for our new dean is critical in helping shape the future of Gonzaga.
If you wish to be a pioneer and help shape Gonzaga's future, then consider attending. However, it must be pointed out that, for your own sake, attending a different school with better job prospects might be a wiser decision.
Contact Information
Gonzaga Law School
PO Box 3528
721 N Cincinnati St Spokane, WA 99220-3528
509.313.5532
admissions@lawschool.gonzaga.edu
http://www.law.gonzaga.edu/Admissions/default.asp
Quick Reference
U.S. News Ranking: Unranked (Tier 3)
Median GPA: 3.30
Median LSAT: 155
Tuition: $1,088 per credit hour ($32,640 for a typical academic year)
Entering Class Size: 188
Application Deadline: April 15th
Application fee: $50
Average school bar passage rate: 79.89%
Percent of graduates employed 9 months after graduation: 85.4% (with 96.9% reporting)
Median private sector starting salary: $58,250 (Class of 2007, 43% reporting)