Home » Law Schools » 3rd and 4th Tier Profiles »
Drexel University
Published April 2010, last updated April 2012

Philadelphia, Pennsylvania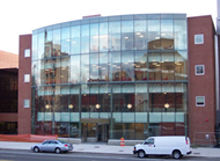 Introduction
The Earle Mack School of Law at Drexel University is a new program; the school opened its doors in August of 2006 and received full accreditation by the ABA in August 2011. The school has made great strides to make sure that it upholds the excellent academic tradition that Drexel is well known for in the state of Pennsylvania. The school is ranked 119th in the 2013 ranking of the best law schools by U.S. News & World Report. The student body at Drexel Law is already quite numerically strong, boasting a median LSAT of 159 and a median GPA of 3.38. The school is also proud of its diverse makeup, and has a number of diversity initiatives to help its 18% minority population continue to flourish.
Thus, whether it's the famed co-op program or the strong programs in intellectual property law and health law, Drexel has something to offer students who want to work in Philadelphia and surrounding markets. However, that being said, because of the school's newness, job prospects are more secure at nearby schools like Villanova, Penn State, UPenn, etc. If you are accepted to one of these other schools, then think long and hard about attending Drexel. If you're not sure about applying to law school or just beginning the application process, then please take the time to read some of the excellent pre-law articles found here.


(back to top)
Admissions
Tuition and Fees
Tuition at Drexel Law is not terribly cheap. In 2009, tuition was $32,200, with $721 in fees bringing the total up to $32,921. With living expenses estimated at $22,725 by the ABA, the yearly cost of attending Drexel can be as high as $55,646.
However, Dean DiSciullo reassures applicants that aid is available:
We are committed to helping students finance their legal education as best as we can. We understand the rising costs of legal education and have been committed to providing academic scholarships to as many students that qualify. All students who apply to the School of Law are automatically reviewed for merit scholarships. Throughout our history, the university has provided us tremendous support which has been instrumental in our achieving such rapid success. This support has included ample financial support, which permits us to make competitive scholarship offers to qualified students. Reflecting this level of support, last year approximately 75%-80% of our students received academic merit scholarships varying in amount from $2,500 to $30,000 per year. Approximately 75%-80% of our students received academic merit scholarships.
The data reported to the ABA reflects Drexel's generosity: 23.1% of students received half to full tuition, and 32.5% of students received full tuition. The median grant amount reported was $22,503. The school provides its scholarship information with its admission decisions, so you'll most likely have plenty of time to think over your different law school options. Finally, if you happen to be a Drexel University alumnus, you are eligible for the Drexel Alumni Scholarship, from which you receive a $1,000 grant "for each year of full-time study." To read a TLS article about funding your legal education, click here. Also, if you plan on pursuing a career in public interest, click here to learn about the new program called Public Service Loan Forgiveness (or PSLF). Finally, to read about a new payment option for federal student loans called IBR (or Income-Based Repayment), click here.
The Numbers
As of last year, Drexel's LSAT median rests at 159, with its 75th percentile and 25th percentile being 161 and 157 respectively. The school's UGPA standards are similarly rigorous, with a median of 3.38, a 75th percentile of 3.66, and a 25th percentile of 3.09. To learn more about preparing for the LSAT from some of the highest scorers on TLS, click here.
Because Drexel is such a new school, the percentage of admitted students from its applicant pool is not readily available. However, according to the data reported to the ABA, of 1,758 applicants, 143 students decided to matriculate to Drexel. Applying to the school is free, so prospective students should take the time to apply, even if they're not sure about attending.
Beyond the Numbers
Of course, hard numbers aren't the only part of your application for Drexel. The school is quick to emphasize that factors like letters of recommendation, one's personal statement, and extracurricular activities are important in admissions. Dean DiSciullo explains:
The Earle Mack School of Law at Drexel University takes a holistic approach in the admissions process. We read and review everything that is in an applicant's file and no one component is more important than the other. We certainly want to make sure that the applicant is academically ready for the rigors of law school, so we take a very close look at their academic profile – their LSAT, GPA, and curriculum. However, we're also looking for students who will be active members of our community and give back to the institution through participation/leadership in our student organizations and, eventually, our alumni programs. Therefore, we also take the information shared in the applicant's resume, letters of recommendation and personal statement into consideration.
She sums up the ideal Drexel law student by saying:
The Earle Mack School of Law at Drexel University looks for a well-rounded student. Our students have strong but diverse academic backgrounds that prepare them well for the rigors of law school. But, they have also immersed themselves in life outside the classroom. They were leaders in their respective undergraduate institutions and volunteers in their communities. Others come with a variety of work experience and advanced degrees. In essence, we are looking for students who are able to handle the academic challenges of law school, while becoming an active member of the law school community.
So, to make a great impression on the Drexel admissions committee, make sure that your entire application is top notch. One good way of showing off the qualities listed above is through one's resume. Drexel Law requires that applicants submit a resume with their applications, so make sure that it looks professional and shares those factors that make you different in a concise and accessible way. To read some advice about creating a professional law school resume, click here.
Personal Statements
The personal statement is one of the most important parts of the "soft" or subjective factors in your application. Dean DiSciullo explains the purpose of the personal statement:
Since most law schools don't have the manpower to offer one-on-one interviews, applicants should treat their personal statement as if it is an "interview on paper." It should tell the admissions committee something about the applicant that we can't gather from the rest of the application. The applicant does not necessarily have to tailor it to Drexel. However, if they are interested in a particular aspect of our School of Law, they could highlight why that program interests them and how it can help them achieve their goals.
If you do decide to tailor your statement to Drexel, make sure that you focus on yourself and not the school; including discussion of the school is only pertinent when it relates to your own goals. Dean DiSciullo remarked, "In some cases, when students tailor their statement to a particular school, they end up telling us all about the school (which we already know) and nothing about them."
Dean DiSciullo emphasizes that the school uses the personal statement as a way to test prospective students' "writing skills." That means your spelling and grammar should be free of any blatant errors. One ill-placed comma or semicolon isn't going to kill your application, but make sure that you proofread your essays heavily so that your prose reads well and is virtually error-free. The dean also emphasizes that including the wrong school in your personal statement is a mistake that should be avoided at all costs. Telling Drexel how much you'd love to attend Penn State isn't going to win you any favors! Finally, Dean DiSciullo tells applicants to make sure that their personal statements say something new and aren't just a rehash of their resumes or the programs at Drexel they're most interested in. Her final words of advice about personal statements are the following:
Applicants should use their personal statement to tell us more about their passions, motivations and goals and try to tie it into how law school can help them achieve these goals. I don't usually limit the applicants to certain topics, but I do suggest being cautious about how they discuss or frame sensitive topics such as politics and religion, since they may not necessarily know who exactly their "audience" might be.
If you're interested in improving your personal statement or even just looking for ideas to write about, Ken DeLeon, the creator of Top-Law-Schools.com, wrote a fantastic guide to personal statements which can be found here for free: http://www.top-law-schools.com/guide-to-personal-statements.html.
When to Apply
Unfortunately, Drexel does not have an early decision or early action program. However, applications open on September 1st, and admissions never really close. In other words, you can submit your application in January, February, or even March if you want to! That being said, it's important to apply as early as possible in order to give yourself the best chance of admission. The school has a "rolling admissions" process, and spots begin to fill up by December. Dean DiSciullo writes:
We are a "rolling admissions" school and usually begin receiving applications in October. However, we do not usually begin the file review process until the end of our travel season – late November/early December – and roll decisions out from there. Once we begin the file review process, we do our best to get decisions out to applicants within 2-4 weeks.
Letters of Recommendation
As mentioned above, letters of recommendation are an important part of your application to Drexel. The school requires at least two letters of recommendation, and they should preferably be from academic sources. Getting strong recommendations from professors or even teaching assistants is a great way of showing the school that you thrive in an academic setting. If you've been out of school for a few years, then getting a letter from an employer is also acceptable, but academic recommendations are preferable To get some additional advice on obtaining letters of recommendation, click here.
Addenda
The school suggests that applicants write an addendum if "they feel that there is information they need to share with the Admissions Committee that isn't included in any other part of application – such as a drop in GPA or an explanation for a low LSAT." Keep it short, though – the addendum should only be one or two paragraphs, and "should only state the facts."
If you have multiple LSAT scores, the school will "see the scores from all the exams the student sits for as well as the average," but will "take the higher score when considering a student for admission to the Earle Mack School of Law." Thus, retakers need not worry! For more information about writing addenda, click here.
Waitlisted?
Dean DiSciullo had the following to say about being on the Drexel waitlist:
Students on our waitlist are truly viable candidates that we are ready to admit should space in the class open up. We do not rank our waitlist and all candidates are reviewed once again should we need to activate our waitlist. Students have the choice to accept our offer to remain on our waitlist and only students who have indicated an interest in remaining on our waitlist will be considered. For the most part, students do not need to send anything in; they've already given us all the information we need. However, they are more than welcome to send a letter of interest or an update if something significant has changed in their file.
In other words, if you end up on the waitlist, don't lose hope! Significant updates to your file might include a higher LSAT score or undergraduate GPA, a newly published article in a reputable journal, etc.
URMs (or Underrepresented Minorities)
Because of their disadvantaged histories in the United States, certain minorities enjoy a significant boost in the application process. To read more about this boost and to see whether you classify as an URM, click here. In addition, there are many pre-law programs specifically created to help URM applicants get accepted to top schools. To read more about some of these programs, click here.
Transfer Students
Dean DiSciullo had the following to say about transferring into or out of Drexel Law:
We do receive a few transfer students each year. Transfer students can apply after completing one full year of law school at an ABA-accredited law school. We don't have a large number of students transferring out, therefore, we only accept 5-10 transfer students each year. It is a competitive process and we take a holistic review in the application process. We are clearly interested in their most recent work at their current law school, but we require that they send us a copy of their LSDAS report and consider their previous academic work and their LSAT as well.
Assistant Dean of Admissions Helen Albertson-Ploucha further clarified that transferring into Drexel usually required "good standing with your current law school and [being] ranked in the top third of your class." That being said, if you are transferring from a higher ranked law school, this requirement of being in the top third of your class could be waived. Dean Albertson-Ploucha emphasizes that, "each application is looked at individually, even the transfer applications. We have a limited number of transfer seats so it is a difficult decision. We only made 5 transfer offers out of 30 applications last summer. We were pleased that all 5 accepted our offer and are contributing to the class." Finally, Dean Albertson-Ploucha revealed that the five students that transferred into Drexel were from St. Thomas, Vermont, Lewis & Clark, Baltimore and Quinnipiac. To read a fantastic article about transferring, click here.
Final Words about Admissions
The applicant pool at Drexel (and other law schools) is getting increasingly stronger as the economy worsens. That being said, with a high LSAT/UGPA and compelling secondary materials (letters of recommendation, personal statement, etc.), obtaining an acceptance to Drexel should be quite possible. Dean DiSciullo gives these wise words of advice about applying to law school:
It is becoming increasingly competitive to gain admission to law schools. I encourage law school applicants to really take the time to put together an extremely strong application- an application that will allow the admissions committee to see what distinguishes you from the rest of the applicant pool. Tell me about your passions and motivations, not what you think I want to hear as an admissions person. I wish all the Fall 2010 applicants the best of luck! I hope to see some of you at the Earle Mack School of Law at Drexel University! But, more importantly, I hope that you are able to attend the law school of your choice…
To read some general advice from TLS about the admissions process, click here and here.
(back to top)
Law School Culture
Located in the "heart and soul of Philly," Drexel offers its students a fantastic quality of life. Its western Philadelphian campus is right next to the University of Pennsylvania, which allows for a "very nice college environment right in the middle of such a large metro area." Students can enjoy an endless array of restaurants, museums, and bars while receiving a stellar education. Drexel's website boasts:
From a cultural standpoint, Philadelphia abounds in the arts: music, dance, theater, opera, galleries - the list goes on and on. Not only is Philadelphia home to the Philadelphia Art Museum which boasts one of the finest collections of paintings and sculpture found anywhere in the world, our fair city hosts virtually all well-known performers, musical acts of every genre, and traveling acts such as Cirque du Soleil who perform to sold- out houses.
If you're interested in sports, the city provides plenty in that regard as well. The Philadelphia Phillies, Flyers, and 76ers are all renowned sports teams with rich histories. In your scarce free time as a law student, you should have plenty to do in the bustling city of Philadelphia!
Housing options for students are numerous and students tend to "live all over the city." One friend of two Drexel students remarked that they lived "within walking distance of the law building," but students come from areas as diverse as the "Atlantic City area, Lancaster and Reading." Dean Albertson-Ploucha remarked that, "You need to find a place that meets your needs for housing and for different students that means different areas of the city." Drexel Law's website has a vast database of information about different housing options available to students, located here: http://www.earlemacklaw.drexel.edu/housing.asp. Finally, various forum users' opinions on the different housing options can be found here.
Even if you don't live within walking distance of the law school, the public transportation options available in Philadelphia are prolific. Dean Albertson-Ploucha explains:
Regarding public transportation, we are 3 blocks from the Amtrak/SEPTA regional rail station which makes it easy to get to New York, DC as well as our surrounding suburbs. We also have two subway stations on either end of our block and bus stops around the block. I have lived in the Philly area for 15 years and use public transportation on a daily basis. Philly is like any big city, you have to be aware of your surroundings as you travel.
Finally, with nearly thirty different organizations on campus, students have plenty of different extracurricular activities to choose from. Those interested in politics can get involved with the Drexel Law Democrats or the Drexel Law Republicans, and the school offers clubs for many different ethnicities (the Black Law Student Association, the Latin American Law Student Association, etc.). Some other miscellaneous choices include the Business Law Organization, OUTLAW – (GLBT Students), the Running Club, etc. For a more thorough listing of student organizations at Drexel, click here.
The Student Body
Drexel Law is dedicated to putting together a diverse group of individuals in each entering class. For the class of 2012 (comprised of 156 individuals), students of color made up 18% of the class. The class was divided between 56% male and 44% female. Twenty-six different U.S. states were represented, and students hailed from 95 different undergraduate institutions. Finally, students' ages ranged from 21 to 48, with the average age being 25. Dean DiSciullo sums up their initiative to create a diverse class:
The Earle Mack School of Law at Drexel University is extremely committed to bringing a diverse student body. Our efforts begin in the recruitment cycle and carry into the application review period. As I mentioned earlier, we take a holistic approach to reviewing a candidate's application and take all aspects of the file into consideration.
In general, students at Drexel are friendly and enthusiastic to be some of the first graduates of the law school. One transfer student, comparing Drexel to his previous school, remarked, "The atmosphere is a lot more collegial and people seem more willing to help each other out."
Facilities
Because the law school building was only built very recently, its facilities are top notch. The school boasts such amenities as "a 2-story atrium and balcony area for informal meetings, receptions, and group study," "campus-wide internet access," and a two story library complete with quiet study areas. The school also has several large classrooms, one of which doubles as a moot courtroom. More information about the Drexel Law building can be found here.
In addition, as a Drexel student, you will have access to Drexel's athletic facilities, which include "a first class gym and fitness center and several turf fields." To find out more about Drexel athletics, click here.
Journals
Students at Drexel Law can participate in the Drexel Law Review, a student-run journal "publishing a wide array of legal scholarship." Membership on the journal is determined solely through a write-on competition, where students are required to pass a Bluebook citation test. The school emphasizes that, "Law school grades are not considered for Law Review membership," so even if you're at the top of your class, you need to make sure to do well on the write-on competition. Applicants are also required to "write a note base on a provided problem and a closed universe of sources."
One of the more interesting and unique aspects of the Drexel Law Review is that students get the chance to write "an original note on a topic of the student's choosing for possible publication in the Law Review." This satisfies a graduation requirement as well as gets the student's name and work published. This can be an important leg up in finding certain jobs (clerkships, for instance). The journal is published semiannually, and has recently addressed issues like convergence in electronic banking, secret indictments, and the federal judiciary salary crisis. To find out more about the Drexel Law Review and its articles, click here.
(back to top)
Academics The cornerstone of Drexel Law academics is its co-op program; Dean Albertson-Ploucha describes the program as the school's "biggest selling point." Above all else, the school emphasizes that this program gives students a unique opportunity to participate in directly experiential learning. Dean DiSciullo writes:
Experiential learning is one of the things that differentiates Drexel as a law school. Students complete their co-op in their 2nd or 3rd year and the focus of our co-op program is solely academic. This means that students receive academic credit for it and not monetary compensation. The ABA does not allow students to receive [academic] credit and be [paid at] the same time. Some of our graduates have received job offers directly from a former co-op partner, but many will say that their co-op has indirectly affected their job outcome by the networking opportunities they we given on co-op.
For those wondering exactly what the co-op program entails, Dean Albertson-Ploucha explains:
The Co-op is an optional experiential learning opportunity for the law students to get supervised real-world practical legal experience. Students work 20-25 hours a week for approximately 20 weeks and receive 18 academic credits for the experience. They also get resume bullets and letters of recommendation from their supervising attorney.
Many different partners in the Philadelphia area participate in the co-op program. Students can get involved with corporations like GlaxoSmithKline and GameStop as well as organizations like the AIDS Law Project of Pennsylvania and the Support Center for Child Advocates. Government agencies, judicial offices, and law firms also participate in the program. Finally, there is an eight-step matching process to make sure that students are compatible with their co-op partners. To find out more about the co-op program, click here.
The school offers three different legal concentrations: Business and Entrepreneurship Law, Health Law, and Intellectual Property Law. Specialized classes and hands-on experience should make these disciplines particularly appealing for prospective Drexel students. Specifically, in terms of Health Law, Professor Barry Furrow writes:
We have a health law program that is already recognized as one of the strong programs in the area. Among our competitors (Temple, Villanova, Rutgers-Camden, Penn, and Widener) only Widener has a nationally ranked program, and I started that program in 1998. The other law schools certainly have some good faculty writing in the area, but no one has put together a coherent program except Widener and Drexel. And I hope to catch up and surpass Widener as fast as I can.
All of these concentrations cooperate with renowned programs at the university to create an ideal learning environment for students. For instance, the Health Law concentration "features collaborations with Drexel's College of Medicine and School of Public Health." Likewise, the Business and Entrepreneurship Law concentration works together with the Entrepreneur program at the LeBow College of Business. Finally, the school offers an "innovative Intellectual Property concentration" that utilizes the school's emphasis on cutting-edge technology.
Students interested in obtaining a joint degree can take advantage of Drexel's one of a kind JD-PhD program in law and clinical psychology. The program takes a total of seven years, and students complete co-op work as well as a master's thesis and dissertation. Drexel's website explains the purpose of the dual degree as aiming to "bridge the gap between law, which relies on special rules concerning evidence, proof and precedent in order to settle conflicts that require immediate resolution, and psychology, which views problems through an empirical lens, evaluating questions but rarely ending in a final verdict." By "mastering the methods, languages and epistemologies" of both fields, students can "possess a broader understanding of social problems than those trained solely in law or behavioral sciences."
Public Interest at Drexel
As a school dedicated to serving the public good, Drexel is proud of its mandatory 50 hours of pro bono work for each student. The school has many different clinic options where students can complete the hours; some include the Family Advocacy Clinic, the Campaign for Working Families Tax Clinic, and the Migrant Farm Workers Tax Clinic. Students can also get involved in projects like the Prisoner Re-entry Project and the Marshall-Brennan Constitutional Literacy Project. Drexel explains the purpose of the pro bono requirement:
The Pro Bono Service Requirement complements Drexel's long and proud tradition of integrating classroom experience with the real-world environment. Under close supervision, students will develop their legal skills and gain practical, hands-on, experience in a real work setting. The Pro Bono Service Requirement is a vital part of Drexel's curriculum and demonstrates the faculty and administration's commitment to the development of professionalism in its students.
Likewise, the school is proud of its Public Interest program. It provides graduates with a partial LRAP (or Loan Repayment Assistance Program) of $2000 each year for five years, and has Public Interest Experience Grants for unpaid summer public interest positions. Students can attend public interest job fairs in Washington D.C. and Philadelphia for a chance to find out more about different programs or secure a job. Finally, the "Slice of Justice" auction allows students and other members of the community to bid for prizes like music lessons, art, and gift certificates. All proceeds from the auction "go directly to funding grants for Earle Mack School of Law students' unpaid public interest summer internships." To find out more about Drexel's public interest law program, click here.
(back to top)
Employment
As with most decent law schools, when students come to Drexel, they generally stay for the entire three years. Students rarely transfer in or out – in fact, no students transferred out last year, and only five students transferred in. In addition, LSAC reports that the JD attrition for last year's 1L class was only 7.6%. That attrition rate only drops sharply for 2Ls (0.6%) and bottoms out completely for 3Ls (0%). In other words, you'll be competing with the vast majority of your 1L classmates for jobs. Although the ABA does not have employment statistics for Drexel in its latest set of data, Dean DiSciullo was kind enough to post employment numbers online on TLS:
| | |
| --- | --- |
| Total graduates | 159 |
| Graduates employed in full-time legal jobs | 97 |
| Graduates employed in part-time legal jobs | 9 |
| Graduates employed in non-legal jobs | 19 |
| Graduates unemployed and seeking work | 20 |
| Graduates whose statuses are unknown | 8 |
| Graduates not seeking work | 1 |
In terms of a raw percentage, the number of graduates that reported being able to find full-time legal work was 61%. Of the 150 graduates that reported and were seeking work, the following breakdown was reported:
| | |
| --- | --- |
| Law firm practice | 64 graduates (or 42.67%) |
| Government work | 13 graduates (or 8.67%) |
| Judicial clerkships | 19 graduates (or 12.67%) |
| Public interest | 6 graduates (or 4%) |
| Overall average starting salary | $70,360 |
Finally, the school reported the following breakdown in terms of geographical location for jobs:
| | |
| --- | --- |
| Mid-Atlantic States (PA, NJ, NY) | 73.3% |
| South-Atlantic (DE, DC, FL, GA, MD, NC, SC, VA, WV) | 5.3% |
| New England (CT, ME, MA, NH, RI, VT) | 1.3% |
| International | 1.3% |
| South East Central (AL, KY, MS, TN): | 0.67% |
| Pacific (AK, CA, HI, OR, WA) | 0.67% |
| North West Central (IA, KS, MN, MO, NE, ND, SD) | 0% |
| North East Central (IL, IN, MI, OH, WI) | 0% |
| South West Central (AR, LA, OK, TX) | 0% |
| Mountain (AZ, ID, CO, MT, NV, NM, UT, WY) | 0% |
Graduates tended to work overwhelmingly in Philadelphia. When asked about the low number of graduates working in New York City and Washington D.C., Steven Freedman, Associate Director of Admissions, had the following response:
I'm going to be honest: we haven't had that many placements in New York or D.C. I can recall one student scored a prestigious summer clerkship with Pfizer in New York (one of 12 students selected nationally) and we were thrilled by a permanent placement at Nixon, Peabody in D.C. Why so few placements? I think the biggest reason is most of our students are looking to practice in the Philadelphia region. Philadelphia has a very diverse and sophisticated legal market. Although salaries don't always match those in New York or D.C., our lower cost of living more or less equals out the difference. So even though we're recruiting about 1/3 of our students from outside our geographic area, even the folks from elsewhere have by and large decided to stay in Philadelphia, at least to start their careers.
As a new school, Drexel might have many prospective students skeptical about the school's ability to find graduates jobs. However, Dean Freedman emphasizes that the co-op program is a useful tool in this regard:
But the most important factor contributing to our students' acceptance into the legal community has been our students' ability to work in the community, primarily through our co-op program. At this point we have placed nearly two hundred students in co-op position throughout the Philadelphia legal community (our over 100 co-op partners are all based in the Philadelphia area). This is in addition to the placements our students have found through internships and clerkships both in Philadelphia and literally throughout the world (Taiwan and Serbia). Through the co-op program and internships, the legal community has seen our students first-hand. Our students have worked in the offices of some of the largest law firms in the country, in D.A.'s and defender's offices, in public interest organizations, corporate general counsel's offices, judicial chambers, etc. In addition to providing our students an invaluable academic benefit, the co-op program has very effectively promoted the Drexel Law program.
However, with only 42.67% of graduates that reported and were seeking work (or 40.25% of total graduates) actually finding jobs at law firms, the situation seems quite dire for Drexel grads that aren't at the top of their class. The Philadelphia Business Journal paraphrased Drexel Law's Assistant Dean of Career and Professional Development Amy Montemarano saying the following:
…of the graduates with jobs, about 20 percent are clerking for judges, 32 percent will be working for mid- to small-size law firms, and 21 percent will be working for large law firms — many of which have delayed job start dates from September to either this January or fall 2010. The bulk of students are working for small firms and businesses. Government hiring freezes eliminated what would normally be a popular option.
Assuming that by "graduates with jobs," Dean Montemarano is referring to graduates with full-time legal jobs, only 12.81% of the class managed to find jobs at large law firms. Even if one assumes that "graduates with jobs" refers to all graduates that found any sort of job, the percentage is still dire at 16.5%. Smaller firms and businesses can pay only $40,000 (or less!) per year, and assuming sticker price, students at Drexel can spend over $160,000 on their education and living expenses. One can quickly see that this level of debt would take many years to pay off, so students should be wary of attending Drexel at sticker. Although the school has an interesting co-op program and claims it has strong connections with Philadelphian employers, the school's employment statistics are not fantastic as of yet, so be careful!

Conclusion
Despite only opening its doors in 2006, the Earle Mack School of Law at Drexel University is off to a running start. The school has taken hold of Drexel University's longstanding co-op tradition to cement its reputation in the Philadelphian community. Job prospects are looking surprisingly positive, with the school being more transparent than most with its employment statistics.

All of that being said, if you have the opportunity of attending one of the more prestigious schools in the area (UPenn, Villanova, Temple, Penn State), then you should seriously consider those options. It will take Drexel many years to reach the same status as these schools, and unless you really want to be a pioneer, picking the school with the more secure job prospects makes the most sense. However, if you're interested in working in the Philadelphia market and don't get accepted to these other schools, you should consider Drexel as one of your top choices.
Contact Information
The Earle Mack School of Law at Drexel University
Office of Admissions
3320 Market Street
Philadelphia, PA 19104
215.895.1LAW
http://www.earlemacklaw.drexel.edu/admissions-home.asp
LawAdmissions@drexel.edu
Quick Reference
U.S. News ranking: 119th
Application fee: Free
Entering class size: 147 (class of 2014)
Median LSAT: 159 (class of 2014)
Median undergraduate GPA: 3.38 (class of 2014)
Yearly tuition: $32,200 (2009-2010)
Average first-year starting salary: $70,360 (Class of 2009)
Interview: Dean Isabel DiSciullo, Assistant Dean of Admissions for the Earle Mack School of Law at Drexel University