Home » Law Schools » Rankings and Profiles »
Benjamin N. Cardozo School of Law Yeshiva University
Special thanks go out to Matthew Diller, Dean, and to several TLS students for providing insight and additional details for this profile. Published February 2008, last updated by TLS January 2011.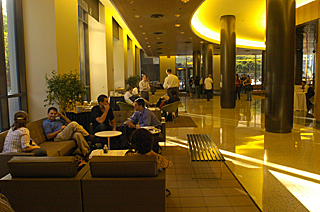 Introduction
The Benjamin N. Cardozo School of Law is located in New York City, the largest legal and financial center in the world. As a result of Cardozo's location, students are afforded many benefits by sheer proximity. Aside from improved employment prospects, Cardozo students can also take advantage of the vibrant city/night life offered by Manhattan. And while Cardozo is a fairly young law school, there has been a general upward trend in its ranking; in 2006, it was ranked 58th by US News and currently, it is 52nd (down three spots from the school's highest ranking of 49th in 2009).
Cardozo Law does not have a 'campus' in the traditional sense; the law school is really just one building and a nearby dorm. Of course Cardozo students have the entire city at their disposal, though this can be a challenge, especially when it comes to finding a suitable and quiet place to study. The law school is conscious of this concern, however, and recently poured millions of dollars into renovations. The school now has an impressive law library with spacious facilities.
Before the recession and the corresponding pressure on the legal job market, around 90 percent of Cardozo graduates were landing jobs upon graduation. Given the current economic climate these numbers have declined and the continuing unknowns surrounding the job market cause some nervousness among students (as they do at most law schools these days.)
Fortunately, Cardozo's location helps students mitigate a struggling legal market to some degree. Situated at the heart of the changing legal marketplace, it is well positioned to observe and respond to these changes accordingly. For applicants hoping to find employment in one of the many prestigious law firms of Manhattan, Cardozo Law is (and will likely continue to remain) a place from which such goals can be attained. Of course, students hoping to secure these positions will need to earn top-notch grades.
Tuition and Fees 2009-2010

Tuition and fees:

$44,600

Estimated living/travel expenses, books and health insurance:

$24,371

Source: Cardozo School of Law Admissions
Admissions
Cardozo has three different enrollment timelines; most opt for the full-time September start, some begin in January (full-time) and others begin in May (part-time). Cardozo never enrolls more than 400 students per year, however, keeping its class size at a reasonable level.
In recent application cycles the law school has had the luxury of increasing selectivity in its admissions process as more students apply each year. Its location plays a major role in this fact, as many students (rightly) believe that being in a major legal market will help them find a job upon graduation. Other students are drawn by the high-quality faculty (as evidenced by Brian Leiter's faculty quality ratings, http://www.leiterrankings.com).
As the school receives more applications it has been able to consistently improve the LSAT and GPA medians for its admitted students.
Admissions Statistics

Class of:

2010

2011

2012

25th - 75th percentile LSAT

159-164

159-165

160-165

25 - 75th percentile GPA

3.30-3.66

3.29-3.72

3.37-3.73

Percentage Minority Students

21.3%

23.2%

22.2%

Percentage of Applicants Admitted

29.9%

28.2%

26.6%

Applications Received

4,513

4,629

5,158

Source: Cardozo School of Law Office of Admissions
Admissions Basics
According to Dean Matthew Diller, Cardozo Law is "first and foremost…looking for students who have distinguished themselves academically." For this reason, the law school takes the two numerical indicators – GPA and LSAT score – seriously. He continues:
We usually have more than 100 undergraduate schools represented in our entering class – but for us, where someone goes to college is less important than what they did while they were there.

Basically, we encourage students to take tough classes, seek out meaningful experiences, get involved, and pursue opportunities to become leaders.
Also, Dean Diller states that students who are serious about Cardozo Law should send in their applications as soon as possible. "Applicants enjoy a slight edge," he reveals, "by being among the first groups of applications our committee reads." So, get your materials in early if you want your chances to be the best they can be.
Letters of Recommendation
While Dean Diller doesn't have any specific advice for students regarding their additional materials (personal statements or addenda), he did drop something regarding letters of recommendation. "We pay careful attention to letters…for every applicant," he said, "especially for candidates who are still in school or have recently graduated." The implication being that if you are not in school or have been in the workforce for a while, a letter of recommendation from a current boss is probably more applicable than one from a professor from four years ago.
However, for students who are currently in school, he suggests (especially for sophomores and juniors) "start thinking now about who will write these references, especially if you are at a large institution." He adds:
Seek out seminars and small classroom settings in which [you] can establish meaningful relationships with professors. This will benefit [your] education greatly, and will make applying to law school that much easier.
In general, poor planning regarding letters of recommendation can hold up a student's application for weeks or months at a time. In order to avoid delay you should talk to potential recommenders early and remember to follow-up with reminders.
Scholarships
Cardozo has been known to attach notable stipulations to the scholarships it offers some students. At Cardozo Law, some of the more coveted scholarships come with the following qualifications: if you remain in the top 40% of your law school class you keep your entire scholarship, if you remain in the top half of your class you keep three-fourths of your scholarship, and if you remain in the top two-thirds of your class you keep half of your scholarship.
One current student reported:
Got $28k here, and the requirements for renewal stipulate: "The reward is renewable for your second and third year, provided you maintain a cumulative Grade Point Average of 3.300 (approximately the top 40% of class)..."

Then, there's a bit about if you can get above a 3.1 but not 3.3 they'll give you a certain percentage.
A student with a similar offer commented:
When I was called, they didn't mention any requirement, but the letter that came a few days later did. Top 40% to keep it all, top 50% to keep 75%, and top 65% to keep 50% of the scholarship and you can earn it back the next year if you move up in the class if you lose some or all of it. Hope this helps. I feel it's pretty standard across the board.
Whether you think such stipulations would be a source of stress or an impetus to work hard, it is worth taking note of these requirements so that you can make an informed decision.
The Waitlist
Dean Diller said of the waitlist: "In recent years, we have found that the majority of our May part-time students are those who were originally placed on the fall waitlist." Since this part-time May start transitions into full-time enrollment for a student's second year, this can be a great option for students who are waitlisted after applying for the regular fall start.
Alternative Start and Part-time Programs
A current student who was a May starter had the following notes about the part-time start:
1) You are ranked with the full class.

2) You are eligible for Law Review.

3) The May program at Cardozo is a little different than other part-time programs. You take 10 credits during your first semester (starting in May). Then you take 10 credits in the fall and 10 credits in the spring. After that, you have the whole summer off and you join your full-time counterparts during your 2nd year of law school. Needless to say, it will not hurt your chances at a summer internship.
The program that begins in January is accelerated, though according to Dean Diller, students in both the May and January start programs "have the same opportunities to participate in our on-campus interview program and clinics, and to join journals" as the fall starters. He elaborated on these alternative start programs.
Cardozo's May part-time program is distinctive in a few ways. First, students take their classes during the day – ours is not a night school program. Second, students take the core first-year curriculum over three semesters – summer, fall, and spring – and then automatically join the full-time class beginning in their second year. This schedule allows them a bit more time and opportunity to succeed in the first year. They graduate at the same time as the full-time students who begin in the fall. Third, and most importantly, May-entry students have the same quality of education and experience that our full-time students do. They are taught by the same professors and are in the same classrooms as our full-time students.

The January program is accelerated. Students can graduate in two and a half years by completing their first year of studies during the spring and summer semesters, and after a short break, they begin their second year in the fall. It is a small program – typically about 25 students – that primarily attracts those who for whatever reason do not want to wait until August to begin law school. During their first semester, these students are taught in their own small section – a phenomenal opportunity for students to commence their law school studies in a small classroom setting like this. Then, in their third semester, the January class is blended into the overall student body.
Whenever you start at Cardozo, by the second year everyone is on the same schedule. More students start in May than in January; for the January start, there may be as few as 24 entrants, while for the May start there are usually around 100.
Law School Culture
Cardozo students report a generally collegial environment with a friendly student body. A current first-year commented on the level of competitiveness at the school:
Cardozo has its share of gunners as anywhere else, but overwhelmingly everyone is very helpful and non-competitive. The student body generally prides itself on that – here's an example: recently a student supposedly condemned another student via e-mail for publicly announcing her excitement at landing a summer job, saying that she was showing off and it made people feel bad. The school newspaper got wind of the e-mail and wrote a whole editorial about how uncool that was of him to condemn her rather than congratulate her. Furthermore, the newspaper congratulates students for any public service volunteer work they get wind of.
While this public chastisement is not commonplace, it does highlight how close-knit the law school community is. This first-year continued, speaking on this communal culture (with a note on part-time students):
Student clubs have extensive outline banks and strong mentoring programs. Most students form study groups. There is some resentment toward part-time students (who have a lighter load because they start in the summer but are still in the same sections as full time students) but this dies out by spring semester.

Since Cardozo students (including 1Ls) are pretty active in clubs, there are strong relationships across class years, which adds to the creation of a supportive atmosphere. Bottom line, really not an overly-competitive environment. On the other hand, it'd be good [for prospective students] to ask 3Ls who are anxious about finding jobs in this economy.
This helpful first-year also added that, "Students don't have trouble making friends/being social."
The workload at Cardozo varies throughout the semester. During finals or tough assignments stress picks up (as is the case with all law schools). One student commented that "1Ls usually only pull late nights when a big legal writing assignment is due." Of course when finals roll around everyone buckles down.
A current student, who enrolled after attending an Admitted Students Weekend, said (about the visit), "The atmosphere was great, the location of the school is fantastic, and the staff really seemed to have it together." This seems to neatly sum up what has been said of the culture at Cardozo Law.
Religious Affiliation
Cardozo Law is affiliated with a Jewish institution, which means it will naturally attract Jewish applicants; though no students at Cardozo are required to have any particular religious affiliation. The school's religious affiliation has minimal impact on its students, except for those who like to be in the library on Saturdays. A visiting student tells us:
Cardozo is quite Jewish, but the school is not as politically conservative as Pepperdine [a school affiliated with Christianity]. The library is closed on Shabbat and on Jewish holidays. I believe the students have reciprocal library use privileges at other schools, however. I visited Cardozo several times, and, as a non-practicing Jew, I would have been fine with the religious environment. The best thing to do, honestly, is visit and talk to students.
A current student also commented on the religious affiliation of the school:
As a Cardozo student, I wanted to provide my input on religion at Cardozo. Cardozo is affiliated with Yeshiva University, which is a Jewish institution. However, the school is not "overly religious" and you should not take it off your list because it is a religious institution. Yes, the library is closed on Saturday, but living in NYC, finding somewhere else to study is quite easy.

From a more personal perspective, I went to Catholic middle school, high school, and college. I chose Cardozo because it was one of the best schools I got into, in a great city. The fact that it has a Jewish background did not shape my decision, and does not have a negative impact on my life as a student.

The professors are great; the journal opportunities are abundant; and the facilities are updated and incredible. So heating up my lunch in the non-kosher microwave and studying at home on Saturdays is no reason to stamp Cardozo as a school too religious to attend.
Professors
The best way to evaluate a law school's faculty is to see it in action, and the best way to do this, of course, is through a school visit. If you are unable to plan a visit, however, Cardozo Law has posted five mini-lectures for prospective students to watch online.
We also have word from a current student who tells TLS what it is like sitting in on some classes:
First year classes are pretty large. Socratic method varies dramatically from professor to professor. Some go alphabetically, some call on 20 students per 50 minute class, some put a certain row "on call" for a certain day, some just take volunteers. I have never heard of one professor making one student run the entire class, though.
This variation in teaching method is relatively standard, and while the Socratic Method can seem intimidating at first, it is prevalent at most law schools and students typically adjust quickly.
This first-year continued with an example of what student participation can look like:
Professor Hanks who teaches property and elements of law (a 1L class) is kind of a legend at the school for her age (she was there when the school was founded), and she does not allow laptops in her class. Students volunteer at their own risk, she tears them apart, tends to criticize the class, and thinks of them as one person. If a person comes late, that's when she considers the class to have begun, so she'll hold the class over as long as she needs to. (I've never had her, but these are the stories.) Students tend to fear her but they also love her. They say she's a fountain of knowledge and putting the laptops away helps them focus.

As for 1Ls, most professors do stick to the cold calling, however, and do expect you to be prepared with thorough knowledge of the case, but if you can't answer a hypothetical they'll usually move on. It's too hard to generalize about them though, because they're all so different.

The best plan to not be caught off guard is to get class notes from the year before, since most teachers stick to game plan year after year. Again, students are very helpful about sharing old notes and outlines.
Many of the school's professors are leaders in their fields, and if you are interested in speaking with one in particular, you can find a helpful list (organized by field of expertise) on this page. The law school has about 130 full and part-time faculty; most of them have advanced degrees in a field besides law and about a dozen hold a Ph.D. as well as a J.D. The student-to-faculty ratio, at 16 to 1, is on the higher end of the spectrum when compared to peer schools.
Classes
A typical first-year class will consist of about 50 students. Students enjoy a rather generous grading curve with a median between 3.1 and 3.2. This friendly curve takes some of the pressure off of students to be overly competitive. The workload at Cardozo is, however, reported to be intense, and while students are highly capable, some will find law school immensely stressful.
Curricular Opportunities
Cardozo requires its 1L students to enroll in mostly standard core classes: property, torts, elements of law, civil procedure, criminal law, constitutional law, and legal writing. Second and third year students are mostly free to choose their courses. There are over 130 elective courses available.
Dean Diller said, of the law school's curricular strengths:
[We are strong] in legal theory and interdisciplinary fields such as law and culture, law and the humanities and law and philosophy.

[Also,] Cardozo's emphasis on intellectual property runs deep. In addition to strong course offerings, and a leading journal in the field, there are a steady stream of IP-related speakers and events that are tremendously well attended. The same is true for Cardozo's alternative dispute resolution and mediation program.
For more information about the upper-level course offerings, you can visit this site. Dean Diller also mentioned that "during the mid-winter break, Cardozo offers an intensive trial advocacy program (ITAP) that brings together lawyers and judges from around the country to provide students with an intensive two-week immersion in the art of trial practice." This sort of attention to practical training in the law is a large focus at Cardozo.
Cardozo also makes allowances for students to pursue other academic interests outside of the law school itself. "On occasion," said Dean Diller, "students want to take graduate level courses in non-law areas such as foreign languages or history, and to that end, we permit them to take up to two graduate courses across the street at The New School." This is especially attractive to students who want to take non-law courses but who don't want to travel uptown to Yeshiva's main campus.
Study Abroad
Cardozo lets students partake in a number of study abroad options. JD candidates have spent summers abroad in Austria, Budapest, and at Oxford University, and have spent semesters abroad in Amsterdam, Budapest, Hamburg, Hong Kong, Tel Aviv, and Bilbao. Dean Diller spoke again of the winter break; "Our international programs offered during this period expose participating students to the legal communities and problems of such countries as China, Japan, and even Rwanda." Whatever your international preference, Cardozo has plenty to offer – though you can only take up to 12 credits abroad.
Clinics and Externships
Cardozo Law offers its students an impressive array of clinics and externships. Each year nearly 400 Cardozo students help represent clients in real cases under the supervision of professional attorneys through these clinics.
One such program is the Holocaust Claims Restitution Practicum, in which students aim to assist Holocaust survivors and their heirs in legal proceedings. Other clinical opportunities include the Human Rights and Genocide Clinic, the Family Court Clinic, and the Immigration Law Clinic.
Dean Diller tells us:
Our clinics are all in-house and client-based, something you don't see at most law schools. The internationally renowned Innocence Project was founded at Cardozo and provides direct hands-on experience to many Cardozo students each year. Our genocide and human rights clinic does work on the cutting edge of this critically important field. Our clinics in immigration justice, elder law, criminal law, and securities arbitration are outstanding.
The law school also offers a prestigious and highly selective Alexander Fellows program through which students can work as full-time law clerks for federal judges in New York City. Students who are interested in gaining practical experience will have plenty of chances to get involved at Cardozo Law. A full list of these offerings is available here.
Job Placement
It is still unclear how large and how permanent the recent contraction in the legal market will be, so it's not surprising that current students have some trepidation about their ability to find work. As one first year student puts it:
Yes, 3Ls are worried. But, our Dean of Career Services has a student advisory committee where he fields opinions and ideas from a diverse range of students to help with recruitment, etc. and I'd say the Office does a really good job of putting on events. I'm probably too early in my legal career to know too much about the job search nightmare though and what Cardozo could do better.
Dean Diller commented that "Cardozo students in the middle of the class are very well situated to compete for NY-based post-grad positions against similarly placed students who come from law schools across the country." Implying that it is the below-median students who might struggle to find work. Still, Cardozo's job placement numbers have been high in recent years, and its alumni network, concentrated primarily in New York City, is young but committed.
Dean Diller notes that "many alumni participate in Cardozo's mentorship, mock interview, career coach, and practice profile lunch programs. Many are also involved in Cardozo's fall and spring recruitment programs." While schools such as Columbia, NYU, and Cornell have more history in the New York legal market, with larger alumni bases, Diller says, "Cardozo has established significant relationships with many large firms as well as with employers in the private and public sectors – small and medium- sized firms, corporations, governmental agencies, and public interest organizations – and they continue to seek hires from Cardozo."
Recently Cardozo has reported an 80.4% employment rate upon graduation and a 98% employment rate nine months later. Students with below-median grades, however, will likely have to look outside of Biglaw.
Cardozo's major advantage is its proximity and access to the prestigious New York City legal market. Those who graduate near the top of their class at Cardozo will likely have some of the top law firms in Manhattan within reach. For all students, employment prospects remain fairly local, though "local," in this case, is the largest and most diversified legal market in the world.
Cardozo Law does offer a Loan Repayment Assistance Program designed to help students pursuing public interest careers with their sizeable law school debt (details below).
Placement Statistics (via USNWR)

Law Firms

58%

Business and Industry

15%

Government

11%

Public Interest

9%

Judicial Clerkships

6%

Academia

1%
Geographic Placement
As mentioned above most Cardozo grads will stay in New York City. A large majority will remain in the Northeast with very few heading further afield.
Top Geographic Locations (2007 Graduates)

Middle Atlantic (NJ, NY [77%], PA)

85%

South Atlantic (DC, DE, FL, GA, MD, NC, SC, VA, WV)

6%

New England (CT, ME, MA, NH, RI, VT)

3%

Pacific (AK, CA, HI, OR, WA)

2%

Mountain (AZ, CO, ID, MT, NV, NM, UT, WY)

1%

North Central (IA, KS, MN, MO, NE, ND, SD)

1%

Midwest (IL, IN, MI, OH, WI)

1%

West South Central (AR, LA, OK, TX)

1%
Bar Passage
Cardozo Law generally posts impressive bar passage rates. In recent administrations of the exam in the state of New York, nearly 91% of first-time test takers from Cardozo passed the exam, while the overall state passage rate was about 86%.
Clerkships
About 6 percent of Cardozo law students obtain clerkships. While most students head to private practice upon graduation, Dean Diller notes that of those who have clerked from Cardozo, students have been clerks for "the Supreme Court of the United States, U.S. Circuit Courts of Appeals and District Courts as well as different federal specialty courts, and various state courts at the trial and appellate levels." The percentage of students at Cardozo who do clerk, however, is rather low when compared to more highly ranked schools.
Summer Funding and LRAP
Not everyone at Cardozo wants to work in a law firm, and for those students who want to pursue a legal career in public interest, Cardozo Law's LRAP program is there to help. Dean Diller commented that Cardozo recently "received a generous donation of $5 million from Laurie Tisch to endow our Loan Repayment Assistance Program, which provides forgivable loans to Cardozo graduates working in the public sector." This provides recent graduates with financial support, which is important considering the large amount of debt so many students assume to fund their legal education.
Funding is also available for students who spend their summers doing public interest work. Dean Diller noted that in 2009, "more than 200 1Ls and 2Ls received funding to work at legal services providers, public interest organizations, government agencies, district attorneys' offices, the U.S. Attorney's Office, and federal and state judicial chambers." These jobs are often unpaid but always provide valuable experience.
In that vein, a 1L tells us:
Anyone who applies and helps with the public service auction can receive a stipend for public interest work during the summer (stipend is around $3500-4000, less $ as more people apply, though). There's a diversity office that reaches out to underrepresented students with opportunities.

The school also created a few more summer internship opportunities through the school to help with the dearth of hiring. It seems 1Ls are very successful getting jobs or at least judicial clerkships. Naturally (due to the economy) public interest is popular this summer.
Alternatively, in the second-year, Dean Diller says:
[Many students] obtain summer associate positions with large firms through traditional fall recruitment hiring. Others work in small- or medium-sized firms that offer the opportunity to practice in areas not typically covered by large firms like family law, immigration, labor, and civil rights. Others pursue smaller, boutique firms in highly specialized areas such as patent law, for which Cardozo is widely recognized.

Cardozo also offers an International Human Rights and a Public Service Fellowship that award grants to first- and second-year students who demonstrate a commitment to international human rights and have secured an internship abroad. Students have worked in Kenya, India, Israel, Peru, and elsewhere.

The International Corporate and Intellectual Property Fellowship Program provides a stipend to first and second year law students who intern for law firms or corporations abroad, with a focus in world economies that are presenting new opportunities for American lawyers. Students have worked in Brazil, China, and Korea, among other countries.
Cardozo works hard to provide its students with summer-time opportunities in both the public and private sectors to ensure that they are gaining valuable legal work experience.
Quality of Life
Given Cardozo Law's location in Manhattan's hip Greenwich Village, students generally report a high quality of life. Those who aren't "city people" will obviously not enjoy this environment as much, though law students tend to be pretty busy with school anyway.
The area around Cardozo is home to an endless array of bars, clubs, and restaurants, and also houses popular parks and coffee shops that serve as hang-out spots for students before and after classes. Cardozo also provides social opportunities for its students through annual formal events and monthly bar reviews, among other activities.
Cardozo Law also provides housing for its students, although many students choose to cut costs by living outside of the expensive Greenwich Village area. Cars are not necessary and aren't even practical for Cardozo Law students who can save time and money by taking advantage of the efficient New York City subway system.
Commenting on housing options and the social scene at Cardozo, one first-year says:
A good number of students who are new to the area live in "the Alabama" which is student housing near the school, so they make friends that way. The SBA (Student Bar Association) at Cardozo sponsors multiple bar nights every semester.

Like most New Yorkers, I think Cardozo students learn how to budget time, and make time for fun. Law school's consuming, but it's easy to grab a drink at dozens of places near school and students do it often on Fridays, especially since the school kicks us out at sundown for Sabbath.

Student clubs as well as various offices of the school sponsor several events a week, usually equipped with food, booze, and socializing or "networking" with legal practitioners. As for non-law school activities, I think the somewhat commuter nature of Cardozo means that students tend to maintain their friendships with non-law school friends and networks, so many do their own thing on weekends, too.
Facilities
The law school is located on 12th Street in Greenwich Village, and consists of the main building and a nearby residence hall. Everyone we've talked to reports that the facilities are more than adequate and that the library is particularly spacious and well-lit.
Housing
As mentioned, the law school offers housing for about 100 students. Dean Diller tells TLS:
We have a residence hall about a block away from the law school. We prioritize assignments for those in the entering class who come from outside of the New York area. The building is on one of the nicest streets in Manhattan's Greenwich Village.

In recent years, we have found that we can eventually accommodate virtually every JD student in the entering class who wanted to live in the residence hall. Most of our second- and third- year students live off-campus, in a variety of neighborhoods – Brooklyn, uptown Manhattan, Hoboken, and Queens.

Our Admissions Office maintains a housing list and puts new students in touch with each other and with second and third year students looking for roommates, and that also works well.
A resident of New York City gives the following insight for those facing the great New York apartment hunt:
Generally speaking, the housing market here is a bit too fast-paced for print media, or at least it was back during the good old Age of Leverage. There's a lot of separating the wheat from the chaff on Craigslist, but it's generally possible to find something workable after a day or two of searching.

If all else fails, post something in the "housing wanted" section (though don't let on that you're new in town). Another thing - most NYC transplants of our age group use sublets as their gateway to NY, and I suggest you do the same; if possible, try to get a month-to-month deal. That way you won't be tied to something if it turns out to suck, and you'll have time to get a sense of different neighborhoods and figure out where you actually want to live.
Manhattan
As the busiest borough in 'the city that never sleeps,' Manhattan provides a unique backdrop for a law school. Within walking distance of Cardozo Law there are several dozen international cuisines available, countless bars and nightspots, and a host of world famous landmarks. Cost-conscious students will likely chose to live in the outer boroughs (Brooklyn, Queens, the Bronx or Staten Island) as living in Manhattan is extremely expensive and commuting is relatively easy using public transit.
There is, of course, plenty to do in the outer boroughs as well. Of particular note for dining and partying (respectively) are tree-lined Park Slope and hipster-clogged Williamsburg in Brooklyn. Students can also check out the culinary centers of Jackson Heights (for Indian or Latin American) or Flushing (for Korean, Japanese, or Chinese) in Queens.
Debt
The average outgoing debt of Cardozo Law students is about $105,000. Six-figure debt is par for the course when it comes to law school these days, so this sum isn't actually too bad. Note that this is average debt; students who enjoy Manhattan too much can certainly end up with more.
Extracurricular Opportunities
Cardozo Law offers a wide variety of extracurricular opportunities to its students. Many of the student organizations are focused around a particular area of the law, while others are purely social. Some examples include the Yoga Club, the Cardozo Ski Club, the Cardozo Target Shooting Club and the Cardozo Basketball Club. There are also religious organizations (such as the Cardozo Christian Legal Society), and more academic/legally oriented organizations such as the Tax Law Society.
For those interested in Public Service Law, Dean Diller says:
We have a very large Center for Public Service Law that administers a number of special programs to assist students in pro bono activities that help the community and give them extraordinary practical experience. The Courtroom Advocates Project recruits, trains, supervises and mentors law students to provide legal assistance to battered women seeking protective orders.

The Uncontested Divorce Project works in partnership with Sanctuary for Families, to assist battered women with uncontested divorces. In our Unemployment Action Center (UAC), students receive training to help laid-off workers navigate the regulatory maze of unemployment benefits. Our Cardozo Youth Advocates program partners with a local high school and gets young people thinking and talking about the law.
There are also a variety of extracurricular activities available to students over winter, spring, and summer breaks. For example, Dean Diller tells us:
Since 2007, Cardozo has sent a contingent of students to the Gulf Coast during spring breaks in order to assist local legal services organizations with the devastating effects of post-Hurricanes Rita and Katrina.

In partnership with Volunteers of Legal Services, Cardozo students attend monthly sessions at Riker's Island and Bayview Correctional Facility to help women with issues concerning the care and custody of their children while they are incarcerated. These are just a few of the programs that we offer. In addition students organize Blood Drives, food drives, and a holiday toy drive.
Journals
Students interested in working on law journals will have plenty of opportunity to do so at Cardozo through the school's six student-edited journals. These include: the Cardozo Law Review, the Cardozo Arts & Entertainment Law Journal ("the first and preeminent journal of its type," according to the school's website), the Cardozo Journal of International and Comparative Law (which seems to focus on issues in Europe), the Cardozo Public Law, Policy, and Ethics Journal, the Cardozo Journal of Law and Gender (specializing on subjects like health care, family law, and civil rights), and the Cardozo Journal of Conflict Resolution Topics.
Each year interested students compete for journal placement. According to Cardozo's website:
Students are selected for [journal] membership on the basis of academic achievement and writing ability. Second-year students write scholarly comments and conduct research, cite check, and perform other editorial duties. Third-year students can become members of the editorial board; they are responsible for editing student comments and outside pieces. Each semester, students receive one credit for staff positions or two credits for editorial-board positions.
Cardozo also has a journal called Law and Literature which focuses on "restrictions on creative expression and legal themes in works of literature." Finally, students have the chance to work on the New York Real Estate Law Reporter, a monthly survey of real estate cases that are decided in New York; this can be valuable experience for students interested in the particular machinations of New York real estate.
Moot Court
The main competitive organization at Cardozo is the Moot Court Honor Society through which students can participate in intramural, regional, and even national moot court competitions.
Conclusion
Cardozo is a good law school in a great location. The law school has some excellent and experienced faculty; some professors currently teaching at Cardozo were there when Cardozo first opened. The facilities at Cardozo are relatively new, with the library receiving strong reviews. Students at Cardozo have few complaints about the law school itself, and seem generally happy.
Job prospects for Cardozo Law are decent for students above median, but those below median can expect to struggle to find employment. But many firms based in New York that have been forced to cut back on recruiting are still stopping at Cardozo; this is not likely to change given its choice proximity to the offices of so many firms.
The greatest concern for Cardozo Law students is the lack of institutional legacy that other schools in New York enjoy (such NYU and Columbia). The fluctuations in the legal job market do present some corresponding measure of worry for Cardozo students.
Still, students looking to find work in New York City can do very well at Cardozo. Though it lacks a long history, it is slowly cementing its reputation as a strong feeder school for the New York City market.
Interview: Matthew Diller, Dean and Professor of Law at Cardozo Law
Contact Information
Benjamin N. Cardozo School of Law, Yeshiva University
55 Fifth Avenue
New York, NY 10003
(212) 790-0274
lawinfo@yu.edu
www.cardozo.yu.edu
Quick Facts
U.S. News & World Report Ranking: 49th
LSAT Median: 164
GPA Median: 3.60
Application Deadline: April 1 (for Fall/May part-time admission); December 1 (for January admission)
Application fee: $70
Entering class size: 243 (plus 25 in January and 102 in May, part-time)
Yearly Tuition: $44,600 (Full-time, $22,300 / semester; Part-time, $14,866 / semester)
Bar passage rate in New York: 90.7%
Percent of graduates employed 9 months after graduation: 98%
Median private sector salary: $130,000