Home » Law Schools » Rankings and Profiles »
William & Mary Law School
Special thanks to Faye Shealy, Associate Dean of Admissions at William and Mary Law School, and to TLS students for providing insight and additional details for this profile. Published February 2008, last updated November 2009.

William & Mary Law School, founded in 1779, enjoys the distinction of being the oldest law school in America. On top of that, it is one of the most reputable public law schools in the country. It offers students an excellent legal education in the tiny, tourist-happy town of Williamsburg. Class sizes are small, the grounds are replete with colonial architecture, and students report a congenial, noncompetitive atmosphere.
All of these factors explain why U.S. News and World Report ranked William & Mary as the second best law school in Virginia. This is a high mark for the school, which is tied with George Washington University (in nearby Washington, D.C.) for the spot of 28th top law school.
William & Mary is a great place to pursue a legal education, particularly for Virginia residents who can take advantage of the school's reduced tuition rates. Applicants looking for a scenic and serene place to study law should seriously consider applying. Its location in historic Williamsburg gives you a chance to learn the law in a relaxing, charming environment.
Some students suggest that Williamsburg, unfortunately, is not that exciting a place to live. They point to the dearth of bars and to the excessive amount of tourists. Indeed, most law students do not remain in Williamsburg after graduation. However, one student says, "While I don't think Williamsburg is the best place to just live, I do think it's an amazing place to go to school." The city offers much "that centers around students and campus [such that] you will never be bored if you don't want to be."
If you are looking to obtain a stellar education in a unique location, William & Mary Law School can offer you this, and should definitely be on your list.
Tuition and Fees 2009-2010

Tuition and fees (resident / nonresident):

$21,646 / $31,846

Estimated living/travel expenses, books

$14,218

Source: William & Mary Law School
Admissions
Nearly 5,000 applicants vie for about 210 seats each year, which has helped earn William & Mary its reputation as a highly selective law school. For its Class of 2012, 22% of about 5,000 applicants were accepted. This entering class, which consisted of 213 students, boasted a median LSAT score of 165 and a median GPA of 3.66.
Numbers, it must be remembered, are not everything when it comes to law school admissions. Associate Dean Faye Shealy says, in an exclusive TLS interview, "No mathematical formula is applied. We have a whole file review process resulting in subjective evaluations."
Sometimes, military experience, success in the workplace, national recognition or a unique achievement in your undergraduate career will mark the difference between you and other applicants. Shealy adds, "The reasons for selection are thus numerous and intertwined."
Prospective applicants should note that William & Mary is a public university. Because of this, the school is able to offer residents of the state of Virginia a rate of tuition lower than nonresidents. In the 2009-2010 academic year, the resident rate was $21,646. The nonresident rate was $31,846. To gain residency before law school, one must have lived in Virginia at least one year prior to attending law school and have the intent to remain in Virginia indefinitely.
Admissions Statistics

Class of:

2010

2011

2012

25th - 75th percentile LSAT

159-166

160-166

161-166

25 - 75th percentile GPA

3.44-3.82

3.35-3.79

3.42-3.77

Percentage Students of Color

17.5%

19.5%

19%

Percentage of Applicants Admitted

27%

25%

22%

Applications Received

4,250

4,585

4,984

Source: William and Mary Office of Admissions
Admissions Basics
To say that gaining admission into William & Mary is competitive is a bit of an understatement. Its acceptance rate rivals that of such top schools as NYU, Michigan, Duke, and Georgetown. More applicants have applied each year for the past three years while class size has remained steady. Shealy, perhaps with these numbers in mind, encourages students to "take each part of the application process seriously. The competition will be putting their best foot forward each step of the way. So should you."
She goes on to say, "This is not a time to be modest. Admission officers need to know all the strengths the applicant can bring to the school and it behooves you to be detailed and proactive." That said, you should have no shame in putting down all of your achievements, even if they seem irrelevant to the study of law. Being an apprentice puppet-maker, an accomplished viola player, or even a certified crossword puzzle master might be news that separates you from the pack.
Transcripts
As if to enforce the competitiveness of the application process, Shealy says that "upward grade trends are the norm and not the exception" at William & Mary. The transcript review process takes everything into account, but places its focus "more on the course selection and rigorousness of the [applicant's] curriculum." Also, the school's prestige and the relative difficulty of one's major are both relevant factors.
Shealy informs us, then, that "a semester or year of downward performance is reason for an addendum." As for graduate work, she had this to say:
We value graduate work. Unless the candidate has performed poorly, a graduate degree is a plus…It is unusual to see grades other than As and Bs on graduate transcripts.

However, the majority of our students is admitted and enrolls in law school without graduate degrees. Seven percent of the 2009 entering class had earned master's degrees.
Personal Statements
When it comes to the personal statement, you can consider it your prime chance to set yourself apart from other candidates with your numbers. According to Shealy, many applicants can improve their chances of admission by drafting a personal statement specifically for William & Mary.
There are some things to avoid: "This is not the place to try to be funny or a poet unless you are naturally so." This may come across as advice to "be yourself," but it is better interpreted as "do not try to be something or someone you are not." Shealy advises students to think long and hard about why law school is the right decision for them. That way, when the time comes to write a statement about it, the writing will not be hackneyed or insincere, but focused and genuine.
Do not, however, take any of the above to mean that if you are naturally inventive, your personal statement should be as inventive as possible. Law school is a serious endeavor. Shealy offers this:
Some candidates [have been] 'creative.' Over the years I have received personal statements in the form of music, poetry, obituaries, collages and puzzles. My advice is not to do anything in the application process for admission to professional schools that should not be done in the application process for professional employment.
Finally, for those who think they can bang out a personal statement in a week or so, unless you are an extremely gifted writer, your statement will likely have errors. When a student submits such an essay, says Shealy, "it is difficult [for a reviewer] to get beyond these deficiencies" because, in the end, they are "evaluating an application for admission to a professional school."
Letters of Recommendation
The standard advice for obtaining letters of recommendation has been to ask someone who you know rather than someone with a fancy-sounding job title who hardly knows you. Indeed, Shealy says, "Applicants occasionally make the mistake of thinking the title of the person making the recommendation is more important than the contact."
Name-dropping won't get you very far in law school. What admissions counselors are looking for are candid, thoughtful and independent appraisals of your capacity to be a lawyer. The only way anybody can do that is by getting to know you. And the longer they know you, the better.
Shealy echoes this in her interview. "I encourage young individuals to make a goal of maintaining relationships with at least two individuals throughout their adult life that can serve as recommenders." When all is said and done, she says to mind your manners and to "be sure to thank recommenders for providing an important favor." A short, handwritten note or, in some cases, a brief and sincere e-mail would suffice.
Virginia Residents
Shealy did not have much to say about the relative competitiveness of gaining admission for Virginia residents, though she did mention that "location of the applicant's permanent residence is one of the many factors considered. Given our lower in-state tuition, we tend to have a higher yield among Virginia admittees than among those from out-of-state."
Multiple LSAT Scores
On their website, William & Mary claims to evaluate "the LSAT portion of the application by using the highest reported score." Shealy, however, says that in the file review process, "we consider everything in the applicant file and that includes each individual score." If you are concerned about how much weight one LSAT score will have over another on your application, you may want to do one of two things. Either submit an addendum asking the admissions office to consider the higher score or call and ask for a clarification on the school's policy. When computing class medians, the law school uses only "the high LSAT for multiple test-takers…as directed by the ABA."
Shealy slightly nudges students down the addendum route, stating:
Addendums are helpful in addressing any deficiencies and aberrations in academic performance and test results. Statements on reasons the candidate chose to retake the LSAT and their view of the test results can be helpful.
Scholarships
Many students worry about how the state of the economy will affect scholarship aid in the coming years. To allay these concerns, Shealy says, "We anticipate awarding more financial aid to students entering in Fall 2010 than we did in Fall 2009."
"Academic achievement," when it comes to doling out scholarship aid, "is a primary consideration along with the many other factors used in our admission selection process." Some aid is so specific that students are automatically considered. For example, Shealy points out that William and Mary has "prior editor-in-chiefs of the William & Mary Law Review who created a scholarship to be awarded each year to the editor-in-chief of that scholarly publication. We have alumni who created a scholarship for students raising a family while in law school, for a student with military service, and other special criteria."
William and Mary has a number of fellowships that students can apply for, though every student with a fellowship must work up to 10 hours per week in order to maintain their funding. A full list of fellowships can be found here.
As for merit aid, it should be noted that the median amount of aid given out in 2008 was $5,000, and only 28 percent of students received grant or scholarship aid from William & Mary in that year. Of those, a small percentage (16 students) received aid of half tuition or more, though none were given grants for full tuition. Students with good financial packages from other schools who plan to negotiate for more merit aid from William & Mary might find themselves up against a wall.
The Waitlist
Dean Shealy had this to say to students who find themselves in admissions limbo:
We conduct a second review of all waitlist files so every applicant has a chance of being considered again for admission.

Take the opportunity to advise us of your continued interest and where William & Mary stands on your priority list. Supplement your file to keep it up-to-date and strengthen it with additional letters of recommendation, your final transcript if we don't have one already, additional awards or new recognitions that you have received. Summer work experience and/or activities may also be helpful. Make sure your file is as strong as possible."
Transferring
With regards to incoming transfer students, Shealy says, "Over the last three years, William & Mary Law School received approximately 100 applications for transfer admission. We have admitted, on average, about 10 percent of these students." The main factor is clearly a student's first-year academic performance at his or her previous law school. However, supplemental information is requested from the law school (see here) and "is also used in making transfer admission decisions."
Law School Culture
Several words keep coming back when students describe the culture at William & Mary: friendly, noncompetitive, hard-working. When describing the city of Williamsburg, a wider range of words is offered up: quaint, historic, tiny, boring, touristy, lovely, unexciting, gorgeous.
From the admissions office, we have Dean Shealy's point of view: "W&M provides an environment where being a law student can both succeed and have fun. The experience is competitive without being cutthroat." Many current students have seconded this. In fact, one 2L offers this assessment:
How competitive are the students? I don't think they're very competitive at all. Sure, there are a few so-called gunners, but none of them walked away with the 4.0. The 4.0s went to surprisingly normal people. But yeah, competition is low. Study groups abound, and it seems like we all really try to help each other out.

I haven't felt any competitiveness at all here. Even the inherently competitive things like moot court tryouts haven't feel competitive.
Several factors contribute to this noncompetitive atmosphere. Shealy says that one reason may be "a certain degree of cultural taboo" about being too aggressive or gung-ho about getting those top grades. "This turns the pressure down significantly," she argues, "and makes our students' experiences generally much more pleasant than at a typical law school."
One other reason for the noncompetitive culture may be the generous B+ grading curve. A 2L gave this information about how it is structured:
A+: 1% of the class
A or A-: 15 to 25%
B+: 25 to 35%
B: 20 to 30%
B-: 10 to 20%
C+ or lower: 5 to 15%

So, it seems the halfway point would be something like a 3.16 (halfway between a B and a B+ average). So, a B average would put you in the bottom half, it seems.
Clearly, few students perform poorly, and most are in the B range. The unquestioned congeniality of the student body has actually been the reason some students chose William & Mary over higher ranked schools. Dean Shealy says, "Many…were swayed towards W&M because, unlike the law school stereotype, everyone wants you to succeed and thrive here. It is a highly academic environment, without the intense stress that is often associated with law school."
To further ease the stress, many students take advantage of the school's social events. Students report there are several sports clubs on campus, and while "most seem school specific, W&M has a number of intramural sports that involve the entire campus."
Unfortunately for the sober, according to one 2L, "the social scene seems to revolve around alcohol. There are only a handful of bars in town, but they get frequented pretty often by law students." This student continues:
There are a fair number of house parties, and the fundraising arm of the student government throws a decent number of parties on school grounds where alcohol is typically served. From my experience, it's pretty much exactly like college.
In addition to the partying, it seems to be difficult to meet students in other programs. One student says:
There isn't a lot of interaction between the graduate schools. I think part of the reason for that is that the law school is about six or seven blocks away from the main campus.

If you live in the Graduate Housing, though, you'll likely get to meet students from the other graduate schools (one of my roommates is in the MBA program). And, of course, if you do a dual degree program, you'll obviously be exposed to other students, too.
One perk of living in Williamsburg is, according to another 2L, "reduced admission to the colonial attractions." In fact, many students will take advantage of this, to the point where "when you see students walking/jogging in the colonial area, it isn't because they're seeing the attractions, it's just because it's a nice place to walk. It's a pretty nice way to clear your head, actually."
Political Leanings
Williamsburg is in a state with both conservatives and liberals spattered throughout, which is reflected in the student body. Even though law schools have a reputation for being liberal, one 2L notes, "I think we have a pretty good mix, honestly… I've actually been surprised with the conservative presence on campus…The American Constitution Society and the Federalist Society both get pretty decent turnout to their events."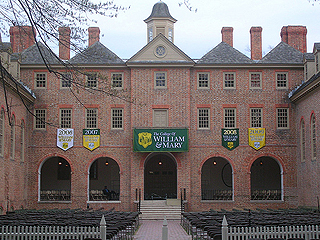 Professors
William & Mary's website offers a rosy picture of student-faculty interactions, characterizing the situation as such: "They'll be the first people you ask for advice about that summer internship or your first job. And when exams roll around, they'll always make time for one last review session over pizza or via online chat."
While this assessment may make exams seem less like a freight train and more like an excuse to be social, the professor-student relationship is pretty spot-on. Students report that professors will often play the role of a mentor. Faculty members make a concerted effort to interact with students and welcome questions and concerns from everyone on just about anything.
One third-year says:
The professors are pretty good. Some are too smart for their own good (and need to be dumbed down for the masses), but most are very approachable and want you to do well.

We also have a few legal "rockstars" here. Professor Alan Meese is on the short list for a federal appeals bench opening and is Mr. Learned Hand (if you don't know the reference, you will by this time next year). Professor William Van Alstyn is our Con Law Rock Star. Let's just say he's kind of a big deal.
Another current student adds:
Faculty members are very approachable. Of the six that I've had, three have set up brown bag lunches with small groups from class to try to get to know the students better. They all stick around after class for questions, and I think they all wish that students would take more advantage of office hours. All of mine so far have been very friendly.
There are 76 full- and part-time faculty members at William & Mary, which makes for an impressive 12.2 student to faculty ratio.
Teaching Methods
With regards to how professors actually engage students in class, one student says that "some (very, very few, actually) will stick with one person through the whole class, leaving the other 80 people or so relatively bored." Luckily, not all professors are like this, and "others call on about a dozen people randomly throughout class...[while] others just ask questions and wait for hands."
Even though professors vary in their teaching methods and teaching ability, most, as mentioned above, have the best interests of students in mind. They will do whatever they can to make the course material clear and accessible to each of their students.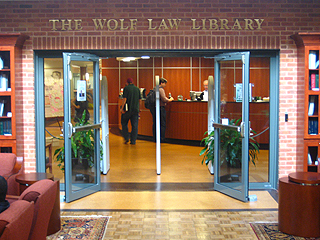 Classes
One interesting thing about William & Mary is that the law school does not divide students into sections. Because of this, first year students are exposed to different students in each class. Some might balk at this policy, as it seems opportune to build camaraderie and close ties within sections. But some students point out that William & Mary is a small school anyway, and these students like being able to meet just about everyone in their incoming class.
Regarding the workload, one second-year says:
I think it is very manageable. I spend an average of two hours per day studying (ramped up during the couple of weeks before finals, of course). I learned first semester that if you study effectively, you don't need to do a lot of it to succeed.

You get to make your own work schedule, so most people work two hours per day. It is easy work, so it isn't going to be taking up any space in your brain. Even with [eight hours of weekly work for] the graduate fellowship, I have more free time than I know what to do with.
Each first year student must take civil procedure, constitutional law, contracts, criminal law, property, torts, and two legal skills classes. In their second year, students must finish two more legal skills classes and take ethics. Also, at this point, students can choose from over 100 course titles.
Impressively, more than two-thirds of these upper level courses contain less than 25 seats, and just four of them have an enrollment above 100 students. By graduation, all students must meet the writing requirement, which is described as "a paper of significant length and publishable quality." More information about the writing requirement can be found here.
Despite these figures, one second-year said:
One of the downsides of cheap tuition is that the school can't hire a ton of professors. So, the amount of electives is a bit disappointing. However, I'm going through course registration for next fall right now, and (assuming that my classes of choice don't fill up with 3Ls) I feel pretty pleased with the selection.
Legal Skills
There is much hype around the law school's two year Legal Skills Program, which some students highly praise. Others, however, downplay the utility of a two-year writing program, insisting that everything can be covered in one year, like it is at most other law schools. William & Mary claims its reputation among employers is enhanced by this program, which is a required part of the school's curriculum and is graded on a pass/fail basis.
During the two-year program, students are placed into simulated law offices in which faculty members act as senior partners. There, they are given the opportunity to hone various skills necessary for success in the legal field.
Here are some positive assessments from former students, all culled from William & Mary's website:
It was incredibly helpful to have some practical experience before working in a law firm. The other summer associate's law school curriculum was all theory, and she really envied the program I was offered.

The research skills helped a lot, but [what helped the most was] the exposure to a firm-like simulation.

I believe the biggest benefit from Legal Skills was the practice at concise and objective writing which contrasted greatly with my undergraduate writing.

I probably wouldn't have known how to write a legal memo if not for Skills, and I wrote plenty of them this summer.
Here is one not-so-positive assessment from a former student:
The Legal Skills Program is a bunch of crap. Basically, they hire part-time professors who have normal jobs being lawyers to read lessons out of a book and assign make-believe clients and memo assignments.

It's pass/fail and if you show up and turn in a steaming pile of crap, you'll pass, so don't waste time on things that are Legal Skills-related; worry about the other three real classes. [On the first day,] I had a wise 2L fill me in on the "legal skills situation." I didn't believe him at first, but now I am a true believer.

I'm not trying to come off bitter, just honest. I came here expecting much more and I feel a bit cheated. Lots of sizzle, not much meat. I feel the people at the school do a good job of talking it up, but the reality isn't nearly as sexy as the hype.

[Regardless, William & Mary] is actually a good school, if not great. Only 600 students total (200 per year) and we are treated like royalty. We get lots of coddling around here.
A second-year offers this more muted appraisal:
To be completely honest with you, Legal Skills might be my least favorite thing about W&M. I think my biggest problem with it is that it is two years long, when it could pretty easily be crammed into one year.

So, that limits the amount of electives that 2Ls can take. W&M's program is set apart from other schools' in that we handle a fake case from the initial client interview to trial. One problem with this (and they may be addressing it) is that a very small percentage of modern cases actually go to trial, so it isn't nearly as "practical" as they think it is. I just think that a lot of these "practical" skills can be better taught on the job site.

Academia is meant to prepare you for the practical world - it isn't meant to be practical in itself. But, that's my own idiosyncrasy, so you may want to take what I have to say about Legal Skills with a grain of salt.
Laptops
The school is entirely wired and has on-campus access to the Internet at no additional charge to students. If you are looking to purchase a computer for law school, William & Mary offers this site to help you make your decision. The law school does not require students to own a computer.
The law library offers storage lockers for laptop computers, and law students can reserve a locker at the beginning of each semester.
One current student warns against the potential distractions that come along with bringing a laptop into the classroom:
The best way to stay engaged, I think, is not to bring a laptop to class. Seriously. If I brought my laptop, I know I would drift in at least one of my classes, but without it, I can focus on what the professor says, which is amazingly important. Some people say, "Whatever, I ignore his ramblings - I'll just read the Chemerinski later." Yeah, that would be great if our exam was written by Chemerinski, but it isn't. You need to listen to your professors.

I really think professors should ban laptops, or at least internet access in classrooms. It is obnoxious how often students have to ask "Can you repeat the question?" when professors catch them off-guard farting around on TMZ or some nonsense.
Obviously, if you can avoid these pitfalls, and if a laptop suits your study habits better than a simple pen and pad, then you should feel free to break out the wallet and get that shiny new computer for your legal studies.
Curricular Opportunities
William & Mary, though it is one of the nation's top law schools, does not offer any specialized J.D. programs, while many of its peer schools do. The law school seems to place a focus on building a reputation in certain areas of the law without any trademark programs to move that agenda forward. It focuses on quality, not quantity, and has a few excellent institutes, conferences, and lecture series that students seem happy with. So far, it is doing a good job of building a strong reputation for itself this way.
One student points out: "About Con Law review. As a 1L, you don't get much chance for that, but the Constitutional Law program here is a big deal." Another says, "We have the Institute of Bill of Rights Law here, which does all sorts of events that Con Law nerds love. The big event is every September when they do the Supreme Court Preview."
At this event, continues the student, "Tons of well known judges, academics, and journalists get together and talk about the Court's coming term. It's awesome. We also have William Van Alstyne, one of the nation's leading Con Law and First Amendment scholars, on the payroll. And I think our Con Law specific journal is ranked third in the country."
Despite the lack of specialization, students find a way to focus on what they want while they are at William & Mary. One current student says:
I think we have a wide enough pool of electives that you can pursue whatever path you want, whether that is specialization or just taking a grab bag of classes (my plan).

Now, we do not have enough electives so that you could take, say, all Contracts courses in all four semesters of your upper years, if that is what you mean by specialization. And because of our small size, we naturally won't have as many professors teaching as many classes as some other schools, but I did not feel limited when choosing classes for next semester.

With that said, I think the easiest area in which to "specialize" would be business/contract law, but I don't want to suggest that the other areas are considerably lacking or anything like that.
Study Abroad
Applicants interested in taking their legal education to another country may be interested in William & Mary's study abroad program in Madrid, Spain. This summer program lasts five weeks and allows students to earn up to six credits while studying in English-language courses taught by prominent Spanish professors. Students fluent in Spanish can also take advantage of a weeklong externship at a Spanish law firm.
Aside from the Madrid program, William & Mary Law School also offers students the opportunity to partake in study abroad programs in New Zealand, Austria and Japan.
Joint Degree Programs
Though it lacks specialized J.D. programs, the law school has a few joint degree programs which will allow students to earn a degree in four years. Students can obtain a second degree in Business (M.B.A.), Public Policy (M.P.P.) or American Studies (M.A.). More information about these programs can be found here.
Clinics and Externships
Students will have the opportunity to practice lawyering skills in the Legal Skills Program, but beyond that, William & Mary offers several clinical opportunities for its law students. Seven clinics are available to students, and they focus on appellate litigation, domestic violence, federal tax practice, innocence projects, legal aid, special education advocacy and veterans' benefits. While students are involved in a clinic, they practice good decision-making and proper lawyering skills with the support of a faculty member.
Externships are also available. If you are unfamiliar with an externship, it can be described as a job that students gain academic credit for while working off-campus. This can take a variety of forms, and William & Mary offers ten types of pre-approved externships, ranging from work with public defenders, the federal government, Virginia attorney's office, or local nonprofits. Students have also arranged their own externships in the past. For a more detailed explanation, visit this page.
Job Placement
Employment prospects for William & Mary students are strongest, naturally, in the immediately surrounding areas. As the second best law school in the state, firms from across Virginia and the D.C. metropolitan area descend on Williamsburg each year to interview William & Mary students.
The law school may have a strong regional reputation, but its national reach should not be entirely discounted. Students in the past have landed jobs at law firms in New York or Boston, but opportunities dwindle the farther one gets from the Atlantic Coast. Fortunately, and partly as a result of the small class size at William & Mary, the school has a dedicated and reliable alumni network that has helped students searching for jobs in California or other markets far from Virginia.
The Office of Career Services plays a large role in keeping up the school's high 99.1 percent employment rate (for graduates nine months after graduation), and students admit being "pretty pleased" with the office. Even when talking about markets outside of the school's region, one second-year points out, they are helpful:
They've given me some pretty good, reliable advice. I think they can do more for you in terms of actual placement if you're looking to work in Virginia or D.C. I am looking to work in Philadelphia or Wilmington, DE, so they didn't help a lot with placement, but they were great in terms of helping me figure out what sorts of judges to apply to, how to structure my resume/cover letter, how to conduct myself in an interview, etc. A few weeks ago, there was a mock interview program that was pretty helpful.

I think Richmond is probably the city that the biggest chunk of graduates go to. We do well in D.C., and it seems like a lot of students are working in Newport News this summer. I don't think any area of Virginia will be out of reach for a W&M grad.
For all of the above reasons, most William & Mary graduates take positions in the South Atlantic region, and about 29 percent stay in Virginia. As far as money is concerned, salaries for students who enter the private sector earn a median of $135,000. This number, however, should be placed into some context. Only 79% of students in the private sector reported salary information and the 25th to 75th percentiles for starting salary were $95,500 and $145,000. Students who work in the private sector should expect to make somewhere in that range. For those who go to the public sector, the median starting salary was $50,000.
Placement Statistics (via USNWR)

Law Firms

53%

Judicial Clerkships

20%

Government

13%

Business and Industry

8%

Public Interest

4%

Academia

2%
Geographic Placement
As the chart below shows (and the information above hints at), most graduates stay regional. You'll be hard-pressed to find a William & Mary graduate in North Dakota or Kentucky, but they abound in Washington, D.C.
Top Geographic Locations (2007 Graduates)

South Atlantic (DC, DE, FL, GA, MD, NC, SC, VA [29%], WV)

60%

Middle Atlantic (NJ, NY, PA)

15%

Mountain (AZ, CO, ID, MT, NV, NM, UT, WY)

6%

New England (CT, ME, MA, NH, RI, VT)

4%

Pacific (AK, CA, HI, OR, WA)

4%

West South Central (AR, LA, OK, TX)

4%

Midwest (IL, IN, MI, OH, WI)

3%

North Central (IA, KS, MN, MO, NE, ND, SD)

2%

East South Central (AL, KY, MS, TN)

1%
Bar Passage
One thing about William & Mary graduates is certain, they are well-prepared to pass the bar. The school's passage rate for 2008 in New York State basically matched that of University of Virginia's (W&M won out by 0.2 percent), which is impressive. Its passage rates in Virginia, New York and Pennsylvania are above each state's average, which goes to show that students truly gain a quality education. The law school is well-respected among employers in each of the states mentioned, and this statistic is one of the reasons why.
2008 Bar Passage Rates (via ABA)

State

W&M's Passage Rate

Jurisdiction's Overall Passage Rate

Virginia

83.1%

77.0%

New York

95.8%

85.6%

Pennsylvania

87.5%

83.0%
Clerkships
About one-fifth of each graduating class successfully lands a judicial clerkship. Many students take this route over working at a law firm, and some (about 4 percent of the 2007 graduating class) are employed in a prestigious judicial clerkship by an Article III federal judge.
Loan Repayment Assistance Program (LRAP)
Students who choose to work in public service are eligible for William & Mary's LRAP. Full details are available on this web page, but here are some excerpts:
Eligible applicants will be working full-time for a legal aid/legal services organization; public defender; prosecutor; government agency; JAG corps; or an academic, law-related, nonlegal, or other 501(c)(3) organization with a public service mission. Partisan political work and judicial clerkships are not eligible.

Eligible applicants [must also have] an annual salary of $50,000 or less for first-time applicants (the salary cap increases to $53,000 for an applicant in the second year of assistance and $56,000 in the third year).
Quality of Life
William & Mary has a small student body, which means you will get to know most, if not all, of your fellow classmates. Couple this with the tranquility of Williamsburg and you have an intimate and collegial atmosphere in which to study law. Despite the relative lack of bars and clubs in the city, students have reported satisfying social lives, as they frequently host parties, participate in the school's weekly bar reviews, and attend school-sponsored lectures and socials.
To top it off, the law school is relatively cheap. In Dean Shealy's words:
William & Mary offers an excellent (some say equal or superior) education at a much lower cost…We honestly believe that most law students will have a more productive and enjoyable law school experience in a small town instead of a big city.
Some students, however, beg to differ. One student who attended William & Mary as an undergraduate offers this grim outlook:
[The] law school is surrounded by nothing, if you drive about a mile you get to some shops. There are no really good bars or pubs, only the really [crappy] delis. They aren't bad I suppose, but it is all you will have.
This is offset by the opinions of some actual law students:
If you've never seen it, the main campus of William & Mary is absolutely gorgeous. When I think of a university, the W&M main campus is what I picture.

There is plenty of stuff for the late 20s crowd. Virginia Beach is less than an hour away. Newport News (10 minutes away) has a regular mall and everything a normal city has. Williamsburg itself has just about every type of eatery you can think of, and the bars that are here are populated by law students. The William & Mary community is pretty nice, lots of money and not too many trashy stuff or people.
Williamsburg may be too far from the nightlife in D.C. to warrant frequent trips (it is 2.5 hours away), which may add to the general feeling that the city doesn't offer much of an opportunity to let loose. Applicants who prefer a quieter life will feel quite at-home in this environment. Those who yearn to meet strangers on the weekends will have a harder time, as it is hard to maintain anonymity when you live in a city of 35,000 people.
One plus, however, is the tremendous safety. Hardly anything goes wrong in Williamsburg, and, to top it off, daily life is very cheap when compared to other schools in larger cities. Your debt will be noticeable, but it is very likely not going to be massive.
Diversity
One second-year has this to share about diversity:
Honestly, W&M is pretty darn white. I know of very few Hispanic students, and it seems like the African American population is overwhelmingly female. Although, for what it's worth, I believe our chapter of the Black Law Students Association just won the chapter of the year award, so the African American community is certainly active and decent-sized, but for some reason, there are very few men in it. It seems most of the class is made up of upper-middle-class white kids, but that is probably true of most law schools.
The numbers agree with this statement up to a point. The Hispanic population at the school comprises 1.1 percent of the student body and Asian Americans make up 2.1 percent. However, the African American population comes in at a strong 12.3 percent. About 18 percent of students chose not to report their ethnicity. The school is, like most law schools, representative of the country in that it is mostly made up of white students.
As for religious diversity, one student gives this information for prospective Jews:
If you don't mind a 45 min drive, Norfolk has a very active Jewish population, both Orthodox and Reformed. I have three synagogues and a Chabad House within walking distance from my house. I guarantee you'll be able to find a faith community to suit your needs there.
Facilities
Students make many positive remarks about the facilities at William & Mary. For instance, a third-year proudly notes, "We have the most technologically advanced court room in the world." Another third-year says, "[Our] brand spanking new law library was just opened this fall. [It is] 3 stories with tons of study rooms, nice areas and great views out of the main windows." In fact, this student informs us, "A good portion of the law school was updated back in 2000. [Today, there are] only a few 'older' classrooms."
Despite the high praise that students have for the court room, law library, and the grounds at William & Mary, some lament the state of the (comparatively) unremarkable law building. The building, mostly red brick and glass, is not unbecoming or architecturally deficient, but feels, at least to one student, slightly out of place. A second-year, while describing the beauty of the surrounding area, says:
It's kind of sad that we're in a building from the 70s, when architects decided that following the style of the surrounding areas wasn't important. It's made even sadder by the fact that the business school is getting a beautiful new building done in an architectural style that actually, fits in, in with Colonial Williamsburg. I mean, the law building isn't ugly on its own, but compared to the buildings on the main campus, it is rather "blah."
Still, a visiting 0L says, "The area is gorgeous, and the attention they put into you as a prospective applicant [is admirable]." While visiting, this student was amazed that "an assistant dean of admissions toured me personally for nearly an hour, and he was absolutely fantastic too."
Housing
Many students choose to live in the Lettie Patte Whitehead Graduate Complex, which students fondly call the Gradplex. The complex is roomy, furnished, and close to the law school, shopping centers, and colonial Williamsburg. "Rent," according to a rising 1L, "comes out to roughly 500 per month and includes utilities." So cable, high-speed Internet, a private telephone with voicemail, water, electricity, and gas are all included in the flat rate.
Because of the benefits to living on campus, many graduate students choose to do so. One student says, "If you live far away, it can be tough to find a new place without getting to see the apartments in person, so the Gradplex provides an easy alternative. No need to get to town early to shop around for housing." Another benefit comes in the form of frequent social interaction. This student continues, "If you're shy, like me, it's a good way to force you into interacting with new people."
Those who have rented furnished apartments in the past know that "furnished" could mean anything from plush, hotel-style digs with a flat screen TV to a military cot pushed up against a mini-fridge and a shortwave radio. Luckily, one student gives us some details:
The rooms in the Gradplex come fully furnished. Each bedroom has a twin-sized bed, a desk, and a "chest of drawers" as they call them. The common room has a three-seater couch, two armchairs, a coffee table, a side table, a kitchen table and four regular ol' chairs.
The Gradplex is not the only option, and some students choose to live off-campus. One of the more desirable areas to live in Williamsburg is called New Town, though it is somewhat pricey. One student says:
If I could afford to live in New Town, I probably would, but alas, I do not have that kind of money. A surprising number of students do seem to have that kind of money, though, so you would certainly be among peers if you decided to live there.
There are some complexes that students can consider as well. Current students mention a few of them:
Steeplechase [apartments] are okay, but nothing special.

Sterling Manor [apartments] are the new ones on High Street, but they are super new and weren't finished while I was still living there. I would recommend looking at Sterling Manor though, as they seem nice. The only thing I'd worry about is that it is a very touristy location.

The nicest place is definitely Oxford New Town…They are in a great location, really close to Target, etc. They are set up like townhouses (2 floors). They are super nice inside. I toured one and thought about moving. I would stay away from Spotswood Commons under all circumstances. I had very bad experiences there.

There are lots of mid range options [for apartments]; the main one would be Regency. I don't know exactly where Sterling Manor falls in, but I would assume it is up there with the best of them.
Williamsburg
The city, well-known for its colonial flair and association with amusement park Busch Gardens, is actually quite small. The city's population tops off at 35,000, though it draws upwards of 4 million visitors each year. This massive influx has led some students to complain about the "annoying tourists" who spend much of their time meandering around the city, but who, for the most part, congregate away from the law school.
The weather in Williamsburg is standard for the mid-Atlantic region; generally pleasant, sometimes fickle but hardly extreme. One student says, "When it's good, it's great. When it's not good, it's feels like the rain will never stop. But, it's beautiful either way, and very warm…From the perspective of a northerner, the weather's a lot better down here than in the tri-state area." A third-year student reports that it is "hot as hell in the summer due to the humidity. Cold in the winter [though, with] little snow."
Students have a few options to relax after a full week of studying. There are no clubs, raves, or all night dance competitions in the woods, but there is "one bar that has a very small dance floor, the Hospitality House – students call it the 'Ho House.' Charming." Apart from that, some bars are popular with law students (in particular, The Corner Pocket, a billiards hall, and The Green Leafe), and a wide variety of restaurants are spread throughout New Town. Beyond that, says one student:
[New Town] also has a Ben & Jerry's, a Panera Bread (not that students hang out at these places, but I love them), some other decent restaurants, and the only movie theater in town (although, I think there might be a new one going in on Richmond Road). There's also a Trader Joe's about a half a mile up the road from New Town.

[Also,] the fund-raising arm of the student body holds house parties pretty regularly (as do random individuals), if that's your bag.
Transportation can come in a few forms. Many people bike to campus. Some enjoy walking to and from classes. Some ride the city bus from their off-campus apartment to the law school. One second-year reports:
I see people on road bikes everywhere. There are some specific bike lanes around the undergraduate campus and several other areas, but I see people riding bikes even where there aren't any all the time, because the roads are pretty wide and it's a pretty normal occurrence here.

I wouldn't suggest using a bike as your sole mode of transportation as James City County (which surrounds Williamsburg) is fairly large, but depending on where you live in relation to campus and how far you need to travel, it's definitely a viable option some of the time. I'll add that there are some mountain biking trails as well if you're into that, and there are several bike stores here.
William & Mary also runs "a free bus service that goes to various parts of campus and various local shopping centers." The public bus system can bring students to and from locations throughout Williamsburg, but for the most part, students who want to leave the city to explore the surrounding area will need a car to do so.
If you can get out of the city, one student says, "We have some pretty decent hiking/biking trails around. We have a number of great golf courses around [as well]. D.C. is about 2.5 hours away, so people don't head up there too often, but day trips to Richmond (45 minutes - 1 hour) are not uncommon."
Tourism
How does it feel to live in one of the most historic places in the country? Some students love the sleepy nature of the town. Some are unhappy with the heavy focus the city places on tourism. Others, however, find themselves pleasantly surprised with the perks of being a student:
Students get a lot of discounts at places in Williamsburg. I think you can get [a discount at] Colonial Williamsburg with your student ID. A lot of people walk around that area because it is so close to campus and it's just such a pretty place.

On a nice day you will see tons of students sitting in Merchant's Square, jogging on Duke of Gloucester Street, etc. The City of Williamsburg makes at least some effort to include the students in events that are going on in the area, too. Most of the local businesses offer some sort of discount or freebie with a student ID.
Those students who despise tourists will find themselves agreeing with the following:
They are incredibly annoying. I was back in Williamsburg last week and it was insane. They walk around like blind sheep being herded around town. Then they just randomly stop in the middle of the road here and there and park in the worst possible places. The worst part about Williamsburg is the tourists.
Yet there are also students who have learned to live with this unique facet of life in a madly popular tourist destination:
There are always tourists in Williamsburg. Some times are busier than others, obviously, but we are never truly free from them. The law school is only about two or three blocks from the Historic Area, but tourists hardly ever make it down to the law school - there's really nothing to see.

I only find them really annoying on the weekends when I am trying to drive around town. I can drive around on weekdays just fine, but it seems whenever I go out for some groceries on the weekends, I take my life into my hands. Other than that, tourists don't really affect our daily lives that much.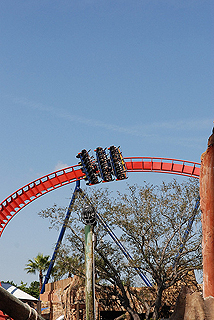 Busch Gardens is also in the area, and one first-year offers an opinion on this. "I'm not a huge amusement park enthusiast, but I was pretty impressed by Busch Gardens. There are some pretty solid rides, and they do a great job maintaining the park."
Indebtedness
Due to the low cost of living in Williamsburg and the reduced tuition rates for residents, the average debt for students upon graduation in 2008 was $73,789. This is an impressively low figure for a top law school, and makes William & Mary quite the bargain for any student, even those looking to enter into the public sector. In comparison, though, some students in the same tier (T20 to T30) offer equally good, or better, deals.
University of Alabama, University of Iowa, University of Washington, and University of North Carolina, all similarly ranked, leave their students with less debt upon graduation. While none of these schools have equally good ties to D.C., they are strong in their respective markets, and each has some national name recognition.
That said, when comparing this figure to University of Virginia (average debt of $76,150 for graduating students), it makes more of a case for the state of Virginia as a cheap place to live. These factors help explain why William & Mary does not offer any grant aid up to or greater than full tuition. The law school is a decent enough deal as is. Students may find Williamsburg to be less active than a big city, but its low cost, natural landscape, and the law school's lack of competitiveness all offer a peace of mind that has no price tag.
Extracurricular Opportunities
Students can engage in a variety of activities at William & Mary. Some like to hike on the city's surrounding trails. Others will tell you to visit Colonial Williamsburg during the holiday season, when wreaths line the walks and lights give the city a quaint holiday glow. The law school will point you to its journals and moot court competitions; it will push you to perform public service; it will have you taking advantage of the city to the fullest extent possible.
Indeed, students can participate in a bone marrow drive, a legal fraternity or in hurricane relief in the South. These service options exist at many law schools, but some opportunities truly set William & Mary apart.
Journals
The law school's Bill of Rights Journal is touted as one of the country's best with respect to Constitutional Law. About a third of third-year students participate on one of four student-edited journals, which are Environmental Law Review, Journal of Women and the Law, and William & Mary Law Review. "Selection," according to the law school's website, "is made through a joint journal competition held at the conclusion of the students' first full year of law school."
Competitive Organizations
Those who enjoy the rush that comes along with a good argument can join William & Mary's Alternative Dispute Resolution Team, which allows students the opportunity to practice resolution skills other than litigation. As at other schools, a competitive Moot Court Program exists, and students who excel in their oral argumentative skills are sure to earn a spot.
Finally, the law school has a national trial team that is one of the best in the nation, and membership is considered an honor among students. According to the website, over 100 1Ls and 2Ls try out for 12 open spots on the team each year. Also, the website says:
In the 2008-2009 year alone, the Team won First Place in two of the nation's top competitions, the William W. Daniel National Invitational Mock Trial Competition, held in Atlanta, Georgia, and the Gourley Trial Competition, held in Pittsburgh, Pennsylvania.
Conclusion
William & Mary gives students something that many other law schools cannot, simply by virtue of their location and student body. The school is distinctly noncompetitive. Students look to each other for class notes and study groups; they find friendships that end up lasting a lifetime. The cost of attendance is low, especially for Virginia residents, and the city will not dig you into a ditch of exorbitant debt.
While the unpredictable state of the legal economy should make students look closely at the facts and figures surrounding any law school, some things that relate to William & Mary are sure to remain constant. Williamsburg will stay a heavy tourist population. The city will be swamped with tourists looking for a bit of history. Surrounding trails and hiking areas will not disappear, and people will bike freely around the city.
Students will still have the opportunity to roam Colonial Williamsburg while thinking of exams, cases, or moot court. Some will walk around just to clear their mind. The town will still be idyllic, peaceful, and tranquil, and its nightlife options are probably going to stay lacking. It takes a certain kind of student to enjoy such a small town, and chances are that students self-select into this environment. As a result, at least some of your peers will be like-minded admirers of small-city life.
That said, finding a job out of law school is of paramount importance. How much debt you will incur is also important. Students at all schools are worried about finding work. William & Mary has statistics to show that, in the long term, students can expect to earn more per year than the average debt incurred upon graduation. This gives the impression that William & Mary is and will continue to be a sound investment.
Students should remember that William & Mary is the second most prestigious law school in Virginia, unmatched in some regards. The law school reports high bar passage rates wherever its students go. There should be little doubt in your mind that the law school will provide you with a quality education. What you will be able to do with that education, as the legal market changes, is yet to be seen.
Overall, though, students at William & Mary Law School have a positive outlook. The school is gorgeous, serene, and has a strong regional reputation that stretches into Washington, D.C. Its spot among the best law schools in the nation is well-earned, and William & Mary will certainly hold this post for many years to come.
Interview: Associate Dean Faye Shealy of W&M Law
Contact Information
William & Mary Law School Admission Office
P.O. Box 8795 Williamsburg, VA 23187
(757) 221-3785
lawadm@wm.edu
http://law.wm.edu/
Quick Facts
U.S. News & World Report Ranking: 28th
LSAT Median: 165
GPA Median: 3.66
Application Deadline: March 1
Application fee: $50
Entering class size: 213
Yearly Tuition: Resident, $21,646; Nonresident: $31,846
Bar passage rate in Virginia: 83.1%
Percent of graduates employed 9 months after graduation: 99.1%
Median private sector salary: $135,000