Home » Law Schools » Rankings and Profiles »
Washington University in St. Louis Law School
Published September 2007. Last updated August 2011. Last modified February 2013.
The Washington University School of Law provides a top-flight legal education in the midst of a beautiful campus that brings the magic of Oxbridge to the Midwest. Warm students, a city that combines urban opportunities with a low cost of living, and an administration committed to raising the school's profile make "Wash U" an attractive choice for many a prospective law student.
February 2013 Notes: Since this profile was last updated, TLS conducted an interview with Janet Laybold, Associate Dean, Admissions, Career and Student Services. Also, since this profile was last updated, WUSTL added a unique @WashULaw program which allows foreign-trained attorneys the opportunity to earn a Master of Laws (LL.M.) degree from a nationally-ranked law school from anywhere in the world.
2011-2012 Cost of Attendance

Tuition
$43,350
Room and Board
$12,000
Personal and Miscellaneous
$5,000
Books and Supplies
$2,000
Mandatory Fees
$757
(Parking Pass)
$450
Total
$63,707
Admissions
Washington University has recently committed significant resources to raising the profile of its law school, and its number of applicants has risen as the economy has faltered. The table below is a good starting point for potential law students who want to assess their chances at WUSTL:
Admissions Stats[i] Class of 2013
Applications Received
4386
Students Matriculating
276
25th – 50th – 75th GPA
3.3 – 3.7 – 3.8
25th- 50th – 75th LSAT
162 – 167 – 168
Class of 2012
Applications Received
3689
Students Matriculating
261
25th – 50th – 75th GPA
3.3 – 3.7 – 3.8
25th- 50th – 75th LSAT
161 – 167 – 168
Admissions Process
It is hard to overestimate the importance of undergraduate GPA and LSAT score in law school admissions, as law schools compete for the brightest students and highest scores in the annual U.S. News and World Report rankings. While applicants above both medians stand the best chances of admission and scholarship offers, Washington University is reputed to be friendly to "splitters," applicants with one high number and one below-median metric. A look at Wash U's Law School Numbers graph or at the large gap between the school's 25th and 50th percentiles confirms this reputation; high-LSAT splitters do especially well.
The admissions committee focuses on GPA and LSAT but also considers personal statements, letters of recommendation, and non-academic experiences. In an effort to build a diverse class, Wash U also considers ethnic, cultural, and experiential backgrounds. The recommended application deadline is March 1; although the school will consider later applications, the logistics of rolling admissions processes make it beneficial for candidates to apply as early as possible after applications become available in September.
Candidates can apply through the Law School Admissions Council (LSAC) or using a paper application. Either way, a non-refundable $70 application fee must be paid unless a fee waiver has been assessed.
Personal Statements and Optional Essays
WUSTL requires a personal statement of about two or three pages. This open-ended essay gives applicants a chance to differentiate themselves in the largely homogenous and numbers-based law school admissions game. According to the school's website, "Successful applicants have written about significant experiences and sources of personal motivation."[ii]
The school does not specifically invite any optional essays. Criminal or disciplinary records must be explained in addenda; attachments are also permitted to explain circumstances such as a history of poor standardized testing offset by strong academic performance, or a semester of bad grades due to illness or family emergency.
Letters of Recommendation
A complete application includes two letters of recommendation. These letters typically come from professors, although teaching assistants or employers often provide strong recommendations as well. Per the school's website, "The most helpful letters include commentary on specific examples of your academic ability, energy, motivation, discipline, character, and other qualitative variables."[iii]
Transfers and Waitlists
Students who have completed their first years at other ABA-approved law schools can apply to finish their degrees at WUSTL as transfer students. A complete application, filed through LSAC's online service, includes an official law school transcript, résumé, and two letters of recommendation. At least one of the recommendations must come from a law school professor, and the personal statement must address a candidate's reasons for transferring. Wash U has an Early Action option for transfers who get their applications in by March 31. Regular Action applications are due August 1, although those who apply or deposit after June may have trouble participating in On-Campus Interviews.[iv] In the 2009-10 academic year, 46 students transferred into Washington University Law, while 12 transferred out to other law schools.[v]
Early Action Program
WUSTL undergrads have the option of applying to the law school after their junior years without having to take the LSAT. These applicants, who must interview with the law school, find out whether they have been admitted before the registration deadline for the September or October LSAT, and are under no obligation to attend if admitted. Washington University Law does not have a binding "early decision" program for traditional J.D. applicants.
Financial Aid
Although living in St. Louis is relatively cheap, attending Wash U for law school is not: with current tuition and fees running over $44,000 and expected to rise, someone who applies this year and takes loans to cover the full cost of attendance can expect to graduate with about $200,000 of debt. 71.5% of Class of 2008 graduates borrowed money for school in an average amount of $106,614.[vi]
The law school is generous with merit-based scholarship aid: in 2009-2010, just over three-fifths of students received grant aid in a median amount of $20,000. About 50% of these awards covered at least half of tuition.[vii] Most grants are Scholar in Law Awards based on academic excellence and LSAT performance. If the school's Law School Numbers graphs are any indication, aid can be predicted with some accuracy by LSAT and GPA, with high LSAT scores commanding especially hefty awards.
Special scholarships go to African-American and Native American students, as well as to a handful of candidates with a demonstrated commitment to public service. Applicants are automatically considered for all scholarships, with the exception that those who want consideration for the public interest Webster Society Scholarship must submit an additional essay.[viii]
Public Interest Support
The rising cost of legal education makes pursuing public interest jobs increasingly challenging for law school students. To help current students gain service-oriented experience, the law school offers Summer Public Interest Stipends to those working qualifying unpaid internships. These awards are reportedly in the $3,000 range.
Wash U has maintained a Loan Repayment Assistance Program (LRAP) for recent graduates since 2002, and recently revamped the program to work with new federal Income Based Repayment and Public Service Loan Forgiveness. LRAP II works as follows: recent grads employed by the government or a qualifying tax-exempt organization and making less than $70,000 a year receive new institutional loans each year to cover existing student loan payments, in an amount not to exceed 6% of adjusted gross income. The program adjusts income for spousal income and assets, and will vary by candidate enough to merit independent investigation of the above links. One point worth noting: since LRAP II requires IBR participation, a graduate may make manageable loan payments for years without a significant dent in his loan principal.
Law School Culture
At least among TLS members, Wash U students have few complaints about their fellow students or the school's overall feel. Rumor has it that WUSTL was an extremely competitive place in years past; despite a weakened economy that has reduced the number of high-paying jobs, current students report little backbiting. One writes:
It's a pretty laid back, non-competitive atmosphere, and everyone talks to everyone. I was surprised at how nice everyone was...The horror stories about how douchey law students are were vastly exaggerated...at least at WUSTL.[ix]
Another notes that friendships develop quickly, and that the school encourages a friendly ethos through social events:
The atmosphere is very collegial. I was stunned when I got here and met all of my classmates because everyone has been very friendly and open. I didn't expect it, but everyone really has a unique story and each person is interesting. Everyone has been down to earth as well. The school offers a "happy hour" every Friday, sponsored by different student groups, where everyone gathers in the common area and socializes from 4:30-6:30. Also, there is a bar review every Thursday night at a different bar each week that is very well attended.[x]
Despite these positive vibes, some students do report feelings of nervousness about the job market, especially among those without top grades. These feelings, however, are likely common at all but the most elite law schools.
Diversity
Washington University takes diversity into consideration for admissions and scholarship offers, and a school-record 38% of the most recent entering class identify as minorities.[xi] According to one TLS poster, this diversity extends beyond racial and ethnic lines:
WUSTL has people from every walk of life. I don't think any culture or type is more predominant than another. Anyone can fit in. Some people wear really expensive clothes to class, others wear hoodies and jeans. Honestly, if someone tried to wear pajama pants to class, I probably wouldn't look twice.[xii]
Academics
Curriculum
The first year of Washington University Law is highly structured: 1Ls take three substantive classes each semester that give a broad survey of American common law: Contracts, Property, and Torts in the fall, followed by Civil Procedure, Criminal Law, and Constitutional Law in the spring. First-years traditionally take a Legal Research and Writing class as well; WUSTL splits this up into two courses (Legal Practice and Legal Research Methodologies), both of which span the entire 1L year. A TLS member describes the organization of first-year sections, which become the first and closest social circles for many law students:
During your 1L year, you'll be split into 6 sections of approximately 45 students each (A, B, C, D, E, F). You are then paired with another section to form a "super-section" of about 90-100 students. Your "super-section" has the same 3 core professors, but you don't always have class with them.[xiii]
After taking 29 structured credits as first-years, students choose their classes for 2L and 3L years. This gives aspiring lawyers the freedom to take courses that fit their interests and career goals. The only upper-division requirements are an Ethics Course, an Applied Lawyering or Professional Skills Course, and a class that meets the Upper-Level Writing and Research Requirement. In all, a WUSTL J.D. requires 86 credits over six semesters.[xiv]
Grading System
WUSTL has a unique grading system that provides plenty of feedback. The scale runs from 70 to 100, with 74 as the lowest passing grade and 79 as the threshold average for maintaining good academic standing. No letter grades are assigned, although the school provides traditional equivalents (e.g., 88-90 correspond to a B+ and 94-96 correspond to an A). First-year courses have a median of 86.5 to 87.5, while upper-division classes have variable medians based on the GPAs of those enrolled. There is no strict curve, which causes some students to grumble:
The most frustrating thing about grades is the lack of a forced curve. We had one property professor give out four 100s this past semester, while my Property prof's highest grade was only a 96, and only one person got it. I was one of the top grades in this class, but my grade was far worse than the top grades in this other prof's class. It is kind of annoying, and I don't see why they don't just have a bell curve.[xv]
Regardless, the system does have its advantages. The high amount of granularity helps high-performing students differentiate themselves in a competitive job market, and takes some of the luck and ambiguity out of GPA distributions. Additionally, doing extremely well in one class can raise a GPA significantly, as one student relates:
Getting a high A really pays off. Getting a 100 in one class can really move you up in class rank quickly, whereas simply getting an A at another school won't pay off as much. This allows people at least the theoretical chance of salvaging a semester of mediocre grades. Especially given that median is about an 87 and top third is only 89. [It's] very easy to move away from median if you have one great semester.
While the law school officially ranks just the top 5%, it publishes GPA percentile cutoffs for other demarcations within the top third, so that students (and employers) can get a reasonable idea of where they stand. The Dean's List for each semester (top third) is generally a bit above an 89.
Professors
Washington University Law's faculty has improved dramatically in recent years. In a 2003 faculty quality survey conducted by Brian Leiter and sent to 150 legal academics, WUSTL tied for 29th among all law schools.[xvi] In the two most recent U.S. News & World Report peer reputation surveys, which suffer from lower response rates but are also largely based on faculty reputation, WUSTL tied for 18th overall.[xvii]
According to Leiter, frequently cited law professors at Wash U include Pauline Kim (Labor and Employment) and Francis Foster (Wills, Trusts, and Estates), and Brian Tamanaha (Jurisprudence). Tamanaha is also popular among students, having "developed a huge group of fans" despite being new to the university.[xviii] TLS posters describe the average professor as approachable and friendly, and say that few professors still employ an entirely Socratic teaching demeanor.
Clinics and Externships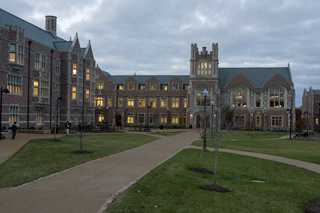 Wash U prides itself on its legal clinics, and many students cite the strong clinical program as a major factor in their decisions to attend. The law school ranked fifth in this year's U.S. News & World Report Clinical Training specialty ranking and includes traditional clinics (in which students provide legal services to clients who might not otherwise be able to afford them) as well as externships and other field placements. Some of these clinics, like the American Indian Law Program, take place during the summer, but most run during the school year and replace a traditional class. The five "live client" clinics include the Appellate Clinic, which gives students the opportunity to argue cases before the Eight Circuit of the U.S. Court of Appeals, and the Civil Justice Clinic, which deals largely with family issues in the St. Louis area. External placements include the Congressional and Administrative Clinic, which sends as much as a fifth of each year's 3L class to the nation's capital to work for a member of Congress, government agency, or non-governmental advocacy or research organization. Although this program by no means guarantees a job in the difficult-to-crack D.C. legal market, it can help WUSTL students gain valuable contacts and expand their professional networks.
Through externships, practicum courses, and other external placements, WUSTL students have the opportunity to gain legal experience in a variety of settings, ranging from a United States Attorney's Office to judicial and even international contexts. Interested candidates should investigate the full range of options on WUSTL's clinics homepage.
Interdisciplinary Focus and Join Degrees
Today's law schools are quick to tout anything interdisciplinary, from flashy course titles to new faculty hires with expertise outside of the law. In addition to team-taught courses, WUSTL offers an Interdisciplinary Environmental Law Clinic in which environmentally-conscious law students collaborate with science grad students to help solve community issues. The law school also brings in noted academics from various fields through its Center for the Interdisciplinary Study of Work and Social Capital. Washington University is an increasingly prominent national university and has many strong graduate programs, including one of the most selective medical schools in the country; upper-level J.D. students can take up to six credits in another graduate department, but must show that the class is "logically related" to their legal interests or career plans.[xix]
For those who want deeper immersion in a non-law field, Wash U offers several joint degree programs through the law school and the Graduate School of Arts and Sciences, Brown School of Social Work, and the Olin School of Business. Nine credits earned in another degree program can be counted toward the J.D. and other graduate programs may make similar concessions, so that both degrees can be earned on an accelerated timetable.
Study Abroad
Washington University Law offers myriad study abroad opportunities, including exchange programs with 11 law schools in 10 countries scattered among 3 continents. A Summer Institute for Global Justice, operated in conjunction with Utrecht University and Case Western Reserve University, takes students to the Netherlands for a six-week, six-credit program on international and comparative law. WUSTL students may also participate in the study abroad programs of other ABA-approved law schools.
Law students who want truly international careers may be drawn to the Transnational Law Program, which allows students to earn a J.D. as well as an LL.M. from Utrecht University, Queen's University Belfast (Northern Ireland), the University of Trento (Italy), or the Catholic University in Portugal. WUSTL students spend four years total completing both degrees: five semesters at Wash U and three in Europe.
Graduate Programs
WUSTL offers a wide variety of graduate law degrees for both American and foreign-trained lawyers. LL.M. degrees in Taxation and Intellectual Property and Technology Law give lawyers specialized training in technical disciplines; the former can be combined with a J.D. in six or seven semesters. An LL.M. in US Law is aimed at lawyers who received law degrees from foreign institutions and want to learn about the American legal system for educational or professional reasons. While earning an American LL.M. does not allow foreign lawyers to sit for the bar in most states, it does qualify them for the bar exams in New York and California, two of the most popular destinations for foreign-trained attorneys. Applicants to this program do not need to take the LSAT, although they do need to prove English proficiency.
Two additional graduate programs cater to very different situations. The Master of Juridical Studies is a non-professional degree for people like patent agents who want some exposure to legal training. The J.S.D. is an advanced, independent research-driven degree intended for those with original research ideas and serious interest in legal academia.
Student Activities
While law school academics take up plenty of time, WUSTL students stay busy outside of the classroom and library with almost four dozen student organizations as well as myriad competition options. Some of these activities are serious, like the public interest organization Equal Justice Works; others are just for fun, like Golf Club or the Sidebar Wine Society. Students can seek out the thrill of competition in both intramural and external moot courts that range from general appellate contests to specialties like Environmental or Intellectual Property Law, and in Client Counseling, Negotiation, and Mediation competitions.
Journals
Legal journals provide editing and writing experience, as well as an attractive resume line – especially for students on the flagship law review. Wash U currently publishes three journals, with a fourth (the Washington University Jurisprudence Review) set to launch in July 2011. In addition to the Washington University Law Review, the most general in topic and competitive in member selection, the school also publishes the Journal of Law and Policy and the Global Studies Law Review. Students are also trying to gain school sponsorship for the intellectual property-focused Technology, Innovation & Commerce Law Review.
Journal members are selected on the basis of first-year grades and a mandatory writing competition held at the end of spring semester (there is a separate competition for transfer and LL.M. students). Students who finish 1L year in the top 10% of their class and complete the writing competition "in good faith" can automatically join their first-choice publication; others are evaluated solely on write-on performance. The writing competition comprises an editing exercise and a case comment of about 20 pages (including endnotes). One student writes that while competition for Law Review is stiff, "almost everyone I know who completed the write-on got something" among the remaining journals.[xx]
Facilities
Washington University's campus, which takes its architectural cues from the quintessentially academic feels of Oxford and Cambridge, rivals the visual appeal of many Ivy League universities. Though the law school's Anheuser-Busch Hall is scarcely more than a decade old, its Gothic architecture does not disappoint, blending in well with the rest of the university's Danforth Campus. The interior is also impressive, and surprisingly modern given the building's Old World looks.
Anheuser-Busch Hall's 175,000 square feet house classrooms, offices, two courtrooms, and the Law Library. This library contains 700,000 print volumes and extensive online database subscriptions, as well as a reading room which one TLS member likens to "something out of Harry Potter."[xxi] The building features high-speed fiber optic network access and an advanced video-on-demand network; classrooms and courtrooms have advanced projection and recording technology. Plenty of commons space, including a central courtyard, gives students room to relax and socialize.
Job Prospects
Warm classmates, engaging professors, and a beautiful campus will mean little to some students if they graduate with healthy debt and a sickly jobs outlook. Washington University commands increasing respect in the legal world, and its top graduates secure enviable positions. Nevertheless, the recent recession battered legal hiring worse than any in recent memory, leaving average WUSTL students facing a frustrating job market.
While current students agree that the hiring climate has worsened and that finding a well-paying, satisfying job requires all but the most credentialed students to hustle, they differ on just how bad the situation is. One student laments that Chicago, "typically WUSTL's biggest market…has been hit hard by the recession."[xxii] Another calls the school "a place with too many smart students and not enough desirable jobs to go around."[xxiii] In a detailed post on the Top Law Schools boards, a WUSTL 1L writes:
…there is still a tale of two cities here at Wash U: those that have, and those that have not. I've met 2Ls and 3Ls here who are heading for 8th Circuit clerkships, high profile public interest jobs, Biglaw like Sidley Austin, etc. However, I have also met 2Ls who do not have anything lined up for the summer and 3Ls who do not have jobs yet. Here, it seems that if you make law review and have good grades, the possibilities are endless. If you only make a secondary journal or have pretty good grades, it seems you won't get the same opportunities, but you will still be able to find a decent job for the summer and after school. Those people who have neither [journal experience nor grades] and are not either heavily involved in the advocacy program, know someone, or come from the community are screwed at this point. Also, don't assume that if you don't make law review and just have "good grades" that St. Louis firms are a given to fall back on. Having said that, I am still glad I came here because it was my best overall option. I had no problem finding a summer job, and most people I know are doing what they want this summer. It's an excellent educational opportunity at a prestigious university. I'm not too worried.[xxiv]
Others are more optimistic, citing employment opportunities outside of Biglaw and the fruitfulness of networking and working with the large and well-funded Career Services Office (see more below).
Wash U has not published employment information for the Class of 2010 – in fact, most of the statistics on its website are from the Class of 2008 and earlier. The tables below survey some of the data available at the time of this profile's writing. Perfect information is never possible, but anyone considering law school in this economic climate should evaluate all available metrics and talk to students, career services staff, and practicing attorneys before making a huge financial decision.
Employment Data for Previous Classes[xxv]

Year
2007
2008
2009
% Employed at Graduation
94.1%
89.4%
88.3%
% Employed at Nine Months
99.7%
95.0%
95.5%
% of Employed at Law Firms
62%
62%
67%
Government
13%
10.5%
7%
Business/Industry
9%
10%
14%
Clerkships*
7%
10.5%
4%
Public Interest
4%
2%
4%
Academia**
2%
2%
1%
*3% of class (75% of clerks) in Article III clerkships in 2009; 8.2% of class (78% of clerks) in Article III clerkships in 2008; 5% of class (71% of clerks) in 2007. **Should not be interpreted as a percentage of the class working as or on track to become professors straight out of law school. These graduates are probably pursuing advanced degrees or fellowships.
Geographic Placement
Wash U's national and regional placement is a matter of some debate. Unlike, for example, the University of Southern California, the law school with which WUSTL is currently tied in the U.S. News & World Report rankings, Wash U does not have a student body that comes primarily from one state, nor do a majority (or even large plurality) of graduating students head to one market:
Geographic Placement by Percentage of Graduates*

Year
2008
2009
West North Central (includes Missouri)
24%
24%
East North Central (includes Illinois)
16%
17%
Middle Atlantic (includes New York)
14%
14%
South Atlantic (includes D.C.)
17%
10%
Pacific
7%
9%
New England
2%
7%
West South Central
6%
2%
East South Central
3%
1%
Foreign Countries
4%
4%
*Percentages do not add to 100%. In 2009, 11% of graduates' locations were unknown; in 2008, 3.5% Historically, a good chunk of WUSTL grads have stayed in Missouri, although current students warn that St. Louis firms are more selective than might be expected and should not be viewed as fallback options. WUSTL-trained associates at large area firms like Bryan Cave and Thompson Coburn typically have good grades and other credentials, and often must fight to convince local employers that they are not flight risks. Moreover, the St. Louis University School of Law provides plenty of competition with its solid local reputation and tight-knit alumni base. This leads to what one Wash U student calls:
…this persistent myth that WUSTL students don't find jobs in St. Louis. Considering St. Louis is our second-largest market (according to the CSO), I'd say there is little truth to it. As far as comparing WUSTL to SLU, you have to keep in mind that there is a lot of self-selection going on. SLU students stay in St. Louis because they are usually from here or can't find work in other cities. On the other hand, WUSTL students disperse a lot more. I'd say this has its pros and cons. On the pro side, I am glad to be competing against fewer people who want to be in St. Louis long term. However, I do think employers are a bit skeptical of WUSTL students, especially those who are not from St. Louis or the Midwest in general.[xxvi]
On the other hand, some potential applicants worry about Wash U's ability to send graduates to coastal markets. As indicated in the table above, graduates do make it to East Coast destinations like New York and Washington, D.C. (the decline in percentage of graduates heading to the South Atlantic region from 2008 to 2009 may reflect tightening of what has historically been a very competitive market). A smaller percentage also makes it to the West Coast. The National Association of Legal Employers database can be filtered by law schools at which the employer does on-campus interviews. Although multiple offices of large national firms are counted twice, there are actually more employers listed for markets like D.C. and the Bay Area than for St. Louis. The school also provides this list of employers in each state who "actively recruit" WUSTL students, although this recruitment could entail nothing more than a résumé collection. Moreover, the Career Services Office is making significant efforts to bolster the school's reputation in non-Midwestern cities, as detailed below. Still, shooting for competitive coastal markets makes good grades a necessity – top-third seems to be the cut-off for consideration by many firms – so those committed to working in specific coastal cities should at least consider options closer to their target markets.
Career Services Office
While some Wash U law students have complaints about the economy or job prospects, few seem to have qualms about the Career Services Office. One student writes:
I wouldn't enter law school banking on getting a job through OCI [On-Campus Interviews]. At all but the very best schools these days, less than half of the class will get a job at OCI. WUSTL has a fairly large amount of regional interview programs that let you interview for midlaw or smaller firms in your home market. It's the non-OCI jobs where the strength of your CSO matters most, and we have a good one.[xxvii]
The university has expanded the office's size to ten employees and embarked on an ambitious effort to raise its national and worldwide recognition while doing a better job of matching employers and individual students. Details of the CSO's recent undertakings can be found in this article in a campus publication, and one student offers a ringing endorsement:
Ten CSO people offer way, way more personal attention than other law schools are able to provide, and these CSO members, as part of their jobs, fly around the country to up the prestige of our school while passing around your résumé – yes, they do this quite frequently, and yes, our CSO staff makes an effort to get to know us personally – to employers they think would like you. I can confidently say that it is thanks to the new CSO staff that I received several job offers for this summer. Mike Spivey, the CSO dean, is exceptional.[xxviii]
On-Campus Interviews are 70% pre-selected, 30% lottery, meaning that students below the top third or half may have a hard time getting interviews with certain employers. The university also teams with a handful of other law schools to put on regional interview programs in Atlanta, New England, New York, Washington, D.C., and California.[xxix]
Private Practice
Most newly minted lawyers work for law firms because of the relatively large supply of jobs and (at some firms) high starting salaries that help defray the costs of student loans. Although once-frenetic hiring has slowed considerably, most WUSTL students still look for jobs in the private sector.
One commonly-cited metric for private sector placement power is the National Legal Journal's annual publication of "Go-To Law Schools," which lists the top 50 law schools by percentage of graduates hired by the 250 biggest law firms in America. This list excludes some well-paying and well-regarded small firms and does not account for graduates who could have gotten "Biglaw" jobs but chose to take other employment like federal clerkships, other government work, or public interest positions. Still, it is a useful comparative tool.
NLJ 250 Placement[xxx]

Year
2009
2010
Percentage Placed (#1 Percentage)
27.5% (55.9%)
19.0% (59.0%)
National Rank
24
25
Since the recession took hold, NLJ250 percentages have been down across the board: in 2007 and 2008, Columbia Law School sent over 70% of graduates to large firms. Outside of the traditional "Top 14," the schools whose numbers have held up best have been those situated near big legal cities. Chicago was hit harder and has rebounded more slowly than some other major markets, which may also have contributed to WUSTL's reduced placement relative to some of its peers (respected Big Ten law schools that feed into Chicago also saw sharp NLJ250 drops).
Of course, there are plenty of law firms outside of the NLJ250, and many Wash U graduates that do not secure jobs at mega firms still end up with desirable positions. Networking and utilizing Career Services and alumni networks become even more important when looking for jobs with small and medium-sized firms. Prospective law students should also be aware that starting salaries for lawyers are bimodal, and that paying off large student loan bills may be a strain for the majority of students that miss the "Biglaw" boat.
Clerkships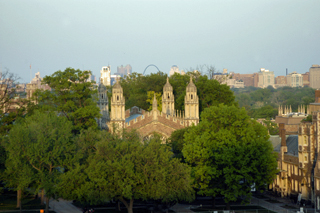 For some highly qualified law students, the first stop after graduation is not a large firm, but instead a judicial clerkship. Clerks basically serve as personal assistants to judges, doing legal research for cases and dealing with day-to-day issues of the court. Some clerks write bench memos or even first drafts of opinions, and many gain a well-connected lifelong mentor. Conventional wisdom holds that clerks learn legal skills and courtroom mechanics more quickly than first-year associates at law firms, and clerking for the right judge can lend significant cachet to a résumé.
For the last three years for which data are available, about 7% of Wash U graduates went on to clerkships, with about three-quarters of these working for Article III judges at the district or appellate level. The Career Services Office provides guidance for interested students and assists with the time-consuming application process.
Government and Public Interest
In recent years, WUSTL has sent about 10% of each class to government employment not counting judicial clerkships, and another 3% or so to public interest organizations. Government employment can range from prosecutor and public defender offices to federal agencies like the Environmental Protection Agency and Securities & Exchange Commission. Public interest organizations usually provide legal services to a population who would not otherwise be able to afford them, or advocate for a set of issues.
Although some government and public interest employers come to on-campus and regional interview programs, the hiring process is not as streamlined as it is for many law firms. Making connections is key, as is building a resume that demonstrates a long-term interest in service-oriented work. To the latter end, those who want to work for the government after graduation should pursue government internships or externships, or consider participating in the Congressional & Administrative Clinic. Similarly, those who want to work in non-profit public interest should consider a clinic and take advantage of the summer public interest stipend program. Carol A. Vizzier serves as the school's Director of Career Services & Public Interest, and brings years of legal public interest experience to the CSO.
Housing and Transportation
For those comparing Wash U to other urban law schools, cost of housing will almost definitely weigh in favor of the St. Louis school. One TLS member writes:
For those of you coming in from NYC/DC/LA etc., you are going to be absolutely blown away by the low cost of living. I pay $500 a month ($1,000 total, since I have a roommate) for a fully-furnished, really nice apartment with new furniture, appliances, and a washer/dryer unit in the apartment. The most I've heard of anyone spending is $1,000 a month, but [that person has] a really swanky place in Central West End. You can easily keep your rent in the $500-600 range if you take on a roommate, and if you're paying over $750 a month, you're in the expensive range.[xxxi]
The city offers a range of neighborhoods that should suit most tastes. Many law students choose University City for its convenience: the university and a metro stop are within easy walking distance. Central West End, slightly farther away from campus, attracts a large number of law students with its shopping, dining, and nightlife options. Other popular areas include Clayton, a quiet suburb within a few minutes' drive of the law school, and a revitalized Downtown area with plenty of restaurants and bars as well as Busch Stadium, home of the beloved Cardinals.
Though most students live in non-university affiliated apartments, Wash U's Quadrangle Housing maintains some graduate and professional housing in the University City, Central West End, and Skinker DeBalievere neighborhoods. For a more detailed breakdown of neighborhoods, check out this post from a student blog.
A car is not a necessity thanks to a light rail and bus system –Wash U students get a free pass – and the availability of housing within walking or biking distance of the university. Parking is readily available in many neighborhoods, although those interested in neighborhoods like Central West End and Downtown should be mindful of some parking and traffic issues.
Quality of Life
St. Louis residents enjoy the amenities and entertainment options of a big city – the Greater St. Louis area has almost three million residents – without the high cost of living and traffic problems that plague many urban centers. While the city is somewhat notorious for violent crime, Wash U students on TLS do not report feeling unsafe in any of the areas frequented by law school students, and seem to enjoy St. Louis. A forumsuser has this to say:
It's not a booming cosmopolitan metropolis, but it holds its own in having fun things to do: tons of museums, Forest Park, three major professional sports teams (well, two and a half, considering the Rams), some beautiful theaters, and enough of a nightlife to keep a law student busy and not bored.[xxxii]
Though not a world cultural capital, St. Louis has good food in lots of variety – with one possible exception:
I've tried just about every Mexican place around here that I've seen or heard of, and have yet to find anything better than "meh." If you're looking for something along the lines of Texas or SoCal, prepare to be disappointed. But with that said, we do a lot of other ethnic foods really well. If you want good Thai, Vietnamese, Indian, Ethiopian, Brazilian, or Japanese/Sushi, you're in luck. The Hill [a neighborhood] is awesome for Italian. And if you want good BBQ, try Pappy's.
While the areas around WUSTL and SLU have their fair share of college bars, St. Louis nightlife also offers some diversity, as one TLS member attests:
There's a hip collection of bars in the Tower Grove Park area on Manchester, which is just southeast of Forest Park. Kind of the indie-rock crowd. The Delmar Loop is pretty urban/progressive/yoga-ish as well. And there are some other dive bar establishments on South Grand Ave. Further east on Manchester are a couple of gay bars. Downtown on Washington Ave. there's more of an urban-chic crowd, but it's more a late-night clubbing atmosphere. Central West End is kind of a yuppie-chic crowd, but everything around here closes early (1am). Laclede's Landing by the river has some sports-oriented bars and pubs. And downtown Clayton has some more suburban, lower-key bars.[xxxiii]
As with any law school or city, there is no substitute for visiting. Three years is a long time, and an experience as stressful as law school is best done in a comfortable place, so anyone seriously considering attending Wash U should check the place out in person.
Conclusions
Washington University in St. Louis has a nationally respected law school with a top clinical program, a dedicated Career Services Office, and enough of an urban feel to satisfy all but the most excitement-craving law students (oxymoron?). For the foreseeable future, job prospects for those without top grades or other standout résumé lines may not justify sticker price for students without significant financial resources. Still, especially for applicants who land scholarships, there is much to recommend the oldest continuously operating law school west of the Mississippi.
Contact Information
Washington University School of Law Admissions Office
Campus Box 1120, One Brookings Drive
St. Louis, MO 63130-4899
Phone: (314) 935-9525
E-mail: admiss@wulaw.wustl.edu
Website: law.wustl.edu
Quick Reference
U.S. News Ranking: 18 (tie)
Application Deadline: March
Application Fee: $70
Entering class size: 275
Student/Faculty Ratio: 13 to 1
LSAT 25th – 50th – 75th percentiles: 162 – 167 – 168
GPA 25th – 50th – 75th percentiles: 3.3 – 3.7 – 3.8
Tuition: $43,350
---
[i] Washington University Law Career Services
[ii] Washington University Law Admissions
[iii] Ibid.
[iv] Washington University Law Transfer and Visting Students
[v] LSAC Official Guide
[vi] U.S. News & World Report data as organized by Law School Transparency
[vii] Ibid.
[vii] Washington University Law Financial Aid
[ix] TLS Forums
[x] TLS Forums
[xi] 2013 Class Profile
[xii] TLS Forums
[xiii] TLS Forums
[xiv] Washington University Law J.D. Requirements
[xv] TLS Forums
[xvi] Brian Leiter's Law School Rankings
[xvii] TaxProf Blog
[xviii] TLS Forums
[xix] Washington University Law Student Handbook
[xx] TLS Forums
[xxi] TLS Forums
[xxii] TLS Forums
[xxiii] TLS Forums
[xxiv] TLS Forums
[xxv] U.S. News & World Report data as organized by Law School Transparency
[xxvi] TLS Forums
[xxvii] TLS Forums
[xxviii] TLS Forums
[xxix] Washington University Law Recruiting Brochure
[xxx] From the National Legal Journal annual list of "Go-To Schools" (2007, 2008, 2009, 2010)
[xxxi] TLS Forums
[xxxii] TLS Forums
[xxxiii] TLS Forums