Home » Law Schools » Rankings and Profiles »
The University of Pittsburgh School of Law
Published March 2008, last updated July 2013.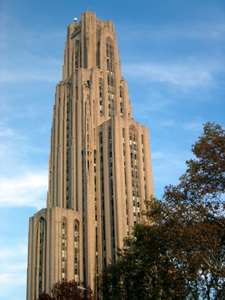 A state-supported law school, the University of Pittsburgh School of Law has been operating since 1895 and training many high-profile attorneys in Pittsburgh and in the state of Pennsylvania. These days, a Pitt J.D., at sticker price financed by student loans, will set you back $168,483 if you're a Pennsylvania resident and a whopping $194,244 if you're not. For that, according to Law School Transparency, the class of 2012 got a 50% chance at a full-time, long-term legal job. The school offers only a full-time program.
Employment prospects and bar passage
It should come as no surprise that prospects for law school graduates across the country are less than stellar in this historically depressed legal market. Prospective Pitt students should be well aware of what they're getting into and should pay particular attention to employment numbers and skyrocketing costs of attendance.
Two hundred twenty-two students graduated in 2012, and 115 were employed in some fashion in Pennsylvania. The second most common destination was West Virginia, with seven employed there, and the third most common was Washington, D.C., with five. A little over 13% landed jobs at large firms (more than 100 attorneys), and about 1% (two alumni) nabbed prestigious federal judicial clerkships. More graduates (34) got full-time jobs at small firms (2-10 lawyers) than at large firms (30).
The University of Pittsburgh did not release its NALP report or salary information for the classes of 2011 or 2012. TLS urges prospective students to call the Pitt admissions office at (412) 648-1413 and ask for this important information.
For the July 2012 administration of the Pennsylvania bar exam, 83.1% of first-time takers from Pitt passed, compared to 83.0% for first-time takers overall.
Admissions and tuition
Receiving over 2,300 applications for fewer than 240 seats in a typical year, the University of Pittsburgh law school must be fairly selective. For the entering class of 2012, the school received 2,379 applications, admitted 868 applicants, of which 230 matriculated.
The LSAT scores of this entering class at the 25th and 75th percentiles were 157 and 161, while the undergraduate GPAs of the class at the same percentiles were 3.14 and 3.66. Generally speaking, students with numbers around the median (159, 3.45) should be competitive in future application cycles, while students with numbers near or above the 75th percentiles should have a good chance of receiving scholarships. Applicants with numbers near or below the 25th percentiles, on the other hand, would be wise to ensure that they submit their applications early on in the cycle, as Pitt conducts its admissions cycle on a rolling basis. Such applicants should also aim to highlight in their application any diversity that they may bring to the student body of Pitt Law.
Pitt's total cost of attendance for the 2012-2013 school year was $47,182 for residents and $54,158 for nonresidents. With the entire cost financed by loans, that comes to a total of around $168,483 for residents and $194,244 for nonresidents. Keep in mind that students loans are seldom dischargeable in bankruptcy. If you're considering Pitt Law, ask yourself how much debt you're willing to take on for a coin's flip chance at any full-time, long-term legal job or a less than 15% shot at a big-firm job.
Academics and curriculum
As is standard practice, students at the University of Pittsburgh law school enroll in a required set of core courses in their first year, including Civil Procedure, Constitutional Law, Contracts, Criminal Law, Property, Torts, Legal Writing and Analysis, Lawyering (practical skills), and Legislation and Regulation. 1Ls must also attend several lectures as part of the so-called Pitt Law Academy.
Following this first and most rigorous year, students are mostly free to choose from among more than 100 elective courses to fulfill their 88-credit-hour graduation requirement. Aside from required and elective courses, students at Pittsburgh Law also have access to other academic opportunities, including several clinical programs, "certificate" programs, and joint-degree programs.
Clinical opportunities, which give students the opportunity to gain practical legal experience, include the Taxpayer Clinic, the Environmental Law Clinic, the Immigration Law Clinic and the Securities Arbitration Clinic, among others. Certificate programs, which allow students to gain specialized expertise in a particular area of the law by enrolling in focused courses, are offered in the areas of international law, intellectual property, and environmental law, among others.
Joint-degree programs, which allow students to combine a law degree with other academic fields, include, among others, the J.D./M.B.A. program with Carnegie Mellon University, the J.D./M.P.H. with Pitt's Graduate School of Public Health, and the J.D./M.S. in public policy with Carnegie Mellon. Keep in mind that joint-degree programs can be highly expensive and time-consuming; you should have a focused and persuasive justification for why you need a joint degree for your career before you consider enrolling.
Quality of life
Housing around the law school campus is plentiful and affordable, as students are usually able to find apartments for around $600 in close proximity of the school. Those living a bit further from campus need not worry about transportation, as Pittsburgh Law students can ride the city's buses for free with their student IDs. When law students feel the need to unwind, they can visit one of Pittsburgh's many bars and clubs, and the school-sponsored weekly Bar Review allows them to visit these bars and clubs with their fellow law students every week. Various eateries and cafes are also found near the Pitt campus, at which students can pass free time before and after classes. All this, added to the collegial environment and lack of cutthroat competition at the law school, ensures that students at the University of Pittsburgh law school can enjoy a high quality of life while pursuing their legal studies.
Contact Information:
University of Pittsburgh School of Law
Barco Law Building
3900 Forbes Avenue
Pittsburgh, PA 15260
(412) 648-1413
admissions@law.pitt.edu
http://www.law.pitt.edu/
Quick reference
U.S. News ranking: 91
Applications accepted: Sept. 1–April 1
Application fee: $65
Entering class size (2012): 230
Average LSAT (2012): 159
Average undergraduate GPA (2012): 3.45
Annual cost of attendance (2012-2013): $47,182 (residents), $54,158 (non-residents)
Total debt-financed cost of attendance: $168,483 (residents), $194,244 (non-residents)
Law School Transparency employment score: 50% (percentage of 2012 graduates who obtained full-time, long-term jobs requiring bar passage nine months after graduation)