Pepperdine Law School
Note: This profile is eventually going to be replaced by the TLS wiki profile for Pepperdine University School of Law.
Published October 2006, last updated October 2009

A school with a solid reputation and a dream-come-true Malibu location is certain to attract applications from students all over the country. And Pepperdine does. With its strong academic programs, knowledgeable faculty, and beautiful campus, Pepperdine Law School seems a likely candidate for a continued rankings boost. Pepperdine is known as a bastion of conservatism, which applicants should keep this in mind, as it is sure to affect their law school experience.

Admissions & Tuition Information
Pepperdine Law School may not be the most competitive school in California; nevertheless, admissions standards remain relatively high. Roughly 28% (~900 of 3,244) of applicants were granted admission last year. Of those admitted students, the 25th to 75th percentile GPA range was 3.43–3.79 and the range for the LSAT was 160-163—with medians of 3.61 and 162, respectively.
Tuition at Pepperdine is around the $39,000 mark. Given the school's rank, quality-of-life, and high starting salaries, this seems high but acceptable. Malibu's high cost-of-living, however, adds considerably to the total cost of a Pepperdine education. Students can expect to pay over $15,000 annually for room & board. With book costs and miscellaneous fees thrown into the mix, the total cost of attendance at Pepperdine is roughly $60,000 per year; but not all students pay the full price. In fact, nearly 75% of last year's students received a grant from the financial aid office. And many of those grants were substantial. 20% of students received a grant equal to or higher than half the cost of tuition; and 5% received a grant that was equal to or higher than the full cost of tuition. Overall, grants ranged from $2,500 to $20,000 for the 25th to 75th percentiles, while the median grant was $7,000.
Bar Passage & Employment Prospects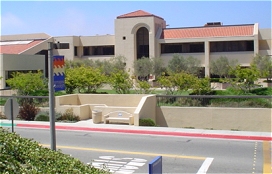 Pepperdine Law School graduates pass the bar at a rate of 77.4%. At first glance, this suggests mediocrity. Relatively speaking, however, Pepperdine graduates do quite well: the California Bar is notoriously difficult, with a state-wide passage rate of only 71.1%.
Regardless of a praiseworthy bar-Passage rate, Pepperdine graduates struggle to find immediate employment. In fact, almost 30% of all graduates are unemployed at the time of graduation. Naturally, this is discouraging. Nine months after graduation, however, Pepperdine graduates are doing quite well for themselves. Not only do 92% of graduates have jobs at this point, but they enjoy more-than-comfortable starting salaries. Those who entered the private sector in 2007 (75% of graduates) earned salaries ranging from $80,000 for the 25th percentile to $140,000 for the 75th percentile; the median was $100,000. And although those who entered public service made less than their private-practice counterparts, they earned a median starting salary which, at $56,000, is higher than that of most public-service graduates around the country.
As far as mobility is concerned, Pepperdine epitomizes the regional-school model. With over 75% of graduates remaining in California after graduation, it becomes obvious that Pepperdine's reputation is strongest in the Pacific region. It is not impossible to leave the state; however, as shown by the 24% of graduates who found work elsewhere including 2% who even went to work in a foreign country. These latter cases should be considered exceptions, however, and prospective students should be aware of Pepperdine's limited reputation. Then again, with all the benefits that a West-coast life offers, it seems that few arms have to be twisted in order to convince graduates to stay local.
Academics
Pepperdine University has some truly stellar academic programs. The dispute resolution program is the best in the country according to the USNews specialty rankings; and the school is known to be one of the best for entertainment law. Pepperdine is also strong in tax law, international law, and intellectual property, among other fields.
Much of Pepperdine's academic capability stems from the faculty's ability to engage the student body. In fact, the Princeton Review ranks Pepperdine in the top-10 on a list of schools with "Professors that rock". The profs can't take all the credit, however, as Pepperdine's academic programs offer students some truly invaluable experiences. Students rave about the school's Los Angeles externship program, for example, and the international entertainment law program at the school's London campus certainly helps to give Pepperdine grads a leg up on the competition.
Nevertheless, Pepperdine Law School does have its flaws. Students interviewed by the Princeton Review complain of mediocre facilities with windowless classrooms and broken computers. Certainly, though, life in Malibu should provide the necessary distractions, and the list of complaints will be a short one, all things considered.
Quality-of-life


Two factors dominate the quality of life at Pepperdine: the school's picturesque Malibu setting; and the famously conservative politics.
Students couldn't ask for a more ideal location. Located right on the Pacific Ocean, in one of California's most beautiful towns, Pepperdine offers its students an environment they are unlikely to find anywhere else. Beach volleyball, surfing, swimming, you name it; if it has to do with fun in the sun, Pepperdine students have access to it. Hands down, Pepperdine offers one of the best campuses in the country.
Prospective students should not simply look at the school's location and conclude that it will provide them with the quality-of-life they are searching for. One needs to look also at the school's overall ideologies, for this is the context in which ideas are circulated. At Pepperdine, religious conservatism dominates. Students and faculty alike are known for their conservative views, and it is said by many that the school make a conscious effort to keep such ideas at the top of the totem pole. And with Kenneth Starr as dean, one should expect no less.
Conclusion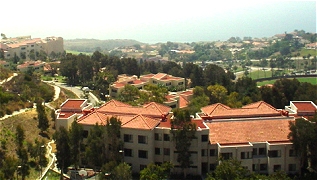 For students who are comfortable with the school's more conservative leanings, Pepperdine offers a wonderful experience, full of beautiful scenery and engaging academics. To be sure, it is a mix hard to find elsewhere. While TLS always recommends that you visit any law school that you are considering, this is particularly true of beautiful Pepperdine.
Quick Reference
U.S. News Ranking: 55th
LSAT Median: 162
GPA Median: 3.61
Multiple LSAT scores: Higher score accepted
Application Deadlines: 02/01 (Regular)
Application fee: $50
Entering class size: 231
Yearly Tuition: $39,280
Bar passage rate: 77.4%
Percent of graduates employed 9 months after graduation: 92%
Median private sector starting salary: $100,000 (Class of 2007, 55% reporting)