Home » Law Schools » Rankings and Profiles »
University of Pennsylvania Law School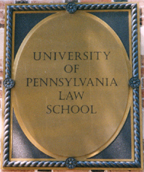 Published October 2006, last updated March 2011

With its Ivy League brand and urban location, the University of Pennsylvania Law School attracts thousands of the brightest law school applicants every year. The school also features a collegial student body and an interdisciplinary focus, which allows students to take advantage of one of the world's great centers of graduate and professional education. With the imminent completion of a new, state-of-the art building that follows a multi-year renovation of the school's physical facilities and programmatic offerings, this is an exciting time to attend one of the nation's oldest law schools.
Tuition and Fees 2010-2011[i]

Tuition and Fees

$45,340

General Fee

$2,152

Technology Fee

$780

Books

$1,275

Room and Board

$13,132

Insurance

$2,742

Miscellaneous

$2,639

Total

$68,150
Admissions
Gaining acceptance to Penn Law is difficult: typically, just 14% of applicants in a given year earn the right to attend. Like most law schools, Penn Law places heavy emphasis on each candidate's undergraduate GPA and LSAT score. On these metrics, the Class of 2013 features lofty medians of 3.85 and 170, respectively.[ii]
Admissions Stats

Class of 2013[iii]

25th – 75th percentile LSAT

166 – 171

25th – 75th percentile GPA

3.56 – 3.90

Applications Received

6,022

Number Matriculating

252

Class of 2012[iv]

25th – 50th – 75th percentile LSAT

166 – 170 – 171

25th – 50th – 75th percentile GPA

3.57 – 3.82 – 3.90

Acceptance Rate

14.4%

Applications Received

6,205

Number Matriculating

255
Admissions Process
Penn Law extends offers to Regular Decision applicants on a rolling basis from January to May. Renee Post, Associate Dean of Admissions and Financial Aid, advises hopefuls to submit as soon as possible, since the school "reviews applications in the order they are completed." In addition to securing high GPA and LSAT profiles, the admissions committee—which does not use an index to evaluate applications—tries to build a class of diverse and talented individuals. According to Post:
We look for curiosity, determination, and intellectual engagement, both inside and outside the classroom…candidates who will be active members of the Penn Law community, candidates who are drawn to our atmosphere of collegiality and cooperation.
A complete file includes an application form, transcripts from all undergraduate and graduate schools attended, two letters of recommendation, a resume, personal statement, and one or more supplemental essays. The school strongly prefers applications submitted through the Law School Admissions Council, and requires that recommendations be submitted through LSAC.

Personal Statements and Addenda
The required personal statement gives each applicant the chance to highlight compelling information not conveyed elsewhere in the application and showcase writing ability. The statement also allows a candidate to show that he or she would contribute uniquely to the incoming 1L class, and to lend a coherent narrative to his or her file.
If applicants feel they have good reasons for potential weak spots in their applications, Post urges them to write addenda: "You don't want the Committee guessing about what happened. We have wonderful imaginations." A candidate with a history of low standardized test scores alongside strong academic performance may want to document this to mitigate a low LSAT score; conversely, someone with health reasons for a low GPA might want to explain his or her situation. Criminal records are another frequent occasion for addenda. The admissions dean adds that such explanations should be thoughtful but concise.
Letters of Recommendation
The law school requires two recommendations, although it accepts up to four. Letters must be submitted through the LSAC Letter of Recommendation Service, and those using the new LSAC evaluation service must still submit at least two letters. Letters can come from professors, employers, or anyone else who can attest to an "ability to succeed in a rigorous law school program."
Supplemental Essays
Penn is somewhat unique among top law schools in its requirement of at least one supplemental essay in addition to the personal statement and any addenda. The most recent application lists three options. The first, a diversity statement, can touch on issues of background (race, sexual orientation, age) or experience (academic expertise or employment history). The second invites applicants to "discuss the work of art or literature that most influenced your decision to pursue a legal education."
The third prompt reads, "How will your legal education and professional development at Penn Law support your five year plan upon your graduation?" This essay allows applicants to discuss their career interests, as well as their reasons for wanting to go to Penn in particular. Some speculate that applicants whose numbers are very high can decrease their chances of being waitlisted or rejected for yield protection purposes by writing this "Why Penn?" type essay, or that applicants whose numbers are marginal can differentiate themselves by showing enthusiasm for the school.
Binding Early Decision Application
Applicants who are certain that Penn is a good fit can apply under the binding Early Decision option, which guarantees a decision by December 31. These applications must be submitted by November 15 and completed by December 1. Since applying ED indicates a commitment to Penn, it may give a needed boost to candidates with otherwise marginal applications. The acceptance rate for ED applications—which number between 130 and 200 in a typical year—mirrors that of the RD pool. While this does not mean that the binding application confers no advantage—the ED pool may be slightly weaker in terms of numbers—applicants should not overestimate the Early Decision "bump." Additionally, Renee Post cautions applicants with financial concerns against applying ED, since they will not have the chance to compare aid offers from different schools. Conventional wisdom also holds that applying Early Decision puts candidates out of the running for significant merit-based aid.
Transfers, Waitlists, and Deferrals
Dean Post says that Penn Law selects between 20 and 30 transfer students each year out of around 200 applicants. (The most recently published ABA data lists 30 transfers in and 10 transfers out.) The most important factors are different from traditional JD admissions: instead of undergraduate GPA and LSAT, first-year law school grades and the strength of applicants' current institutions are most heavily weighed (anecdotally, one TLS user notes that most transfers in a recent year came from schools ranked in the top 30 by U.S. News & World Report, or from nearby schools ranked slightly lower).[v] Letters of recommendation—written by law professors—and personal statements are also crucial. The administration makes special efforts to accommodate transfer students, reserving on-campus interview slots and allowing transfers the chance to write-on to journals.
The law school also admits a significant number of waitlisted applicants each year: 30 to 40 out of a pool of several hundred. Waitlist review begins in May, and candidates are sometimes accepted late into the summer. The committee invites waitlisted candidates to remain in contact and even submit additional materials, including extra letters of recommendation, new grades, and updated resumes.
Per the school's website, Penn Law grants accepted students one-year deferrals in most reasonable cases, although applicants must submit their requests in writing. The school grants two-year deferrals for a narrower range of reasons, including military service or multi-year service programs like Teach for America.
Scholarships and Financial Aid
With an estimated cost of attendance approaching $70,000 per year in a rough economy that has hurt job prospects across the board, a Penn Law education represents a significant financial undertaking. The school offers significant merit-based aid—mostly based on GPA and LSAT numbers—as well as some need-based grant aid and institutional assistance in securing and handling student loans. Roughly half of each class qualifies for grants. All applicants are automatically considered for merit scholarships; those who wish to apply for need-based aid must submit additional paperwork, including parental resource information for most applicants.
The law school's highest award for incoming students is a spot in the Levy Scholars program, which covers full tuition for the first year of study as well as two-thirds of tuition for the 2L and 3L years. The program also provides additional resources to encourage interdisciplinary scholarship and growth. Other named scholarships include the James Wilson Scholarship, which provides $20,000 of support a year, and the Silverman-Rodin Scholars program, which covers all tuition costs for 1L year and half-tuition for the second year. A number of Dean's Scholarships also provide students with grant aid in amounts from $4,500 to $60,000 over the course of three years.[vi]
Public Interest Support
Penn Law makes an effort to enable students to pursue public interest-minded careers despite the financial burdens of a legal education. Penn was the first nationally prominent law school to institute mandatory pro bono service, and continues to encourage all students to consider the greater good in their careers.
The Toll Public Interest Scholars Program funds half a dozen students in each class who have a demonstrated commitment to public interest, and provides as much grant assistance as the Levy Scholars Program. The program supports each scholar's public interest development through funded summer internships, seminars, and mentor relationships. As with other merit scholarships, no special application is required.[vii] While Penn does not offer guaranteed funding to all students working public interest internships over the summer, it does subsidize more than 100 such students each year.
The law school also provides public interest support to recent graduates through its Toll Loan Repayment Assistance Program. Graduates in qualifying employment (legal work that primarily benefits the public interest, such as direct services or many government posts) can have part or all of their law school debt forgiven. "TolLRAP" covers annual loan payments up to $14,000 for those making $45,000 or less, and dispenses decreasing aid for those making up to around $70,000. Adjustments are made for spousal income and dependent children. See Penn's website or the TLS LRAP Profile for more details.
Student Body
Students at Penn Law seem happy with their classmates, who bring a wide variety of backgrounds and experiences to the table. Just 29% of current 1L's entered Penn directly from college, with the rest of the Class of 2013—which ranges in age from 20 to 41—coming from the workforce or previous graduate education. The student body also carries significant diversity: over a third of the most recent class self-identify as students of color, and students hail from most of the U.S. states as well as several foreign countries. Approximate demographic information for the entire student body is reproduced below:
Demographics of J.D. Enrollment[viii]

Caucasian

64.9%

Asian-American

13.9%

African-American

7.3%

Hispanic

5.1%

Other Minorities

1.7%

Foreign Nations

2.4%

(Unknown)

4.8%
Student Culture
What would a Penn Law profile be without the word "collegial?" Most law schools claim to be free of the snarky backbiting that allegedly pervades their peers, but Penn students are among the most insistent. One student and TLS user writes:
Everyone is always willing to discuss the material, share ideas, outlines, etc. Nobody seems competitive, although almost everyone seems to work very hard, even on the ungraded legal writing assignments.
Another puts it more bluntly:
The "collegial" thing really is true…[which] mostly means there are remarkably few douchebags for a law school setting.[ix]
While those looking for a completely competition-free zone should probably look elsewhere than law school in a struggling jobs market, most Penn Law students do seem to praise a tangible sense of friendliness and community.
Politics
From most reports, Penn students lean to the left politically (not unlike those at most top law schools and Ivy League universities). Groups like the American Constitutional Society are prominent, and the campus is particularly tolerant on social issues. Students cite a vibrant LGBT community, and note that tolerance of students with diverse sexual orientations is nearly universal.
Still, conservative prospectives need not run for the hills. One right-of-center student points out that the Federalist Society is also popular, and often hosts events alongside the ACS. Another tells similarly-minded students not to worry:
Being a bit more conservative on some issues than what seems to be the average Penn student, I've been very pleased to have had great, non-confrontational conversations with many of my more liberal classmates on some of the more hot-button issues. One of the great things about Penn Law is that it provides a forum comprised of very intelligent and nuanced individuals, who can (usually) recognize and understand the nuances in others' viewpoints.[x]
Academics
Curriculum
First-year students take a traditional set of courses: Civil Procedure, Contracts, Property Torts, Criminal Law, and Constitutional Law. They also take two semesters of Legal Writing, which is graded on a pass/fail basis. The class includes large lectures and small "cohort" meetings of about 15 students. Unlike most 1L's, Penn first-years can choose two electives, one from a list of Regulatory offerings and the other from a Perspectives list of survey courses like Jurisprudence and Chinese Law.
Second and third-year students freely select classes to complete the remaining 52 required credits, and have a wide variety to choose from. Upper-level students can also take advantage of the Ivy League university's other graduate offerings and a range of experiential learning opportunities. To graduate, all Penn Law students must complete at least 70 hours of pro-bono service, take a professional responsibility course, and satisfy a senior writing requirement.
Professors
Unsurprisingly, Penn's law faculty is distinguished and highly credentialed. Its ranks include scholarly heavyweights such as Christopher Yoo (technology law) and Paul Robinson (criminal law). Many of the school's most cited professors have also won accolades for their Socratic savvy: Matthew Adler, an influential scholar in regulatory and risk issues as well as constitutional theory, and David Skeel, one of the most important names in corporate law and bankruptcy, are both two-time recipients of the Harvey Levin award for distinguished teaching (chosen annually by the graduating class).
In the past decade, Penn Law has increased the size of its faculty by nearly half, without significantly increasing the size of its student body. The student/faculty ratio is now approximately 10.7:1, lower than rival schools Michigan, Virginia, and Berkeley. As with other top schools, some professors are more well-liked than others, and some faculty seem much more interested in scholarship than teaching. But overall, students seem to feel that open and engaged professors are a big part of the community feel at Penn. Embodying this ideal, a widely-followed tradition encourages professors and fresh 1L's to get to know each other over lunch.
Interdisciplinary Focus and Joint Degrees
Few law schools stress interdisciplinary engagement to the degree that Penn does. Students are encouraged to explore academic interests outside of and intertwined with the law in a number of ways. Creative classes integrate traditional legal topics with topical issues like Islamic law and the recent healthcare bill; others apply cross-disciplinary tools to the law, such as Gender, Law, and Psychology, or seminars on Law and Economics or Law and Literature. Still other courses are team-taught by law professors and faculty from other university departments, and three-quarters of the law faculty hold advanced degrees in non-legal areas.
All students can receive JD credit for up to four courses in Penn's other graduate schools. Although these classes must be approved by a dean as somehow relevant to a student's legal education, students report that receiving such an OK is not difficult. The most popular outside school among Penn Law students is Wharton, widely considered one of the country's top three business schools. Students also take classes at the medical school and many other top departments ranging from engineering to the humanities. The compact campus—graduate and professional schools are all located within walking distance of one another—facilitates taking advantage of UPenn's considerable resources.
The law school's website advertises almost 20 joint degree programs, a dozen of which can be completed in three years. The chance to earn a Wharton MBA alongside a Penn JD in just three years is especially enticing, although candidates must apply separately to each program and spend their 1L summers taking classes at Wharton (a more traditional four-year JD/MBA program is also offered). Additional schools with which Penn students can earn joint degrees in three years include the Graduate School of Education, the Fels Institute of Government, and the School of Social Policy & Practice.
Other joint degrees, including a JD/MPH and JD/PhD's in American Legal History or Philosophy, take four or more years to complete. Students also have latitude to create their own programs. In recent years, law students have earned medical degrees and a PhD in Communications as well as several ad hoc JD/MA combinations. Finally, the law school also awards Certificates of Study recognizing significant coursework in areas like Environmental Law or Business and Public Policy. These certificates do not require an application, although the university does charge an administrative fee.
Study Abroad
Penn Law students have several opportunities to take their education overseas. Traditional, semester-long study abroad programs allow students to take classes at law schools in Barcelona, Beijing, Hamburg, Tel Aviv, and Tokyo. Each program can be completed mostly or fully in English. Students who want a more immersive experience can spend their entire third years studying in Paris (with theUniversité Paris 1 Panthéon-Sorbonne Law School and the Institut d'Études Politiques) or Hong Kong (with the University of Hong Kong). The Paris program, taught in a combination of English and French, confers a JD as well as an MA in French Law and political science. In Hong Kong, students take English-language courses and earn an LLM. However, those who actually want to practice in Hong Kong will need additional training and certification.[xi]
Student Activities
Journals
Penn Law publishes five journals. The most prestigious and competitive is the University of Pennsylvania Law Review, the oldest continually published law review in the nation. The Journal of Business Law, which started as a specialized employment law journal, now covers a wider variety of business-related topics. Students can also work on the Journal of Constitutional Law, the Journal of International Law, or the Journal of Law and Social Change.[xii]
Journal membership is determined through a combination of grades and a writing competition. This competition includes a multiday editing portion in which students demonstrate their proofreading and cite-checking abilities, as well as an essay based on a set of (not necessarily law-related) texts and a personal statement. Each journal weights the criteria differently. While the Law Review is extremely competitive, generally taking those near the top of the class and those who ace the writing competition with respectable 1L grades, most any student who wants to do a journal should be able to find a spot on one of the secondary publications.
In addition to the five official journals, students also edit and publish the independent East Asia Law Review. This organization also serves as a group and network for students interested in East Asian affairs and legal issues.
Clinics and Externships
Penn Law offers eight direct clinical experiences in which students can gain firsthand experience, as well as a Lawyering in the Public Interest seminar that combines readings, speakers, and court observations with students' law school public interest experience and discussions of issues faced by public interest lawyers. Penn students can directly represent clients in civil or criminal defense cases; they can help small businesses through the Entrepreneurship Legal Clinic or disadvantaged kids through the Interdisciplinary Child Advocacy Clinic. The Legislative Clinic confers opportunities to policy-minded students, and the Mediation Clinic explores non-litigious methods of conflict resolution.
Penn's Supreme Court Clinic, one of the best in the country, allows students to research and contribute to actual cases to be argued in front of the nation's highest court. Participants work in the clinic for a full academic year, and take a one-semester seminar that complements the hands-on experience. Two former clerks to Associate Justice Kennedy conduct the clinic, while the seminar is taught by faculty members with extensive experience arguing Supreme Court cases.
The Gittis Center for Clinical Legal Studies also facilitates externship placements with Philadelphia area legal employers, ranging from public interest organizations and governmental agencies to law firms arguing federal cases. Oversight by externship supervisors and clinical faculty expands the value of these experiential opportunities.[xiii]
Moot Court
Penn 2L's compete in an intramural Moot Court competition, Appellate Advocacy II, which includes a written brief as well as oral arguments. The top performers from this competition are eligible for 3L positions, including competitive spots on the Keedy Cup or National Moot Court Competition teams and membership on the Moot Court Board. Penn students also enter a number of national and international competitions, for which they make their own teams.[xiv]
Student Organizations
Along with moot court and journals, a wide range of interest and affinity-based groups allow students to socialize and work with likeminded peers. Groups range from identity groups, such as the Black Law Students Association and Christian Legal Society; to serious special interests, like Penn Law for Reproductive Justice; to fun, activity-based organizations, like the Iron Chef Club and a variety of intramural sports. Unsurprisingly, many groups have a cross-disciplinary focus (the Penn Law Association for Law and the Arts, Law and the Brain). Finally, students give back through well over a dozen pro-bono projects including direct service organizations like Advocates for the Homeless and outreach programs like Street Law, which teaches area children about constitutional and legal issues.[xv]
Facilities
The law school currently comprises four buildings encircling a courtyard. Silverman Hall, a beautiful flagship building that dates to the turn of the 19th century, houses the Great Hall as well as faculty offices, classrooms, a trial court room, and a conference center. Gittis Hall principally contains larger classrooms. Tanenbaum Hall's rooms include journal offices as well as the Biddle Law Library.
The fourth building, Pepper Hall, is in the process of being replaced by Golkin Hall, an ambitious 40,000 square-foot facility that will include a new moot court room and auditorium as well as seminar rooms, offices, and commons areas. The new facility will also include a rooftop garden, and will be certified as a LEED (Leadership in Energy and Environmental Design) building.
Job Prospects
Traditionally, Penn Law students have enjoyed tremendous career prospects upon graduation. The school has long been a powerful feeder into "Biglaw" firms, especially in New York, and alumni have also gone on to distinguished careers in government or public service, academia, and business. However, the recent economic downturn and what seem like structural changes in legal hiring models have affected law students everywhere. Prospective applicants should carefully consider their goals, realistic career outcomes, and financial situations before attending any law school, even one as good as the University of Pennsylvania.
Job Sectors and Median Salaries of Employed Graduates, Class of 2009[xvi]

Private Practice

74%

$160,000

Clerkships

15%

$55,500

Business and Industry

4%

$100,000

Government

3%

$57,500

Public Interest

2.5%

$52,000

Pursuing Advanced Degrees

1.5%

--

Job Sectors and Median Salaries of Employed Graduates, Class of 2008

Private Practice

77%

$160,000

Clerkships

16.5%

$54,000

Business and Industry

4%

$97,500

Public Interest

3%

$45,500

Pursuing Advanced Degrees

0.5%

--
Geographic Placement
Most of the University of Pennsylvania's law students stay in the Middle Atlantic region after graduation, principally in New York City (just 100 miles away) and Philadelphia itself. However, the school is undoubtedly national in reach. A significant percentage of each class heads to Washington, D.C., which is also easily accessible from Philly—a two hours' drive in light traffic. California is also a relatively popular destination for graduates. More detailed geographic placement information is reproduced below.
Locations of Employed Graduates, Class of 2009

Middle Atlantic (includes NY and PA)

61%

South Atlantic (includes DC)

16%

Pacific

7%

East North Central

4.5%

West South Central

4%

New England

3.5%

Mountain

1.5%

International

1.5%

West North Central

1%
Locations of Employed Graduates, Class of 2008

Middle Atlantic (includes NY and PA)

61%

South Atlantic (includes DC)

14.5%

Pacific

12%

East North Central

4%

New England

3%

International

2%

Mountain

1.5%

West South Central

1.5%

West North Central

.5%
Office of Career Planning and Professionalism
CP&P, Penn Law's career services office, provides students with a host of resources, including employer and alumni databases, career planning workshops, resume sessions, mock interviews, and one-on-one career counseling. The office also coordinates two types of interview programs: On-Campus Interviews (OCI), the bulk of which takes place in late August and targets rising 2L's seeking summer positions, and regional Off-Campus Interviews, which match up interested students and employers in large, far-away markets like California, Chicago, and Atlanta. Fall OCI usually brings about 300 employers to campus, although those numbers have been down somewhat in recent, shakier economic times. The school also holds a Public Interest/Public Service Career Fair to attract less corporate-minded employers.
Private Practice
The immediate goal of most Penn Law students seems to be working for a "Biglaw" firm. There are many reasons for this preference: prestige, high-level training and networks, exit options, the chance to work on interesting or high-stakes cases, and (perhaps most importantly) a paycheck large enough to pay down sizable student debt. The hiring process for large firms is also streamlined, with OCI and high offer rates for summer associates making Biglaw the path of least resistance for students at elite schools. Whatever the reasons, approximately three-quarters of each Penn Law class heads to law firms after graduation, with even more entering firm life after clerkship stints.
Nevertheless, as a meager and largely jobless economic recovery continues, a market-paying firm job is no longer the near-guarantee it once was. 50.8% of the Class of 2009 entered jobs with the 250 biggest law firms in the country.[xvii] While it should be noted that this measure does not reflect students who "self-select" out of Biglaw or pursue clerkships immediately after graduation, it illustrates a sharp decline from the Class of 2008, when 67.7% of graduates took such jobs.[xviii] With many large firms' summer classes at less than half of their peak levels, employers can afford to be more selective about grades and other credentials. Still, Penn students are in as good a position as students at almost any school: the school's NLJ250 showing in 2009 still ranked seventh among all schools, and only 5.1% behind number one Northwestern.
Clerkships
The University of Pennsylvania's federal clerkship numbers have increased in recent years, and Penn students who frequent TLS seem to feel that the school has made a concerted effort to increase its placement. Law Clerk Addict aggregates federal clerkship data, reporting the rough percentage of each graduating class to work with an Article III judge.[xix] In 2007, 2008, and 2009, Penn placed the seventh, eighth, and fifth-most clerks among all law schools, representing a marked improvement over earlier years.
Penn does still lag behind several top schools when it comes to the most elite clerkships. The school has never placed better than fifteenth on one of Brian Leiter's lists of Supreme Court clerk producers, nor does Penn place particularly well with many of the most prominent federal appellate judges. Still, the school seems to be trying to position itself well in an increasingly competitive clerkship market.
Government and Public Interest
As indicated above, a relatively small amount of Penn students enter government or public service jobs directly from law school. Nevertheless, serious institutional support exists for interested students. In addition to the Toll Public Interest Scholars Program and TolLRap (see above), a full-time public interest counselor supports students through a job search process that usually requires more self-initiative than the Biglaw route.
Penn Law students are competitive for national public interest fellowships: two Class of 2010 students have been awarded Skadden Fellowships, for example. This year, the University of Pennsylvania Law School awarded three postgraduate public interest fellowships of its own. The Penn Law Public Fellowship allows a student to start his or her career at a national or international public interest organization. The Langer, Grogan and Diver Fellowship funds a year of direct service to low-income Delaware Valley communities, while the Toll Public Interest Center Philadelphia Fellowship recipient works half-time for a Philadelphia-area organization and half-time improving the law school's pro bono program. Each provides a one-year, $42,500 stipend as well as benefits and TolLrap participation for those with debt.[xx]
First-Year Summers
Summer internships are crucial for helping law students build legal resumes. Many Penn Law students spend their first summers interning for government entities or non-profit organizations. The law school distributes public interest funding and work-study money to fund many of these experiences. Working as a research assistant for a professor (which is usually paid on an hourly basis) and interning for a judge (which is often unpaid) are also popular options. Penn 1L's also spread out geographically during the summer, with many staying in Penn or working in nearby markets such as DC, and others heading home to cities across the country or even finding opportunities overseas. One TLS member reports, "Everyone has a job [for 1L summer]…I doubt most people are doing what they 'want,' but everyone is getting some sort of experience which is really all that matters." Another writes, "Everyone seems to have gotten something legal by the time summer came around, usually with some sort of funding."[xxi]
With the economic downturn, some of the most sought-after 1L jobs—summer associate positions with large firms—have become exceedingly rare, though not unheard of. These internships represent a significant cost to the firms, since summer associates are paid on the same scale as full-time first-year associates and are less likely to join the firm after graduation than are 2L associates. Anecdotally, TLS users have reported that many Penn students who secure 1L summer firm jobs applied to "secondary" markets to which they had ties, or had work experience in a corporate field like accounting, banking, or consulting.
Housing
The University of Pennsylvania provides some furnished, on-campus housing to law students in the Sansom East high-rise, which also houses other graduate students and some undergrads. The building has single rooms (shared bathroom, no kitchen; approximately $750/month), single apartments (kitchen, living area, private bath; approximately $1300/month), and double apartments (two bedroom apartments, kitchen, private bath; approximately $800/month [per person]). While the location and provided furniture are convenient, most students decide to live off-campus.
Those that decide to live off-campus essentially choose between two neighborhoods: University City, the West Philadelphia neighborhood that surrounds campus, and downtown Philadelphia. Downtown—or "Center City"—begins about a mile east of campus, and many Center City neighborhoods are a reasonable walk's distance from UPenn. These areas provide a wide range of accommodations, as one TLS member attests:
University City is cheaper but Center City is "nicer." It really depends on what you're looking for. Some people want to live in brownstone walk ups; others want to live in high rises with doormen. There are lots of options. You can spend anywhere from $500/month total to over $2,000. Philly is a pretty diverse place for housing. Also, people with families tend to live out in the suburbs and commute in.
Another TLS user and 1L ventures that a "plurality of [students] live between 20th and 24th in Center City."[xxii] Living downtown, while farther away from campus, carries proximity to a greater number of restaurants, bars, cultural attractions, and entertainment options. More information about off-campus housing can be found on the university website.
Quality of Life
Living in one of the country's most populous metro areas, Penn Law students should not have trouble filling their free time. The area is steeped in history: the principal city of the late Colonial and early Federal periods, Philadelphia is home to landmarks like Independence Hall. The University of Pennsylvania itself was founded by Ben Franklin, whose presence still looms large on the UPenn campus and in the city as a whole.
The city boasts a wealth of cultural offerings, from myriad art museums and galleries—the latter of which are open late once a month for First Friday, a celebrated Old Town tradition—to an award-winning orchestra and the Academy of Music, which hosts ballet and opera companies. Sports fans can watch teams in all four major leagues, and good ones at that: the Eagles (football) and Flyers (hockey) are perennial playoff teams, and the Phillies (baseball) have won their division in each of the last four years, making the World Series in two of those years and winning one championship. Culinary options from world-class fine dining to Philly's famous cheesesteaks and hoagies promise to please any palate, and a variety of nightlife options abound.
Parts of Philadelphia have a bad reputation for safety: children of the 90's will remember that at least a couple of guys in West Philadelphia were up to no good, and apt to start making trouble in the neighborhood. Philadelphia does rank among the top dozen U.S. cities for violent crime, on par with Washington, D.C. and higher than Boston and New York. However, the city ranks fairly low on property crime metrics, and many report that areas around campus frequented by Penn Law students have grown markedly safer in recent years. Still, prospective students may want to take safety into consideration when choosing between housing options.
Winters can be cold and summers muggy, but Philadelphians enjoy pleasant spring and fall seasons. The city is centrally situated near other flagship cities on the eastern seaboard—DC and New York can be reached in about two hours in light traffic, while Boston is a manageable half-day's drive—convenient for those who want to get away for a weekend or visit friends. Overall, Penn Law should be a great fit for students who want to join an intellectually vigorous community in a major urban environment.
Cost of Living
Most cost of living indices put Philadelphia well above the national average, but below other large, northeastern cities like New York and Boston. In comparison to its most oft-mentioned rivals—Michigan and Virginia—Penn Law's cost of living is higher: approximately 24% greater than Ann Arbor's, and 18% higher than Charlottesville's. Still, this increased cost will be more than worth it to some who would rather live in a major city than a college town.
When it comes to a law student's biggest expense—housing—Penn advises that students living off campus should be able to find a studio for between $750 and $900 per month in University City (one-bedrooms are likely to be $100 to $200 more). In Center City, high-rise studio rents start at about $1,000, but can go much higher (studios at 2400 Chestnut, popular among law students, are in the $1,300 range). Cheaper options like brownstones and more expensive luxury apartments are also available. [xxiii] Groceries, entertainment, and transportation expenses are also significantly higher than the national metro area average, but will depend on each student's lifestyle.
Conclusions
The University of Pennsylvania Law School is one of the most prestigious law schools in the country by any metric. With a friendly community feel and an interdisciplinary focus anchored by UPenn's enviable breadth of top graduate and professional programs, Penn Law has much to recommend it. Although landing a top job from Penn is no longer the shooting fish in a barrel exercise it once was, students with top-14 caliber numbers who want an urban experience should strongly consider Penn State—er, I mean the University of Pennsylvania.
Contact Information
University of Pennsylvania Law School
3400 Chestnut Street Philadelphia, Pennsylvania 19104
Tel: 215.898.7400
Fax: 215.898.9606
www.law.upenn.edu
Quick Reference
U.S. News Ranking: 7
Application Deadline: February 15 (Early Decision: November 15)
Application fee: $80
Entering class size: 250
LSAT scores at 25th and 75th percentiles: 166 - 171
Multiple LSAT scores: May consider highest score
GPA at the 25th and 75th percentiles: 3.56 – 3.90
Yearly Tuition: $45,340
Percent of graduates employed 9 months after graduation: 99.6%
Bar passage rate, all reporting: 98.32% (10.1% better than corresponding state averages)
Median private sector starting salary: $160,000 (81% reporting)
Median public sector starting salary: $53,626
[i] Penn Law Financial Information
[ii] Penn Law News and Stories
[iii] Penn Law Class Statistics
[iv] LSAC Official Guide
[v] TLS Forums
[vi] Penn Law Merit Scholarships
[vii] Penn Law Toll Public Interest Center
[viii] LSAC Official Guide
[ix] TLS Forums
[x] TLS Forums
[xi] Penn Law Study Abroad & International Opportunities
[xii] Penn Law Journals
[xiii] Gittis Center for Clinical Legal Studies
[xiv] Penn Law Moot Court
[xv] Penn Law Student Activities
[xvi] This and subsequent statistics from the Penn Law Career Planning and Professionalism
[xvii] The National Law Journal
[xviii] The National Law Journal
[xix]Data does not account for alumni clerks, meaning that percentages are inflated—more so in an era of increasing alumni and off-plan hiring. Still, since this is true of all law schools, comparative data is still useful. Before 2010, the website was located on blogspot. Data comes from previous incarnations of website.
[xx] Penn Law Graduate Fellowships
[xxi] TLS Forums
[xxii] TLS Forums
[xxiii] Penn Graduate Housing Off-Campus guide