Home » Law Schools » Rankings and Profiles »
The Ohio State University Moritz College of Law
By Hadi Sedigh, published February 2008, last updated by TLS October 2009

The Ohio State University Moritz College of Law is the top law school in the state of Ohio, and is also among the most reputable public law schools in the nation. Located on the campus of the largest university in the U.S., and with over 9,000 of its alumni spread out throughout the world, Moritz provides its students access to an endless amount of resources and opportunities. Especially for Ohio residents, who can take advantage of the school's lower resident tuition rates, Moritz is an excellent place to pursue a legal education.
Admissions and Tuition:
Ohio State University Law School is selective in its admissions process, as it typically admits less than 30% of applicants petitioning for entry into the school. Although statistics vary from year to year, the school usually receives approximately 2,400 applications, less than 700 of which are granted acceptances, with about 225 of those acceptances matriculating to form that year's incoming class. An applicant can roughly estimate his or her chances in this selective process by weighing his or her numbers against the medians of Moritz's recent entering classes. The 2009 entering class boasted a median LSAT score of 162 and a median GPA of 3.64, and applicants with numbers near or above these medians should have a fair chance of acceptance into Moritz. Of course, like other top law schools, Moritz looks beyond the numbers and aims to form entering classes diverse in ethnicity, experience and background. Thus, applicants able to demonstrate through their application ways in which they can bring diversity to Moritz may see their chances at acceptance increase. Applicants who apply by December 7th have an early decision option, but the price of being admitted early is that one must withdraw their applications from all other law schools, only an attractive option is one is certain that Moritz is the best school for you.
As previously mentioned, attending Ohio State Law School could be an especially wise choice for residents of Ohio, given the school's public standing. Moritz's resident tuition rate for the 2009-2010 academic year was $22,414, a figure about half that of the tuition costs of some similarly regarded private law schools. For non-resident students, the tuition rate was $37,364 in 2009-2010, although it should be noted that most non-resident students establish residency after residing in Ohio for twelve months, and according to the school, "Nearly all law students pay in-state tuition for years two and three of law school."
Academic Reputation and Curriculum: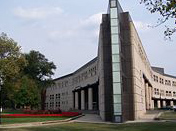 With one of the best dispute resolution programs in the nation in addition to a well-published and reputable faculty, Ohio State University Law School enjoys a solid academic reputation. The school's impressive 13:1 student to faculty ratio, as well as its relatively small 70-seat first year sections, allows its student body close access to this notable faculty. Like most other law schools, Moritz requires students to enroll in standard first year courses, and thereafter allows them to choose from among its many elective courses in rounding out their legal education. Although there remain some requirements that must be passed beyond the first year, including a Legal Profession course, students have plenty of opportunity to pursue their own interests, as more than half of Moritz's required 88 credits can be filled with electives.
The Law Library at Ohio State Law School has over 750,00 volumes and is the 14th largest law library in America. Overall, the law school is housed in an impressive and spacious building that conveys its status as one of the best law schools in the Midwest.
Students at Moritz are also able to take their legal education beyond American borders via the school's summer study-abroad program in Oxford, England. The program, which is one of the oldest study abroad programs in the nation, is taught by University of Oxford and Moritz professors, and allows 60 students to earn up to six credits toward their Moritz JD degree.
Quality of Life:
In general, it seems safe to say that students at Ohio State University Law School will run out of free time before they run out of ways to spend that free time in and around Columbus. Considered to be one of the most livable big cities in the nation, Columbus boasts a great selection of restaurants, bars and nightclubs, and the law school's central location allows students close access to these establishments. Law students are also able to take advantage of endless opportunities to party and socialize on the huge Ohio State University campus. Although the area surrounding the law school has been described as underwhelming by many recent graduates, major renovations have taken place, and current students seem more pleased with their surroundings. As for housing, most Moritz students tend to live off-campus, as there is plenty of affordable and appropriate housing throughout Columbus, although there are some on-campus living options available to law students as well.
Employment Prospects and Bar Passage:
In Ohio, and throughout the Midwest, students at Moritz have great job prospects. More than 100 law firms visit the campus annually to interview students, including many of the most highly regarded law firms in the Midwest. Also, because Moritz is the top law school in the state of Ohio, its students, especially those who graduate near the top of their class, enjoy great access to judicial clerkship positions in the state. Of course, employment and clerkship prospects decrease as one moves out of the Midwest, but the school's tremendous alumni network assures that students have some level of access to all legal markets in the nation. That said, Ohio State Law School is certainly a regional law school, as demonstrated by the fact that nearly 65% of the school's class of 2008 accepted employment in Ohio. 6.5% accepted jobs in Washington DC, and 4.5% in Illinois, the second and third most common destinations. Students hoping to secure jobs outside of Ohio should be prepared to take on extra legwork in their job search.
In regards to bar passage, Ohio State Law School graduates generally excel, as is the case with graduates of most top law schools. Slightly over 90% of Moritz graduates who sat for the exam for the first time in 2007 in the state of Ohio succeeded in passing the exam, compared to an 86.5% average pass rate for the state as a whole.
Synopsis:
For those interested in securing employment in the Midwest, and particularly in the state of Ohio, the Ohio State University Moritz College of Law is a great place to pursue a legal education. Given the school's liberal residency policy, which allows most students to pay resident tuition fees in their second and third years at the school, attending Moritz could be a wise investment for any applicant hoping to find employment in Ohio and the Midwest.
Contact Information:
Michael E. Moritz College of Law
55 West 12th Avenue
Columbus, OH 43210
614.292.8810
lawadmit@osu.edu
http://moritzlaw.osu.edu/admissions/
Quick Reference:
U.S. News Ranking: 35th
Application Deadline: 3/1
Application fee: $60
Entering class size: 225 (2009)
LSAT scores at 25th and 75th percentiles: 158, 164
GPA at 25th and 75th percentiles: 3.34, 3.81
Yearly Tuition: Resident: $19,232, Non-Resident: $34,516 (2007-2008)
Bar passage rate in Ohio: 90.5%
Percent of graduates employed 9 months after graduation: 94.8%
Median private sector salary: $95,000 (Class of 2007)
Average law firm salary: $104,245 (Class of 2008)