Columbia University School of Law
Note: This profile is eventually going to be replaced by the TLS wiki profile for Columbia Law School.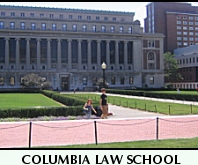 Published October 2006, last updated August 2013.
Established in 1858, the Columbia University School of Law is consistently considered to be among the top law schools in America. Given its location and reputation in New York City, its Ivy League affiliation, and its long history of academic excellence, Columbia's rank and prestige should come as no surprise. It is at the same time one of the most expensive schools in the country (total debt-financed cost: $288,597) and one of the best for employment prospects (employment score: 93.4%).
Admissions and tuition
Applicants interested in Columbia should be prepared to face a highly selective admissions process. For the class of 2015, the school received around 6,600 applications, about 1,200 of whom were accepted. The class of 2015 had a median GPA of 3.71 and a median LSAT score of 172.
Aside from the usual emphasis placed on an applicant's numbers, Columbia prides itself on the diversity of its student body and thus seeks out applicants with diverse backgrounds and experiences. Further, in a typical year, about 10% of Columbia's entering class consists of international students, which is high among elite law schools.
For those with their hearts set on attending Columbia, the school offers a binding Early Decision option. Applicants who wish to use this option must agree to attend Columbia if accepted, must complete their applications by Nov. 15, and are typically notified in December.
Columbia's tuition alone has increased to an astonishing $55,916 for the 2013-2014 school year. Students are expected to budget $82,795 each year. Eighty percent of students borrow to finance their education, and on average, students leave school around $142,000 in the red, before interest. Even on the standard New York biglaw starting salary ($160,000), this will take years and years to pay off, especially given New York's high cost of living.
Curriculum
First-year students must enroll in predetermined required classes, and can expect class sizes to be large, usually above 100 students per class. After the first year, students are mostly free to choose their own courses, nearly half of which will contain less than 25 students. Columbia's student-to-faculty ratio is 8:1.
Quality of life
Located in Manhattan's ever-expanding Upper West Side, Columbia offers students an endless number of ways to pass their prized free time. The school is surrounded by restaurants, clubs, and bars of all varieties, and everything that New York City has to offer is accessible via a short ride on the subway. Also, because the law school is connected to the main campus of the university, law students have the opportunity to enjoy a "real" college campus in Manhattan.
All of this comes at a high price, however, as the cost of living for Columbia's law students is among the highest in the nation. The school estimates that the total cost of living for the 2013-2014 school year will be about $21,000—assuming you can find a nine-month lease on a $1,333-a-month apartment.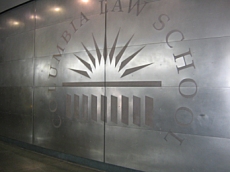 Employment prospects and bar passage
In the past, securing employment at top law firms has been likened to "shooting fish in a barrel" by some Columbia graduates. Now, however, it's not so easy.
Typically, many Columbia law students secure full-time jobs before they begin their third year at the law school. Often, students are offered employment with the same top firms at which they interned or worked during the summers after their first and second years. Of course, many of these employment opportunities are in the New York City area, as Columbia is often considered the premier school for job placement in the top law firms in the city.
But these days, entry-level biglaw hiring has been shrinking (including the traditional biglaw summer programs). Students should not assume they will get big-firm jobs, even from Columbia.
The bar exam rarely impedes Columbia grads, as nearly 95% of the school's graduates typically pass the exam on their first attempt (96.2% in New York in 2011, compared to a state average of 76.5%). Close to 70% of Columbia grads stay in New York after graduation, and California and Washington, D.C., each take around 7% of the class. A little under 8% of the class of 2012 obtained coveted federal judicial clerkships.
Contact information
Columbia University School of Law
Office of J.D. Admissions
435 West 116th Street
New York, NY 10027
(212) 854-2670
admissions@law.columbia.edu
http://www.law.columbia.edu/
Quick reference
2013 Above the Law ranking: 8
2014 U.S. News ranking: 4
LSAT scores at 25th, 50th, and 75th percentiles: 170 – 172 – 174
GPA at 25th, 50th, and 75th percentiles: 3.58 – 3.71 – 3.82
Application deadlines: Nov. 15 (ED), Feb. 15 (RD)
Application fee: $85
Law School Transparency employment score, class of 2012: 93.4%
LST total debt-financed cost of attendance: $288,597
Forum: Columbia 1L(s) taking questions
News: Above the Law