The Brigham Young University Law School
Note: This profile is eventually going to be replaced by the TLS wiki profile for BYU Law School.
By Hadi Sedigh, published February 2008, last updated by TLS October 2009

It seems safe to say that the law school experience of a student at Brigham Young University Law School is unlike that of any other law school in the nation. The school's Mormon ownership, its Honor Code, and its location in a town dominated by followers of the Mormon religion combine to create a unique law school experience that is unlikely to be appealing to most applicants. Those who are attracted to this unique experience, on the other hand, will gain a fine legal education at a true bargain, and will be a part of an intimate community for three years and long thereafter. For Mormon applicants and those comfortable with the ideologies and practices of the religion, BYU Law is a truly unique and refreshingly inexpensive option.
The Mormon Factor:
It is difficult to discuss BYU Law without placing some emphasis on the fact that the school is owned by the Mormon Church, also known as The Church of Jesus Christ of Latter-day Saints. The vast majority of applicants and students at BYU Law are of the Mormon faith, and all are expected to live within the boundaries set by Mormon beliefs and practices. The university's honor code rules out alcohol, tobacco use, and the drinking of tea or coffee, as well pre-marital sexual relations and also advocates against the "promoting [of] homosexual relations as being morally acceptable." The honor code also rules out any form of revealing clothing and sets forth limitations on hairstyles, facial-hair and piercings. Of course, this effectively rules out BYU Law as an option for most applicants, evidenced by the fact that the school receives fewer than 800 applications in a typical year, whereas similarly ranked schools usually receive more than 2,000. Non-Mormons considering applying to BYU would be wise to visit the school before enrolling if accepted.
Admissions and Tuition: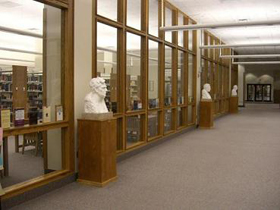 As mentioned above, BYU Law School receives an unusually low number of applications for a school of its rank, but is not less selective than similarly ranked schools, as it hands out a proportionally low number of admission offers. Of about 800 applicants who petition for entry into the law school each year, about 250 are admitted, approximately 150 of whom matriculate to form that year's entering class. For the 2008 entering class at BYU Law, the median LSAT score was 164, while the median GPA was 3.73. Students hoping to be competitive in future application cycles at the school should have numbers near or above these medians. Applicants with lower numbers who are interested in BYU Law should not despair, however, as the school values diversity, perhaps even more so than other law schools. This is due to the fact that the school's student body is nearly 80% white and about 65% male, likely creating a situation in which female and minority applicants are sought out in the school's admissions process.
As mentioned in the introduction, a major draw of Brigham Young University Law School is its low cost of tuition, and in fact, the school calls itself "The Best Bargain in American Legal Education." For Mormon students, this claim certainly holds true, as BYU Law replaces the usual resident/non-resident tuition distinction with a Mormon/non-Mormon distinction and charges its Mormon students exactly half of what it charges non-Mormons, $9,980 and $19,960, respectively, for the 2009-2010 academic year. According to the school, BYU Law is able to charge such low tuition rates because 50 percent of the cost of operation of the school is paid through the tithing of Mormons, and thus, it is justifiable that tithe-paying students should pay a lower rate of tuition than those who don't pay tithes to the Church.
Academics and Curriculum:
A seemingly rare similarity between Brigham Young University Law School and most other law schools is the core set of classes required of all 1L students. Also, although BYU Law's entering classes are much smaller than those of similarly ranked law schools, its section sizes are not significantly lower in the first year, and 1Ls enroll in classes usually filled with 100 or more students. The workload during this first year is said to be tremendous, perhaps contributing to the school's decision to establish its Academic Success Program, which offers weekly tutorial sessions in each first-year course, alongside many other services aimed at helping students adjust to the workload at BYU Law. After this rigorous first year, students are free to choose from among 100 elective courses in rounding out their JD degrees, and can also choose to pursue various joint degrees. It bears mention that students of BYU Law are not required to enroll in any religious courses, and non-Mormon students are not at any academic disadvantage. Of course, any classroom dominated by Mormon students will naturally have a Mormon tint, but it seems that professors and students try their best to carry on discussions inclusive to members of all faiths.
Quality of Life:
There is no alcohol. This overarching fact will either provide for a very high or very low quality of life for BYU Law School students, depending of course on whether they share in Mormon principles and beliefs. The ban on alcohol effectively eliminates the typical law school social scene that revolves around bars and replaces it with a social scene largely dominated by married couples, which make up a much larger portion of the student body than at other law schools. Life in Provo is also likely to be much more enjoyable for Mormons, as the town is largely homogenous and dominated by members of the Church. All students, however, will likely enjoy the city's lack of crime and traffic and its low cost of living, as well as its proximity to great ski resorts and other mountain-related activities. Additionally, Provo is ruggedly beautiful as the BYU campus is surrounded by towering mountains. In all, Mormons and those comfortable with the lifestyle of Mormons will likely enjoy a tremendous quality of life at BYU Law that is unlikely to be matched elsewhere, while those who wish to have a more typical law school experience should, frankly, look elsewhere.
Employment Prospects and Bar Passage: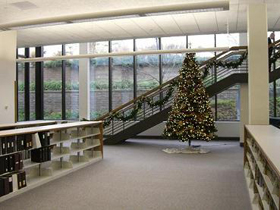 Because it is a Mormon school, job prospects at BYU Law School are a bit more national than at other similarly ranked law schools, as the school boasts not only an impressive alumni network, but also affiliation with a large number of Mormon lawyers who graduated from other law schools but are nevertheless dedicated to helping fellow Mormons land employment. That said, most BYU Law students usually stay in the Rocky Mountain region to practice law, although a considerable percentage find jobs in DC and on the West Coast. About two-thirds of BYU Law graduates enter the private sector after graduation, receiving an average first-year salary of $114,000. Also, for a school of its rank, BYU Law has an impressive record of placing students into prestigious Supreme Court clerkships, ranking 18th on the list of schools with the most Supreme Court clerks between 1991 and 2005. In terms of bar passage, BYU Law School graduates also excel, as nearly 94% pass the exam in the state of Utah on their first attempt in a typical administration.
Synopsis:
For Mormon applicants, the Brigham Young University Law School is an obvious choice, as the school is both a bargain and a haven. Those who are comfortable living the Mormon lifestyle should also give the school serious consideration, as they are unlikely to find such a "clean" atmosphere elsewhere. Applicants who are not comfortable with the boundaries set by Mormon practices and beliefs, on the other hand, should steer clear of the school, as they are likely to experience an uncomfortable three years in Mormon-dominated Provo, Utah.
Contact Information:
340 JRCB, Box 2800
Provo, Utah 84602-8000
801.422.4277
admissions@lawgate.byu.edu
http://www.law.byu.edu/
Quick Reference:
U.S. News ranking: 40th
Application deadline: 3/1
Application fee: $50
Entering class size: ~150
Median LSAT: 164 (2008)
Median GPA: 3.73 (2008)
Yearly tuition: Mormon: $9,980, Non-Mormon: $19,960 (2009-2010)
Average private sector first-year salary: $114,000 (Class of 2008)