PirateCap'n wrote:Would a Full-Windsor be acceptable for someone with a larger neckline? I have ~20 inch neckline and Half-Windsors just look tiny and not very becoming on me.
As someone above said, it depends on how it looks with your face. If it draws attention to the fact that you have a 20 inch neck, I'd avoid it.
sambeber wrote:Can anyone comment on a wool vs. superfine wool suit?
The terms mean different things to different suit companies - there's no uniform definition of either term. In a single suit line (or series of suit lines, as you'd find at JAB), it's simply a way to distinguish levels of wool quality from the other one's in the store. In non-homogeneous stores (department stores, MW), it is generally synonymous with how expensive the wool is, not necessarily anything to do with the wool itself .
alumniguy wrote:Two button suits are back in style. I don't think a three button suit (especially for a tall guy) are ever out of style. Yes, top two buttons are fine (or middle only), but never button all three.
That three button suits have been in style the last decade or so is the exception, not the rule. A two button suit is never out of style; three-button comes and goes.
Now that they're falling back out of style, if you're going with a three button suit - because you're tall or otherwise - it should not look like a three button suit (think a third button that you never button and is folded over at the bottom of your lapel.
The high-V of five years ago that was stylish and more attainable with extra buttons was a fad. Under that fad, you didn't want to ever show too much shirt, which meant tall guys definitely needed at least three buttons. Be wary of articles and posts giving advice to tall people during the time of that fad. We're back to tradition now.
Some tall guy examples:
6-11 Dwight Howard wearing a summery two-button sport coat (I imagine he has a 20 inch neck, but he isn't wearing no spread-collar full-windsor nonsense, although the spread is probably a bit narrow):
6-6 Kobe in a slim cut suit with ridiculous peaked lapels, but two-button (also, nice collar width on him, but that skinny tie isn't thick enough to pull off that four-in-hand, so he should've gone with the half-windsor with that tie; a four-in-hand with a thicker tie would look great with his face).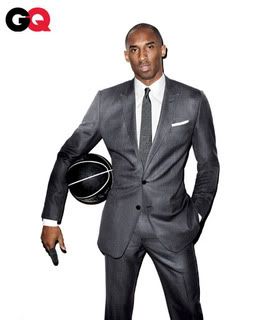 6-8 Melo wearing something that, if it didn't have the extra pocket, has the makings of a pretty decent two-buton interview suit (note, however, that he is rocking the full windsor and spread collar, and it dwarfs his face):
7-0 Andrew Bogut, on the other hand, looks like a dork in his three-button number, which really has nothing wrong with it other than it's a three-button suit that accords with the style of around 5 years ago (it accentuates the length between his arms and his waist, making him appear even more gangly than the gangly white guy he already is):
To sum up the photographic evidence, there's absolutely no reason why a tall guy can't go with a two-button suit. Further, if you're a tall guy going with a three-button suit of the prevailing style these last few years, you risk looking like Andrew Bogut, which isn't particularly offensive, it's just not particularly dapper. Better to go with the two, and you'll never risk going against the winds of fashion.
-Pufer