And it's driving me insane. I feel like most of my LSAT "learning" is complete. I've been studying since October and I haven't improved time-wise in anything but Logic Games.
Check out my preptest log. If I can eliminate the guesses I'm positive I could be a 170 scorer. But how?
(guesses are defined as "I didn't have time to read a single word of the question and had to bubble in a random answer choice.")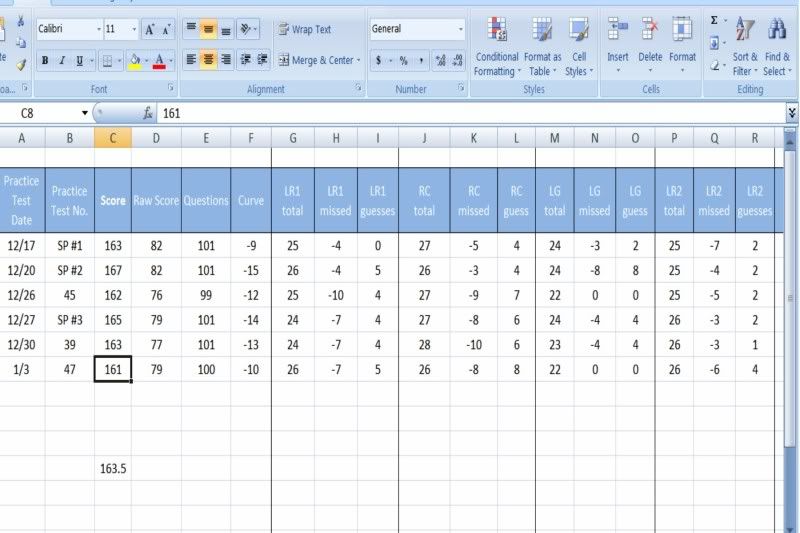 a couple things I don't understand:
1.) everyone says skip the harder questions and come back... but I usually don't recognize that they're harder questions until I've devoted a full 30 seconds to reading the stimulus and question stem. If I skip and come back, I'll have to waste another precious 30 seconds rereading everything just to spend the exact amount of time I would have spent had I not skipped it (usually 2 min 30 seconds for the tough questions).
2.) If I force myself to get to every question in the alloted time, it means there are 6-7 questions that I have to narrow down to 2-3 answer choices, guess, and then move on. This cannot be a sound strategy. I'd rather spend an inordinate amount of time on three of those questions, and then randomly guess the other four.
When I force myself to go faster, it comes at the cost of missing more questions. If I impose a stricter time limit on myself (say 32 minutes per section) in order to build up the "stamina" to finish in 35, all this would make me do is narrow down and guess on more questions, which would inevitably mean more wrong answers.
3.) I've tried every possible tip I've read on here. Read question stem first; don't read question stem first; spend less time on the easy ones in order to devote more time to the harder ones; finish the first 10 LR questions in 10 minutes; finish the first 15 LR questions in 15 minutes - harder for me to do. I usually get hung up on a question around #12 or #13; do questions 1-15 first, then backtrack starting from the last question; save parallel reasoning for last.
I'm so close to just giving up. If in 3 months I haven't improved on finishing each section faster, I doubt I will in the next five weeks.
EDIT: The part that kills me is when I look at that spreadsheet, I know I could be a 172 scorer if I could eliminate guesses. It's the only thing holding me back. But I cannot eliminate guesses. No matter how hard I try.