Posts: 82
Joined: Fri Jun 26, 2009 9:04 pm
Last edited by
clouds101
on Mon Jun 27, 2011 7:50 am, edited 1 time in total.
---


Posts: 82
Joined: Fri Jun 26, 2009 9:04 pm
I think an honest reflection of my poor performance is needed before I dive head first into preparation again. Clearly, something isn't clicking.
The first time around, I…
-took a summer Kaplan course in 2009
-studied for the LSAT minimally during the 2009-2010 school year
-studied intensively for about 5 weeks (between mid-May until the June test). Highest practice score was 174 and lowest was 158. Averaged around 166-8.
-took the June 2010 test near home. Got a 163. 88 Percentile.
-Response: Very Disappointed because I was comfortable and familiar with the test. I did have first-time jitters while taking the test, but I stayed calm even when I couldn't finish a logic game. I reassured myself by vowing to finish off the beast the second time around.
The second time around, I…
-lost a lot of confidence in my ability to take the LSAT and went through the motions without being committed.
-I sped read the bibles again during the summer of 2010 thinking I needed to focus hard on LR (my worst section on the June 2010 test). I did not do any reading prep and did minimal LG prep.
-took notes from bibles and took a handful of unused practice tests (around 10) during my fall semester while taking a light load of classes. Felt extremely tired all the time and stressed because I locked myself in my room all the time. Felt burnout and didn't bother reviewing tests seriously. Could not focus intensively on LSAT because of ___ (insert willy-nilly excuse here). Half-hearted review of practice tests because I scoring on average in the high 160s.
-
I took the October 2010 test and got a 158. 75 Percentile.
-Response: SHIT. I knew my mental and physical state was not 100% since the week leading up to the LSAT was my hell week with 3 major midterms and a paper due. Still, I was stumped about why I was doing so poorly. My preparation wasn't bullet-proof, but I knew exactly what to expect. I wasn't particularly flustered during the test and actually thought I scored a 165+. I also targeted my worst section (LR)– HOWEVER, while I improved slightly in LR, my reading section (my holy grail) suffered as well as LG.
I can see a few things that I need to revise and continue doing
.... keep reading at:
http://downthelegalrabbithole.wordpress.com/2011/06/12/pig-vs-chicken/
---


Posts: 82
Joined: Fri Jun 26, 2009 9:04 pm
Start of LSAT prep: June 5-11

16 Weeks Left: Logical Reasoning
Sunday-Tuesday: organized old LSAT materials and bought new PTs (~$145)
Wed: read LR bible Chp 2+3
Thur: LR Chp 4
Fri: LR Chp 5 a
Last edited by
clouds101
on Mon Jun 27, 2011 7:49 am, edited 1 time in total.
---


Posts: 82
Joined: Fri Jun 26, 2009 9:04 pm
15 Weeks Left Until Oct LSAT
Sunday:
Finished Chp 6 of LR bible. Took a while because synthesizing my own notes was tedious.
Monday:
Read Chp 1 of LG bible. Basics of LGs- easy read.
Tuesday:
Finished Chp 2 of LG bible. Basic linear games.
Wednesday:
Blurgh- did nothing.
Thursday:
Finished Chp 3 of LG bible. Advanced linear games.
Friday:
Started doing Must be true (Inference) and Main point questions from PTs 7-20.
Saturday:
Will finish all Must be true (Inference), Main point, and linear-ish games from PTs 7-20 by tomorrow. I made a rough spreadsheet to see how many LR and LG questions I have to do from PT 7-20 for this week. Total LR questions = 130. Total Games questions = 18. Today, I'm going to go until PT 13. Will NOT stop until I'm finished!! ::cue Rocky theme song::
Last edited by
clouds101
on Mon Jun 27, 2011 7:49 am, edited 1 time in total.
---


Posts: 82
Joined: Fri Jun 26, 2009 9:04 pm
A little late and behind schedule by a week…Thankfully, I scheduled three weeks of "general review" so I'm able to push back my originally planned schedule a week and should be able to go through all of my planned materials. This week and the next will be hectic because of a mini weekend vacation and a weekend guest. MUST STAY ON COURSE!
14 Weeks Until Oct 2011 LSAT!!!
Stay strong!
See what I did this week @ my blog
http://downthelegalrabbithole.wordpress.com/
---


Posts: 82
Joined: Fri Jun 26, 2009 9:04 pm
Like any twenty-something year old, I hate mornings. Basically for the first half of June, I did not get up earlier than 10am and even slept in until 1pm a few times. Since it's been a while since I took the LSAT, I couldn't remember if the October LSAT is administered at 8:30am or in the PM.
The ticket says 8:30am (passport photo is required now...ew) BLURGHHHHH. I realized that I had to fix my sleep schedule.
For the past week or so, I've been able to wake up early by imitating my dad... read more here:
http://downthelegalrabbithole.wordpress.com/2011/06/29/how-to-rise-and-shine/
---


Posts: 82
Joined: Fri Jun 26, 2009 9:04 pm
---


Posts: 82
Joined: Fri Jun 26, 2009 9:04 pm
13 Weeks until the LSAT.
My plan is to take preptests on Saturdays @ 8:30am to simulate testing conditions as best as I can. I had to take this week's PT today for personal reasons.
I should qualify my score (169) by saying that I did go significantly over 35 mins on the LG section and I started @ 11am since I had to make a copy of PT A. The first time around, I burned through about 30 preptests without making copies. ::FACEPALM:: Gawd, I still remember how incredibly regretful I was when I got my 163 the first time and realized that I didn't have that much leftover material. While studying for the second time around, I was extremely reluctant to buy the damn PTs again so I just took whatever tests I had leftover. Bad idea, clearly. Starting later in the morning might have helped, so I will definitely make sure to start my next test at 8:30am.
Still, a 169 is a great start (esp since I've only be drilling a few types of LR and linear games) and gives me hope that this third retake WILL be different. I gave a detailed breakdown of the what, where, how's on my blog:
http://www.downthelegalrabbithole.wordpress.com
---


Posts: 82
Joined: Fri Jun 26, 2009 9:04 pm
The Chopin RC passage.

Greatttt...

The testmakers are messing with my favorite section. ::glare::

What will be the next monster section? As a current studier (made up word?) for the Oct 2011 LSAT, I am going to keep my head down and just drill all three sections. There is no other alternative.
---


Posts: 82
Joined: Fri Jun 26, 2009 9:04 pm
Clouds101's Preptest Schedule
I've tweaked my PT timeline a thousand times, but I think I've got it. By the time I take the Oct LSAT, I will have taken 40 PT's either as 4 section, 5 section, or 8 sections.
1. 7/1/2011, Superprep A, 169
LR1 -4
LR2 -4
LG -1
RC -2
Timed conditions, but went over on LG. An auspicious start to my LSAT prep, but not good enough. Read the explanations for incorrectly answered questions and plan on reading the ones I correctly answered. Gotta cover all my bases.
http://downthelegalrabbithole.wordpress.com/2011/07/01/preptest-a-169/
2. 7/7/2011, Superprep B, 169
LR1 -5
LR2 -5
LG -4
RC -2
Super generous curve allowed me to score a 169. But still,
I need to build some strategies for LR. It's
still
kicking my ass. In the process of slowlyyyyy going through LRB for the third time.
http://downthelegalrabbithole.wordpress.com/2011/07/12/superprep-b-169/
3. 7/18/2011, Superprep C, 170, 175 (untimed using the SOS method)
LR1 -5
LR2 -1
LG -4
RC -3
http://downthelegalrabbithole.wordpress.com/2011/07/18/last-of-the-superprep-trilogy-170/
---


Posts: 82
Joined: Fri Jun 26, 2009 9:04 pm
Whew, I managed to increase my score by a point. I really thought I had a 166 once I was done with the Superprep C (see below for my reasons). Starting with this test, I'm going to try and predict my score and try to improve that sixth sense. The reason why I'm doing predictions now is because the first and second time I took the LSAT, my family and friends always asked the same dreaded question:
"So how'd you do, LR?"
And I could never answer with even the slightest bit of confidence. My weak grin did not even begin to relay how incredibly unsure I was about my scores. So, I figured since I'm going all out this time, I should try to develop a sixth sense for the LSAT. Come October, I'll let you know how this works out.
Score Breakdown:
Scaled Score: 170
Raw Score: 87/101
LG -5…UGH. LG, baby, why are we failing?
Experimental (RC) -3… RC, please, we need to stick together.
LR1 -5… Yet another -5.
LR2 -1… YESSSS!!!!!!!!! I knew I nailed this second LR section, so it felt good to only cross out one question.
RC -3 … I need to be more devoted to you, don't I?
Under Untimed Conditions:
Scaled Score: 175
Raw Score: 93/101
LG -0… Redid every single question. Glad I did.
Experimental (RC) -3… didn't do untimed review.
LR1 -4… Ok, so I caught one mistake. Good start, need to get better obviously.
LR2 -1… I was confident so I didn't do this section seriously.
RC -3… didn't do untimed review for reading sections. I will absolutely do them next time.
Predicted Score
= 166. My reasoning is that I screwed up two LG questions and I was definitely not in the zone during the first half of the test. If I did well, it's because I did well in the last two sections where I was completely focused and went very smoothly.
What did I eat? Before, coffee and leftovers from dinner. During break, some more coffee.
How did I warm-up? I reviewed missed questions from the experimental section of PT B which is PT 45 Section 1 (LR1).
How did I feel? I couldn't sleep the night before so even though the first section was games (my favorite), I ran out of time and could not finish 2 questions so I picked D hastily without reading the problems. Doing tests in the AM is a lot harder than doing them in the PM. I had a VERY hard time focusing in the first and second sections because of a very minor detail– the pages were backwards. I was really flustered because I thought I was missing a page of the logic games section. These things do happen, so I'm taking it in stride.
However, in the fourth section (LR2) and the last section (RC), I felt like my pace was very strong and answering Q's happened very naturally. There were a few Q's where I was a little bit unsure of, but overall, I felt pretty good on these 2 sections.
Timing? I stopped working at 35 minutes for LG and RC, but for the two LR sections, I was under 35 minutes. I purposely spent a long time absorbing the RC passages, which in turn made answering questions a lot easier. However, I've never spent the full 35 minutes on the RC section and it's risky to spend so much time on the passages vs answering Q's.
How did the untimed review go? So this is my first time utilizing the Stanley Otto Swift Method which has been hyped about at TLS. For kicks, I'm nicknaming this the SOS method. Today, I did not have the chops to thoroughly review EVERY single question, although I did so faithfully for the LG section (-5 to -0) and the first LR section. Is it here to stay? I think it will. The fact that I have a 175 in me is very encouraging, but ultimately, I want ALL of my untimed PTs to be 180s (this blogger can dream, right?).
Observations:
Spending more time on RC passages made answering Q's very smooth. But, I was cutting it very close to 35 minutes.
Taking PT's in AM is harder than taking them in the PM, in every way. Need to get used to taking tests in AM.
Devise a better warm-up routine.
SOS Method…will keep using it for now.
---


Posts: 82
Joined: Fri Jun 26, 2009 9:04 pm
Monday, August 1: Holy S*@#! 8 sections are hard!!
Attempted to do a 8-section test using PT 26 and 27 and I... failed... spectacularly. PT 26 is a good example of when everything goes horribly wrong.
I forgot to time myself in LR 1
I misbubbled #12-25 on LR 2.
This was my first attempt to do four sections in a row and not break after the 3rd section. By the time I came to the fourth section (RC), my brain was pudding. The RC passages weren't terribly difficult, but I half-assed the questions and I just wanted to get it over with.
During the last section, I was thinking about PT 27 and that this was taking freaking forever.
I think the icing on the cake was that I reverted to a very bad habit of mine-- I graded PT 26 without giving it an untimed review. When I saw that I got a 167 on PT 26, that basically killed my desire to do anymore LSAT work. After taking a couple of hours off, I tried to put on a brave face and finish off PT 27, but in the middle of the third section (RC), my brain signed off again. I had to put away the test. I didn't even review my mistakes from PT 26. I decided to cut my losses short and go to bed at 10pm. Before dozing off, I wrote down a quick game plan that would put me back on track.
See more at my blog:
http://www.downthelegalrabbithole.wordpress.com
---


Posts: 82
Joined: Fri Jun 26, 2009 9:04 pm
Everyone could use some good cheer when studying for the LSAT. I made a dozen or so someecards during a wicked phase of procrastination. See more @ my blog:
http://www.downthelegalrabbithole.wordpress.com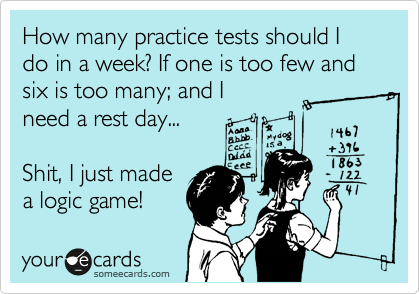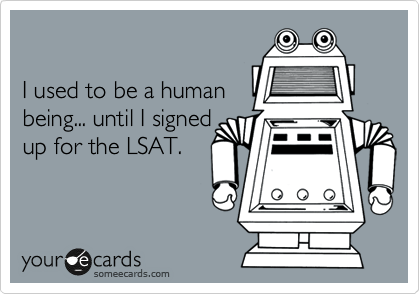 ---
---
Return to "TLS Web Logs (Blogs)"
Who is online
Users browsing this forum: No registered users and 2 guests